Offshore Generator Sets:
3508B Offshore Generator Set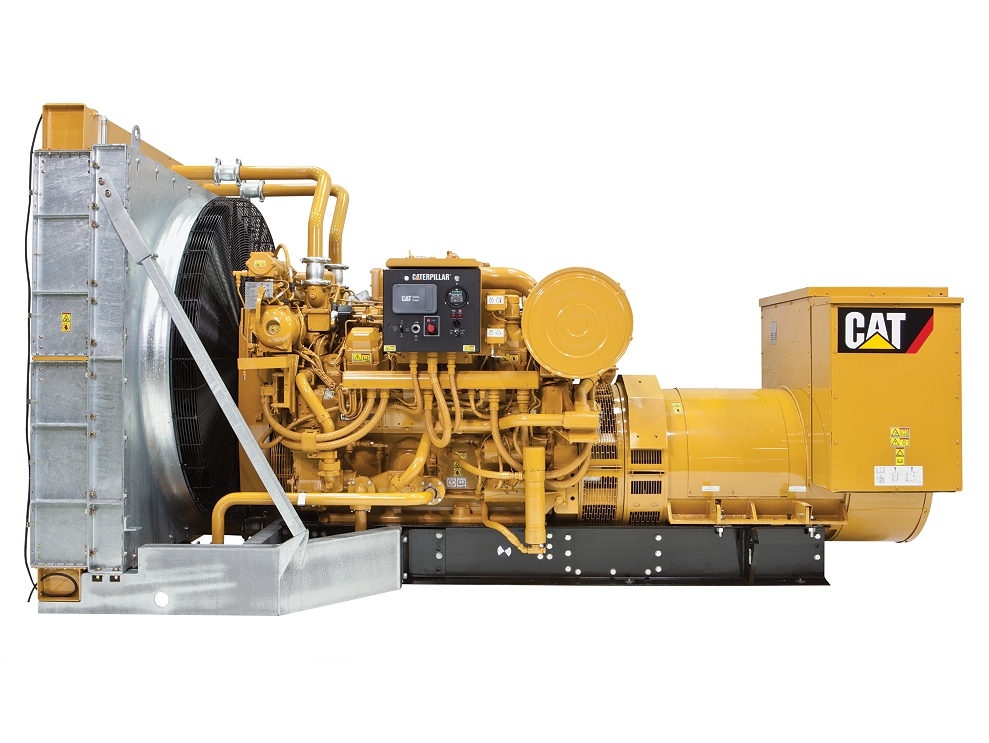 Aspiration

TUrbocharged-Aftercooled

Fuel System

EUI

Oil Change Interval

1000.0 hr

Stroke

7.5 in
Cat 3500 offshore generator sets are specifically designed for drilling and production operations offshore. Decades of experience powering offshore vessels and platforms make have evolved into a product that offers proven performance, low emissions, high durability, and low owning and operating costs.Applications for 3500 offshore generator sets include main power, essential services power, and emergency power on-board drilling and production rigs and vessels.Cat generator sets are backed by the worldwide network of Cat dealers ready to support your operation with technical support, service, parts, and warranty.Cat® 3508B offshore generator set. Ratings: 590-910 ekW (738-1138 kVA) @ 50/60 Hz (1000/1200/1500/1800 rpm). Meets IMO Tier I emission standards equivalent.
---
---
Product Specs
Engine Specifications

Aspiration

TUrbocharged-Aftercooled

Fuel System

EUI

Oil Change Interval

1000.0hr

Stroke

7.5in

Bore

6.7in

Displacement

2116.0in3

Aspiration

TUrbocharged-Aftercooled

Bore

6.7in

Displacement

2116in³

Fuel System

EUI

Oil Change Interval

1000h

Stroke

7.5in

Minimum Rating

738kV·A

Maximum Rating

1138kV·A

Emissions

IMO Tier I

Engine Control

ADEM A3

Weight

27503lb

Dimensions

Length

158.7in

Height

80.6in

Width

70.2in

Height

80.6in

Length

158.7in

Width

70.2in

Capacity for Liquids

Cooling System (Engine)

81.6gal

Lube Oil System (Refill)

60.0gal

Cooling System - Engine

81.6gal (US)

Lube Oil System - Refill

60gal (US)
Equipment
Air Inlet System

Separate Circuit aftercooler core, corrosion resistant coated(air side)Air cleaner, regular dutyDual Turbochargers, 152 mm (6 in) OD straight connection

Control System

Caterpillar A-III Electronic Engine Control, LHwith Electronic Unit Injector Fuel SystemRigid Wiring Harness(10 amp DC power required to drive Electronic Engine Control Module)

Cooling System

Outlet controlled thermostat and housing, full opentemperature 92°C (198°F)
Jacket water pump, gear driven
Single water outlet connection, includes flange:143 mm (5.6")
Aftercooler fresh water cooling pump (SCAC), gear drivencentrifugal
SCAC pump circuit contains a thermostat to keep theaftercooler coolant from falling below 30°C (85°F)

Exhaust System

Dry gas tight exhaust manifolds with heat shieldsDual Turbochargers with watercooled bearings and heat shieldsExhaust outlet, vertical, 203 mm (8 in) round flanged outlet

Flywheels & Flywheel Housings

Flywheel, SAE No. 00, 183 teethFlywheel housing, SAE No. 00

Fuel System

Fuel filter
Fuel transfer pump
Electronically Controlled Unit Injectors
Fuel priming pump, LH
Rigid fuel return line with customer connection point asbase of engine

Instrumentation

Overspeed shutdown notification light, Emergency stop notification light
Graphical Unit (Marine Power Display) for analog or digital displayof:

Lube System

Crankcase breather, top mounted
Oil cooler
Oil filter and dipstick, LH
Oil pump, gear-type
Oil pan drain valve, 2" NPT female connection

Protection System

A-III Electronic Monitoring System provides customer programmableengine de-ration strategies to protect against adverse operatingconditions
Emergency stop push button (located in Electronic Instrument Panel)Safety shutoff protection:

Starting System

Air starting motor, RH, 620 to 1034 kPa (90 to 150 psi),LH control
Air silencer

General

Paint, Caterpillar yellow, with black rails
Vibration damper and guard
Lifting eyes
Engine and generator, three-point mounted to sub-base
Lift provisions on base
Oil drain extension
Engine length drip pan
Air Inlet System

Remote Air Inlet Adapters

Charging System

Battery Chargers
Charging Alternators

Control System

Load Sharing module
Local speed throttle control
Direct rack control interface, 0-200 mA DC control

Cooling System

Coolant level sensors
Connections
Air separator

Exhaust System

Flexible fittings
Elbows
Flanges
Flange and exhaust expanders
Mufflers

Fuel System

Fuel Cooler
Primary fuel filter
Fuel filters
Duplex fuel filters
Fuel level switch

Generator Attachments

Air filter — generator
Bearing temperature detectors
Cable access box
Manual voltage control

Instrumentation

PL1000T Communication Module
PL1000E Communication Module
Customer Interface Box
Remote panel display
Remote cylinder temperature display
Exhaust temperature thermocouples
Discrete I/O module
Intake manifold temperature sensors
Oil temperature sensor

Lube System

Duplex oil filter
Bypass centrifugal oil filter
500-hour oil pan
Emergency lube oil connections
Oil level regulator
Prelube
Sump pump

Mounting System

Power Take-offs

Auxiliary drive shafts and pulleys

Starting System

Air or electric starting motor
Redundant start with select switch

Protection System

Spray shielding
Crankcase explosion relief valve
Metal particle detector

General
Find a Boyd CAT

Location

or

Rep

Near You