Off-Highway Trucks:
773G Off-Highway Truck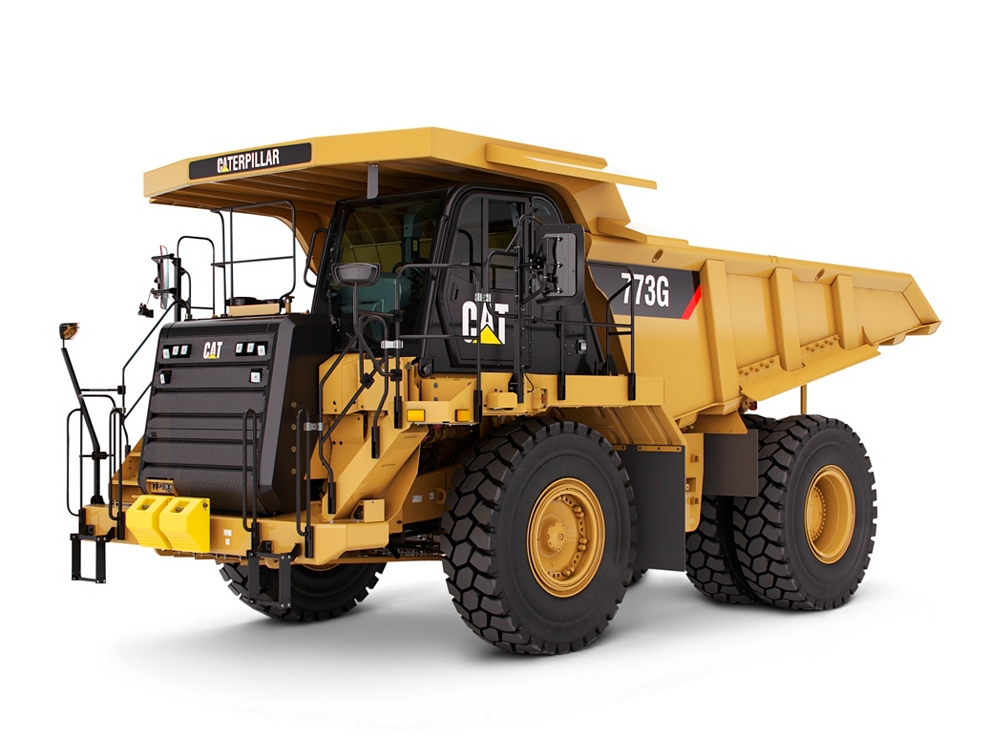 Engine Model

Cat® C27 ACERT™

Fuel Tank

210.0 gal

Body Capacity - SAE 2:1

46.75 yd3

Engine Power - ISO 14396

762.0 hp
The G Series represents a new era for Cat's Off-Highway Trucks and the 773G provides our customers with a quality operating environment that enhances productivity and provides significant savings in fuel consumption, too. Ergonomically designed with an operator's comfort in mind, the 773G has an updated cab with new comforts as well as controls conveniently placed within reach of the operator's hands. Built with a Cat C27 diesel engine, this 60-ton payload uses increased torque delivering 5% additional horsepower. An ideal pass match for the 773G Off-Highway Truck is Cat's 988K Wheel Loader, 990K Wheel Loader, or the 390F Hydraulic Excavator. Simply put, the 773G will make a positive difference in haul performance all day, every day for today and tomorrow's work.
---
---
Product Specs
Engine

Engine Model

Cat® C27 ACERT™

Engine Power - ISO 14396

762.0hp

Net Torque

2944.0ft-lb

Peak Torque Speed

1200.0RPM

Engine Model

Cat® C27

Engine Power - ISO 14396

764HP

Net Torque

3148ft-lb

Peak Torque - Speed

1200r/min

Rated Engine Speed

1800r/min

Gross Power - SAE J1995

775HP

Net Power - SAE J1349

719HP

Net Power - 80/1269/EEC

762HP

Net Power - ISO 9249

762HP

Bore

5.4in

Stroke

6in

Displacement

1648in³

Note (1)

Power rating applies at 2,000 rpm when tested under the specified condition for the specified standard.

Note (3)

No engine derating required up to 3048 m (10,000 ft) for Tier 4/Stage V.

Note (2)

Ratings based on SAE J1995 standard air conditions of 25° C (77° F) and 100 kPa (29.61 Hg) barometer. Power based on fuel having API gravity of 35 at 16° C (60° F) and an LHV of 42 780 kJ/kg (18,390 BTU/lb) when engine used at 30° C (86° F).

Service Refill Capacities

Fuel Tank

210.0gal

Fuel Tank

210gal (US)

Cooling System

45gal (US)

Differential - Final Drives

38gal (US)

Steering Tank

9.5gal (US)

Steering System - Including Tank

14gal (US)

Brake Hoist System

85gal (US)

Brake/Hoist Hydraulic Tank

46.5gal (US)

Crankcase

24gal (US)

Torque Converter - Transmission System - HRC

18gal (US)

Torque Converter - Transmission System - LRC

16gal (US)

Operating Specifications

Body Capacity - SAE 2:1

46.75yd3

Body Capacity - SAE 2:1

46.8yd³

Nominal Payload Class (100%)

61ton (US)

Top Speed - Loaded

41.6mile/h

Maximum Working Payload (110%)

67.1ton (US)

Not to Exceed Payload (120%)*

73.1ton (US)

Note (2)

* Refer to the Caterpillar 10/10/20 Payload Policy for maximum gross machine weight limitations.

Note (1)

Capacity with Dual Slope body – no liner.

Maximum Allowable Payload (120%)*

73.2ton (US)

ROPS

ROPS/FOPS Standards

Standards

ROPS/FOPS Standards

Standards

FOPS Standards

Falling Object Protective Structure (FOPS) meets ISO 3449:2005 Level II FOPS criteria.

ROPS Standards

Rollover Protective Structure (ROPS) for cab offered by Caterpillar meets ISO 3471:2008 ROPS criteria.

Sound

Sound Standards

Standards

Sound Standards (2)

The exterior sound pressure level for the standard machine measured at a distance of 15 m (49 ft) according to the test procedures specified in SAE J88:2008, mid‑gear moving operation is 86 dB(A).

Sound Standards (1)

The operator Equivalent Sound Pressure Level (Leq) is 76 dB(A) when SAE J1166 FEB2008 is used to measure the value for an enclosed cab. This is a work cycle sound exposure level. The cab was properly installed and maintained. The test was conducted with t

Sound Standards (3)

Hearing protection may be needed when operating with an open operator station and cab (when not properly maintained or doors/windows open) for extended periods or in a noisy environment.

Weights - Approximate

Maximum Gross Vehicle Weight

226501lb

Capacity - Dual Slope - 100% Fill Factor

Struck

35.13yd³

Heaped 2:1 (SAE)

46.76yd³

Capacity - Flat Floor - 100% Fill Factor

Struck

34.33yd³

Heaped 2:1 (SAE)

46.41yd³

Weight Distributions - Approximate

Front Axle - Empty

53%

Front Axle - Loaded

35%

Rear Axle - Empty

47%

Rear Axle - Loaded

65%

Transmission

Forward - 1

6.6mile/h

Forward - 2

9.3mile/h

Forward - 3

12.6mile/h

Forward - 4

16.8mile/h

Forward - 5

22.8mile/h

Forward - 6

30.7mile/h

Forward - 7

41.6mile/h

Reverse

8.7mile/h

Note

Maximum travel speeds with standard 24.00R35 (E4) tires.

Final Drives

Differential Ratio

3.64:1

Planetary Ratio

4.80:1

Total Reduction Ratio

17.49:1

Brakes

Brake Surface - Front

257in²

Brake Surface - Rear

9497in²

Brake Standards

ISO 3450:2011

Tires

Note (1)

Productive capabilities of the 773G truck are such that, under certain job conditions, TKPH (TMPH) capabilities of standard or optional tires could be exceeded and, therefore, limit production.

Note (2)

Caterpillar recommends the customer evaluate all job conditions and consult the tire manufacturer for proper tire selection.

Standard Tire

24.00R35 (E4)

Body Hoists

Pump Flow - High Idle

118gal/min

Relief Valve Setting - Raise

2502psi

Relief Valve Setting - Lower

500psi

Body Raise Time - High Idle

10s

Body Lower Time - Float

14s

Body Power Down - High Idle

14s

Suspension

Rear axle - Oscillation

8.1°

Empty Loaded Cylinder Stroke Front

9.2in

Empty Loaded Cylinder Stroke Rear

5.8in

Steering

Turning Diameter - Front

77.1ft

Steering Standards

SAE J1511 FEB94 ISO 5010:1992

Steer Angle

31°

Turning Circle - Clearance Diameter

85.6ft
Equipment
Note

Standard and optional equipment may vary. Consult your Cat dealer for details.

Power Train

Cat C27 Tier 4/Stage V compliant diesel engine:
– Air cleaner with precleaner (2)
– Air-To-Air Aftercooler (ATAAC)
– Electric start
– Engine idle shutdown
– Ether starting aid
– Exhaust muffler
– NGMR radiator
For Tier 4 regions only (U.S./Canada):
– Aftertreatment system

NOx Reduction System (NRS)
Diesel Oxidation Catalyst (DOC)


– Demand fan
– MEUI-C fuel system
Braking system:
– Extended Life Brakes
– Automatic Retarder Control (ARC)
– Manual retarder (utilizes rear oil-cooled, multiple disc brakes)
– Brake release motor (towing)
– Dry disc brakes (front)
– Front brake disconnect switch (front)
– Oil-cooled multiple disc brakes (rear)
– Brake wear indicator (rear)
– Parking brake
– Secondary brake
– Service brake
Transmission:
– 7-speed automatic powershift with:

Electronic Clutch Pressure Control (ECPC)
Advanced Productivity Electronic Control Strategy (APECS)


– Automatic neutral idle
– Autostall
– Second gear start

Suspension Systems

Suspension, front and rear

Electrical

Alarm backup
Alternator, 120 Amp
Autolube power supply ready
Batteries, maintenance-free, 12V (2), 1,400 CCA combined
Electrical system, 25 Amp, 24V to 12V converter
Lighting system:
– Backup light (halogen)
– Directional signals/hazard warning (front and rear LED)
– Engine compartment light
– Headlights, (halogen) with dimmer
– Operator access courtesy lights
– Side profile lights
– Stop/tail lights (LED)
Service center containing:
– Battery jump start
– Breakers with spare fuses
– Lockout switch
– Ports, ET and VIMS
– Service lockout switch (power without engine start)

Technology Products

Economy Modes, standard and adaptive
Product Link, cellular or satellite
Traction Control System (TCS)
Truck Production Management System
Vital Information Management System (VIMS)

Operator Environment

Advisor display:
– Air cleaner service indicator
– Fluid level monitoring
– Fuel level monitoring
– Display languages (market-based)
Air conditioning/heat
Automatic temperature control
Ashtray and cigarette lighter
Coat hook
Cup holders (4)
Diagnostic connection port, 24V
Entertainment radio ready:
– 5 amp converter
– Speakers
– Antenna
– Wiring harness
Foot rest
Gauges/indicators:
– Brake oil temperature gauge
– Coolant temperature gauge
– Engine overspeed indicator
– Fuel level
– Hour meter
– Speedometer with odometer
– Tachometer
– Transmission gear indicator
Hoist lever
Horn
Light – courtesy
Light – dome
Mirrors, non-heated
Power port, 24V and 12V (2)
Rollover Protection (ROPS)/Falling Object Protection (FOPS)
Seat, Cat Comfort Series III:
– Full air suspension
– Retractable 3-point seat belt with shoulder harness
Seat, training with lap belt
Steering wheel, padded, tilt and telescopic
Storage compartment
Sun visor
Throttle lock
Window, hinged, right side (emergency exit)
Window, powered, left side
Windshield wiper intermittent and washer

Guards

Driveline
Engine crankcase
Fan

Fluids

Antifreeze
Extended life coolant to –34° C (–30° F)
Grouped ground-level filters

Other Standard Equipment

Body down indicator
Body safety pin (secures body in up position)
Center-mounted rims
Fuel tank, 795 L (210 gal)
Ground level battery disconnect
Ground level engine shutdown
Ground level grease fittings
Operator Maintenance Manual (OMM)
Rims 17 × 35
Rock ejectors
Secondary steering (electric)
Tie down eyes
Tow hooks (front)/tow pin (rear)
Vandalism protection locks
Note

Standard and optional equipment may vary. Consult your Cat dealer for details.

Optional Equipment

Body heat
Body liner
Body sideboards
Cab precleaner
Cat Engine Brake
Clustered grease fittings
Cold weather packages
Fluid fill service center
HID lights
Mirrors, convex
Mirrors, heated
Spare rim
Visibility package (meets ISO 5006 requirements)
Wheel chocks
Work Area Vision System (WAVS)
Find a Boyd CAT

Location

or

Rep

Near You