Oil and Gas:
C32 ACERT™ Hazardous Location Engine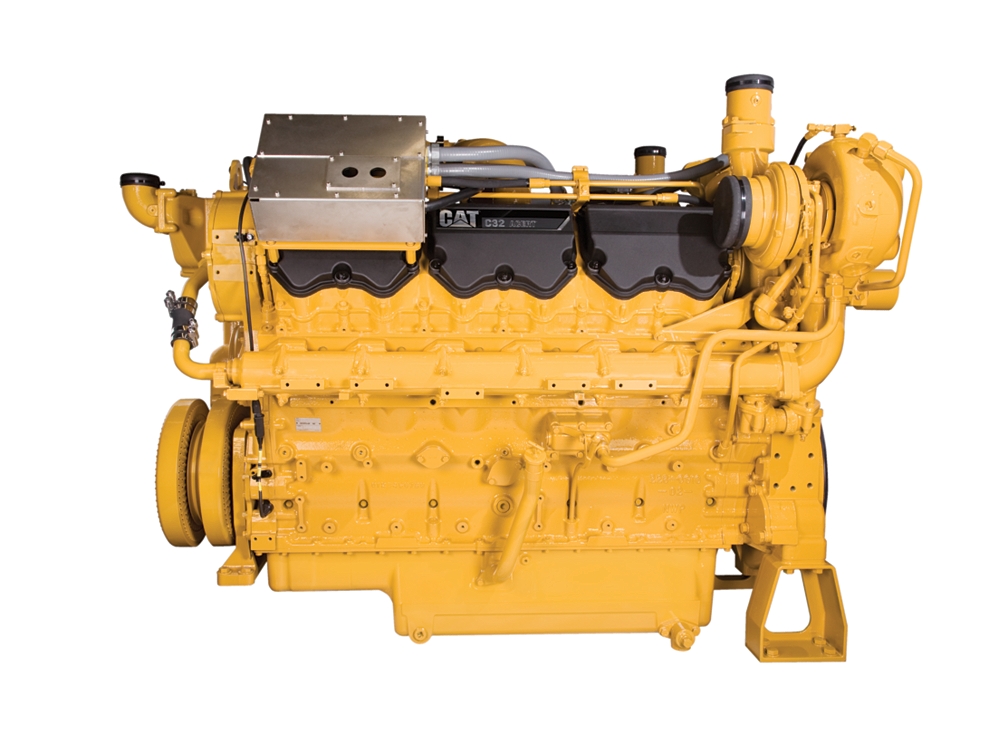 Length

76.18 in.

Width

56.34 in.

Height

54.66 in.

Weight

6950.0 lb
Cat C32 ACERT hazardous location engines are the ideal solution for specialized and demanding operations in the oilfield. Engines are hazardous-location certified from the factory to minimize installation design, time, and cost. Decades of field operation and intense research and development allow Cat C32 ACERT hazardous location engines to deliver excellent performance with low operating costs and emissions. Hazardous location engines are certified to operate in potentially explosive environments. Applications powered by C32 ACERT engines include well stimulation pumping, pump skids, nitrogen units, acidizing units, blenders, and hydraulic power units. Cat engines are backed by the worldwide network of Cat dealers ready to support your operation with technical support, service, parts, and warranty. C32 ACERT hazardous location engines, with ratings 597-828 bkW (800-1110 bhp) @ 2100 rpm meet IMO Tier II, U.S. EPA Marine Tier 2, and U.S. EPA Non-road Tier 2 equivalent emission standards. They are available using U.S. EPA and EU Flexibility, and for other regulated and non-regulated areas.
---
---
Product Specs
Dimensions

Length

76.18in.

Width

56.34in.

Height

54.66in.

Weight

6950.0lb

Length

76.18in

Width

56.34in

Height

54.66in

Weight

6950lb

General Specifications

Minimum Rating

800BHP

Maximum Rating

1110BHP

Aspiration

Turbocharged-Aftercooled

Displacement

1960in³

Flywheel and Flywheel Housing

SAE No. 0 or SAE No. 1

Flywheel Teeth

136

Stroke

6.4in

Bore

5.7in

Emissions

Emissions

U.S. Non-Road Tier 2 CARB, IMO Tier II, EPA Marine Tier 2
Equipment
Air Inlet System

Dual side-mounted turbochargers — inlet 152.4 mm (6 in) hose connection

Control System

Programmable ratings
Cold mode start strategy
Automatic altitude compensation
Power compensation for fuel temperature
Programmable low and high idle
Electronic diagnostics and fault logging
Engine monitoring and protection system (speed, temperature, pressure)
J1939 Broadcast (diagnostic, engine status and control)
Electronic governing, PTO speed control
Certified electrical control system
Customer interface harness available as optional attachment

Cooling System

Thermostats and housing — outlet LH vertical orientation
Jacket water pump — gear-driven, centrifugal, RH

Exhaust System

Exhaust manifold, water-cooled
Dual turbo, rear turbo exhaust, full marmon connection 127 mm (5 in), maximum load 10 kg for direct connection to turbo
Water-cooled center sections

Flywheels And Flywheel Housing

Mandatory selection of: SAE No. 0 or SAE No. 1 flywheel and housing SAE standard rotation

Fuel System

MEUI fuel system
Fuel filter — RH (2 micron high performance)
Fuel transfer pump
Fuel priming pump

Lube System

Crankcase breather — rear-mounted
Oil cooler — RH
Oil filler in RH front gear case
Oil filter — RH
Oil level gauge — RH
Oil pan rear sump

Mounting System

Power Take-offs

Crankshaft pulley — 203.2 mm (8 in) 5 grooves 15.9 (.63 in) wide; 292.1 mm (11.5 in) 1 groove 15.9 (.63 in) wide

General

Paint — Cat yellow
Vibration damper with single pulley
Lifting eyes
Automatic variable timing — electronic
Electronic installation kit 70-pin connector (connectors, pins, socket)

Mandatory Options

HP must be specified when ordering
All engines shipped at 2100 rpm
Flywheel housing
These engines meet the current IMO emission standards as defined by Regulation 13 of Annex VI to the International Convention for the Prevention of Pollution from Ships, 1973, as modified by the Protocol of 1978, further amended by the Protocol of 1997. A statement of compliance issued by the United States government's EPA (Environmental Protection Agency) is included in the technical file that is shipped with the engine as proof of our engine's ability to meet IMO emissions requirements. If this technical file is insufficient to meet the customer's requirements, then a GL or CCS IMO emissions certification may be ordered.
Air Inlet System

Air cleaner
Air inlet adapters
Turbocharger outlet adapters
Air lines

Charging System

Battery chargers
Charging alternators
Alternator mounting
Circuit breakers and mountings

Cooling System

Dry charge coolant conditioners
Thermostat housing
Coolant level sensor
Radiator
Suction fans and blower fans
Fan adapters
Fan drives

Emissions

Exhaust System

Fuel Systems

Electric fuel priming pump

Instrumentation

Customer management device
Interconnect harness
Gauges and instrument panels

Lube System

Oil pans
Oil service side
Oil level gauge
Oil filters
Lubricating oils

Mounting System

Structural steel base
Engine support — front and rear

Power Take-offs

Auxiliary drive
Damper pulley
Hydraulics gear pumps

Protection System

Mechanical shutoffs
Solenoid shutoffs

Starting System

Electric starting motors - 12V, 24V
Battery sets - 24V
Battery rack and cable
Starting aids

Transmission Arrangement

Transmission water lines
Transmission cooler
Find a Boyd CAT

Location

or

Rep

Near You