Offshore Generator Sets:
C175-16 Offshore Generator Set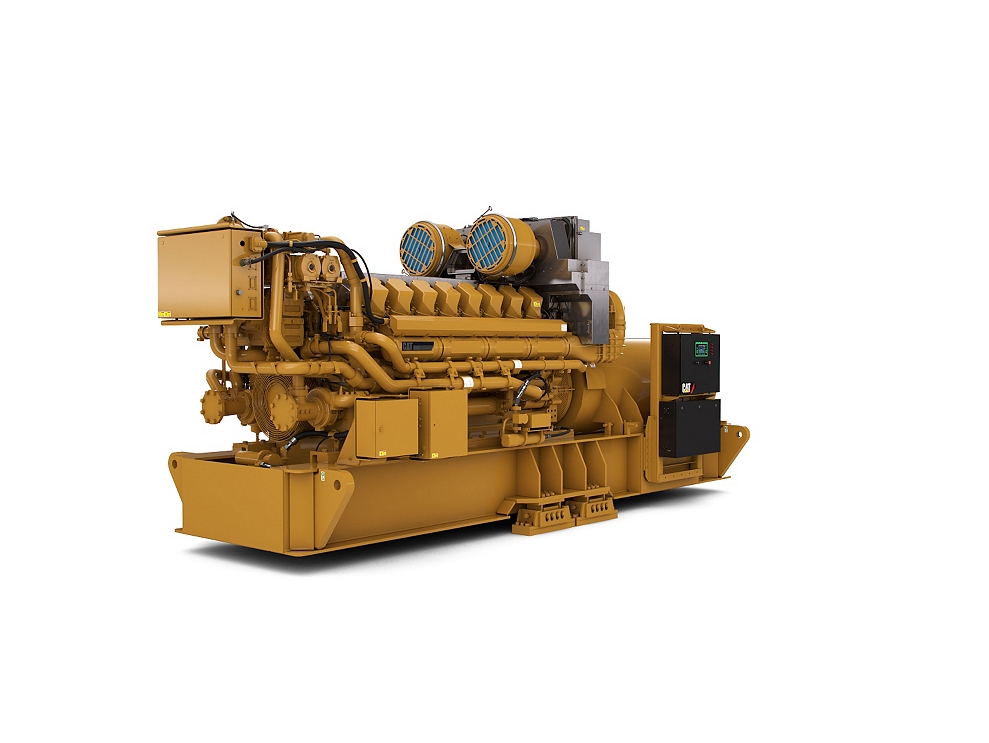 Aspiration

Turbocharged/2-stage aftercooled

Fuel System

Common Rail/EUI™

Oil Change Interval

1000.0 hr

Stroke

8.66 in
Caterpillar can help you navigate the challenges in the oil and gas industry, including global competition, tightening emission standards, and high productivity demands. The Cat® C175 delivers more reliable power in less space than any other generator set in its class. As efficient as it is powerful, this compact package will make a huge impact on your rig's performance. The proven success of the 3500 series engines forms the foundation of the Cat C175 diesel engine. Low owning and operating costs, high endurance components, and outstanding serviceability add to the innovations. The Cat Alarm and Protection System integrates with dual ADEM A4 engine control modules to provide redundant engine control, generator set protection, and a simple operator interface. Cat generator sets are backed by the worldwide network of Cat dealers ready to support your operation with technical support, service, parts, and warranty. Cat C175-16 offshore generator set. Ratings: 1833-2660 ekW (2619-3325 kVA) @ 50/60 Hz (1500/1200/1800 rpm). U.S. EPA Marine Tier 2 certified and IMO Tier II emissions compliant.
---
---
Product Specs
Engine Specifications

Aspiration

Turbocharged/2-stage aftercooled

Fuel System

Common Rail/EUI™

Oil Change Interval

1000.0hr

Stroke

8.66in

Bore

6.89in

Displacement

5167.0in3

Speed

1200/1500/1800 rpm

Minimum Rating

2619kV·A

Maximum Rating

3325kV·A

Emissions

Available in IMO Tier II/ EPA Marine Tier 2 configurations

Engine Control

Dual ADEM™ A4

Generator Set Control

MPD 3.0 / Cat® Alarm and Protection System

Weight

53599lb

Aspiration

Turbocharged/2-stage aftercooled

Bore

6.89in

Displacement

5167in³

Fuel System

Common Rail/EUI™

Oil Change Interval

1000h

Stroke

8.66in

Dimensions

Length

50 Hz - 6782 mm (267 in) / 60 Hz - 6742 mm (265 in)

Height

50 Hz - 2928 (115 in) / 60 Hz - 2916 mm ( 115 in)

Width

50 Hz - 2413 mm (95 in) / 60 Hz - 2125 mm (84 in)

Height

50 Hz - 2928 (115 in) / 60 Hz - 2916 mm ( 115 in)

Length

50 Hz - 6782 mm (267 in) / 60 Hz - 6742 mm (265 in)

Width

50 Hz - 2413 mm (95 in) / 60 Hz - 2125 mm (84 in)

Capacity for Liquids

Cooling System (Engine)

92.0gal

Lube Oil System (Refill)

250.0gal

Cooling System - Engine

92gal (US)

Lube Oil System - Refill

250gal (US)
Equipment
Air Inlet System

Dual turbochargers
Corrosion-resistant aftercooler core
Air cleaners — single or dual element

Exhaust System

Dry exhaust manifolds with thermo-laminated heat shields
Dual turbochargers with water-cooled bearings and thermo-laminated heat shields
Vertical exhaust outlet
Flange and exhaust expanders

Cooling System

Separate-circuit-aftercooler (SCAC) and jacket water (JW) circuit cooling system
Gear-driven centrifugal pumps, one for each circuit
SCAC electronic thermostat, outlet-controlled with aftercooler inlet temperature sensing
JW electronic thermostat, outlet-controlled with outlet temperature sensing
Engine oil cooler in JW circuit

Fuel System

Cat common rail high-pressure fuel system with electronically controlled unit injectors
Duplex primary fuel filter with water separator
Duplex secondary/tertiary fuel filters
Electric fuel priming pump
Gear-driven low pressure transfer pump
Gear-driven high pressure transfer pump
Double-walled high pressure fuel lines
Fuel pressure, temperature, and leak detection sensors

Lubrication System

Engine-driven, gear-type oil pump
Integral lube oil cooler
Front-mounted oil drain lines and valve
Oil sampling valve
Filler and dipstick
Four-canister simplex oil filter
Prelube pump — electric, air, or custom
Fumes disposal with crankcase breathers
Crankcase explosion relief valves

Engine Control And Protection

Dual ADEM A4 engine control unit (ECU) for redundancy
Software monitors engine parameters and performs alarm, derate, and shutdown functions
Rigid wiring harness
Marine Power Display 3.0 (MPD 3.0)

Mounting

Inner-outer base with vibration isolators

Generator

Kato brushless permanent magnet 6P6.6-3200 HR
2-bearing, close-coupled arrangement
60 Hz, 600V, 0.7 PF
UL/CSA listed, IP23

Flywheel And Coupling

Flywheel housing, SAE No. 00
Flywheel, SAE No. 00
ABS certified, non-certified, or custom-coupling and coupling mounting
Free-standing or close-coupled generator set arrangements

Starting System

Turbine air starter or
Dual electric starting motors or
Air and electric starting motors (redundant)

General

Power distribution box — 24V or custom
20A battery charger
Cat yellow paint
Offshore oil field sub-base
Integral spring isolators with limit stop
Lift provisions on base
Oil drain extension
Engine length drip pan with drain
Torsional dampened driveline couplings
Air Inlet System

Air cleaner service indicator

Cooling System

9 kW, 240V, 60 hz jacket water heater
Custom jacket water heater

Fuel System

Four canister duplex oil filter

Engine Control And Protection

Cat Alarm and Protection System
Communication module PL1000T/E
Direct-rack control
Thermocouples
Metal particle detector
SOLAS spray shielding

Mounting

Custom I-beam base with vibration isolators

Generator

General

TVA report
Special tests
Project-specific installation drawings
P&ID-electrical drawings
Spare parts kit
Barring group
Engine lifting group
Custom generators and radiators
Find a Boyd CAT

Location

or

Rep

Near You