Marine Generator Sets:
Cat C32 ACERT Generator Set (IMO II)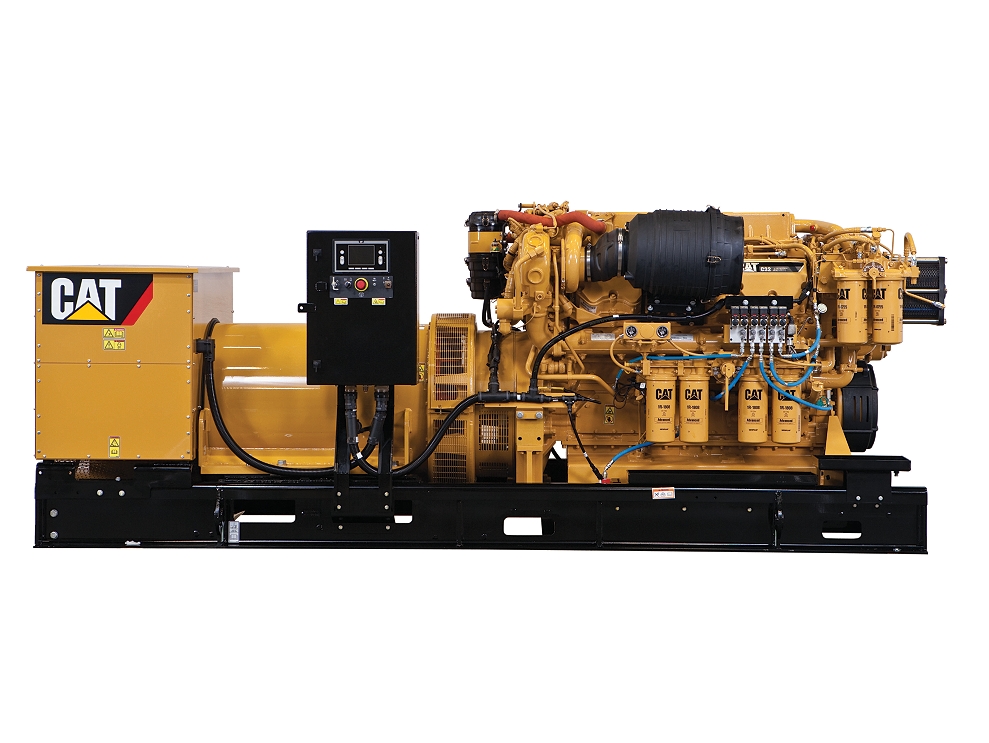 Minimum Rating

550 eKW (688 kVA)

Maximum Rating

940 ekW (1175 kVA)

Frequency

50 Hz or 60 Hz

Speed

1500 rpm (50 hz) or 1800 rpm (60 hz)
C32 ACERT generator sets incorporate a separate circuit aftercooling system (SCAC) for all configurations. The primary advantage of the SCAC systsem is reduced aftercooler corrosion since no sea water circulates through the aftercooler. Many other improvements on these engines contribute to minimizing owning and operating costs. The IMO II and EU Stage IIIA compliant ratings are available with heat exchanger or keel cooled options. Heat exchanger configurations have an optional front mounted sea water pump.
---
---
Product Specs
Generator Set Specifications

Minimum Rating

550 eKW (688 kVA)

Maximum Rating

940 ekW (1175 kVA)

Frequency

50 Hz or 60 Hz

Speed

1500 rpm (50 hz) or 1800 rpm (60 hz)

Emissions/Fuel Strategy

IMO II

Minimum Rating

550 eKW (688 kVA)

Maximum Rating

940 ekW (1175 kVA)

Frequency

50 Hz or 60 Hz

Speed

1500 rpm (50 hz) or 1800 rpm (60 hz)

Generator Set Configurations

Emissions/Fuel Strategy

IMO II

Engine Specifications

Engine Model

Vee 12, 4-Stroke-Cycle Diesel

Aspiration

Twin Turbocharged-Aftercooled

Bore

5.7in

Stroke

6.4in

Displacement

1959.0in3

Governor Type

Electronic

Bore

5.7in

Stroke

6.4in

Displacement

1959in³

Governor Type

Electronic

Engine Model

Vee 12, 4-Stroke-Cycle Diesel

Fuel System

Diesel

Aspiration

Twin Turbocharged-Aftercooled

Generator Set Dimensions

Length

168.34in

Width

65.79in

Height

70.86in

Weight (Estimated)

15721.0lb

Length

168.34in

Width

65.79in

Height

70.86in

Weight - Estimated

15721lb

Generator Specifications

Frame Size

1423, 1467

Excitation

permanent magnet (PMG)

Pitch

2/3

Number of Poles

4

Number of Bearings

2 roller bearings

Number of Leads

6

Insulation

Class H

IP Rating

Drip Proof IP 23*

Alignment

Closed-coupled adapter

Wave Form Deviation - Line to Line

< 3.0%

Voltage Regulator

Cat® Digital Voltage Regulator (CDVR)

Voltage Regulation

± 0.5% (steady state)

Telephone Influence Factor (TIF)

< 50
Equipment
Air Inlet System

Separate circuit after-cooled (SCAC)
Turbocharger, jacket water cooled
Turbocharger inlet, 152 mm (6 in) OD straight connection

Control System

If an EMCP panel or MGCP option is not chosen as optional equipment, then start/stop controls must be provided by the customer
Electronic diagnostics and fault logging
Engine Protection Mode for extended ambient conditions
Electronic fuel/air ratio control

Cooling System

Separate Circuit After-Cooling (SCAC) for Heat Exchanged (HEX) & Keel cooled engines
Jacket Water (JW) and SCAC Heat Exchangers Shell & Tube for HEX cooled engines
SCAC pump, gear driven
Jacket water pump, gear driven
Sea water pump, bronze impeller, gear driven, for HEX cooled engines only
Jacket water HEX with Sea water pump Connections: 76.2 mm (3in) ID Standard
4 Bolt ANSI Flange Connection
Jacket water HEX without Sea water pump Connection: 2.5" hose barb connection (inlet), 76.2 mm (3in) ID Standard 4 Bolt ANSI Flange (outlet)
Keel Connections: 76.2 mm (3in) ID Standard 4 Bolt ANSI Flange Connection
SCAC and JW shunt tanks for maintaining proper Pump inlet pressures

Exhaust System

Water-cooled exhaust manifold & turbocharger
4 Bolt 130 mm (5.12 in) diameter flanged outlet

Flywheels & Flywheel Housings

Flywheel Housing, SAE No. 0
Flywheel, 18 inch, 136 teeth
SAE standard rotation

Fuel System

Duplex Fuel Filters, Spin-on, RH service
Fuel connections size: Supply JIC Deg -10 (7/8 - 14), Return JIC 37 Deg -8 (3/4 -16)
Plate-type fuel cooler installed behind Aftercooler Shunt Tank
Fuel transfer pump, gear driven
Manual fuel priming pump

Generators And Generator Attachments

SR5 form wound
2 roller bearings
Permanent magnet excitation
4 pole, 6 leads, Series Star connected
Caterpillar's Digital Voltage Regulator (CDVR)
Marine Class H insulation, Class F temperature rise
Surface mounted platinum (PT100) 3-wire RTDs, 2 per phase on stator and one each on support bearings
Anti-condensation space heaters (2 elements - 240 VAC, 1000 Watts
IP23 Protection suitable for use with Fixed Water Based Local Application Fire Fighting Systems (FWBLAFFS)
System IV insulation for harsh environment protection

Lube System

Simplex oil filters, RH service
Deep sump oil pan
RH service oil filler locations
RH service dipstick
Oil pump, gear driven

Mounting System

Formed C-channel rails, 300mm (11.81in) height
Six shipped loose combined helical spring/rubber isolators for installation below package base

General

Front damper guard
Common electrical bonding point on HEX and KEEL cooled engines
Alarm And Protection

Remote Panels
MCS Controller
Power analyzer module
oil level, exhaust temperature, air starting pressure, heat exchanger pressure sensors

Exhaust System

Dry Elbows
Flexible Fitting
Flange
Muffler
Muffler Spark Arresting
Rain Cap

Air Inlet System

Air Inlet Cleaner
Closed Crankcase Ventilation
Air inlet adapter

Charging System

Battery Chargers, Charging Alternators

Control System

Fuel System

Lube System

Duplex Oil Filters, Sump Pump

Protection System

Starting System

Electric Starting Motors - Single 24 Volt
Air Starting Motor
Dual Starting Motors (Electric and Air)
Air Start Accessories
Starting Aids - JW Heaters
Battery Sets - 24 Volt - Dry
Find a Boyd CAT

Location

or

Rep

Near You