Land Production Generator Sets:
CG137-12 Oilfield Gas Generator Set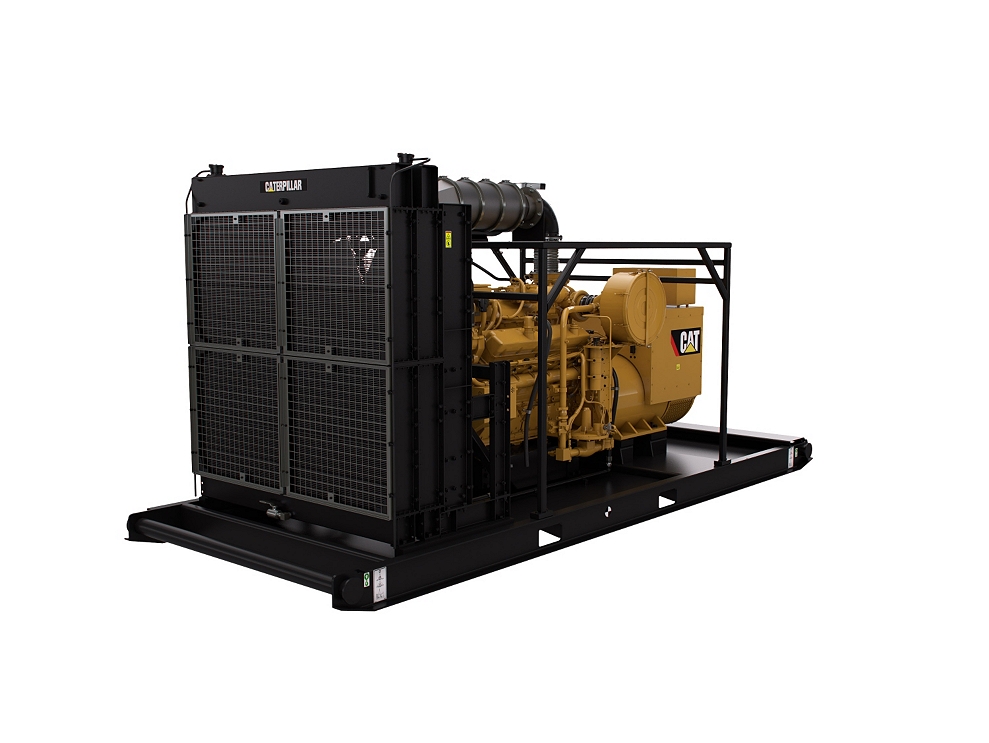 Aspiration

Turbocharged-Aftercooled

Bore

5.39 in

Stroke

6.46 in

Displacement

1770.0 in3
Production of oil and gas in the oilfield can be a challenge when utility power is not available. The Caterpillar product line of oilfield gas generator sets provides the ideal solutions for this challenge. Engines are designed to run on low to no-cost well site gas without sacrifice on performance. These generator sets allow customers to significantly reduce fuel cost and avoid the expense and logistics of diesel fuel deliveries. Plus, they are designed to withstand the harsh conditions in the oilfield and feature a heavy-duty construction ideal for loading and unloading operations. Cat generator sets are backed by the worldwide network of Cat dealers ready to support your operation with technical support, service, parts, and warranty. CG137-12 oilfield gas generator set. Rating: 400 ekW (500 kVA) @ 60 Hz (1800 rpm). Configurations available to meet NSPS emission standards in non-attainment areas.
---
---
Product Specs
Engine Specifications

Aspiration

Turbocharged-Aftercooled

Bore

5.39in

Stroke

6.46in

Displacement

1770.0in3

Generator set control

EMCP 4.4 Control Panel

Generator

SR4B

Maximum Rating

400 ekW (500 kVA)

Minimum Rating

400 ekW (500 kVA)

Emissions/Fuel Strategy

U.S. EPA Tier II Nonroad Mobile Emissions Certified. Available for NSPS compliance via Design to Order process

Manifold Type

Watercooled

Aspiration

Turbocharged-Aftercooled

Engine Control and Protection

ADEM A4

Bore

5.39in

Stroke

6.46in

Displacement

1770in³

Frequency - Speed

60 Hz (1800 rpm)

Generator Set Control

EMCP 4.4 Control Panel

Generator

SR4B

Dimensions

Length

230.0in

Width

89.0in

Height

102.3in

Weight

19731.0lb

Length

230in

Width

89in

Height

102.3in

Weight

19731lb

Capacity for Liquids

Lube oil system (refill)

45.0gal

Cooling system (engine)

15.0gal

Fuel

CNG, LNG, field gas, natural gas

Lube Oil System - Refill

45gal (US)

Cooling System - Engine

15gal (US)
Equipment
Air Inlet System

Air cleaner — intermediate duty, dry
Air cleaner rain cap
Air cleaner service Indicator

Cooling System

High ambient radiator design for gas fuel applications
Stacked aftercooler and jacket water core
Metal top and bottom tanks
Coolant drain
Fan and belt guard
Coolant level sensor

Exhaust System

Exhaust manifolds — water cooled
Exhaust elbow and flex fitting — 127 mm (5 in)
Residential grade muffler
Three-way catalyst
Muffler mounting structure

Fuel System

Gas pressure regulator — requires 10.3-34.5 kPa (1.5-5 psi) gas
Natural gas carburetor
Air Fuel Ratio Control

Generator

Rated for continuous duty — 10% oversize
Class H insulation
Permanent magnet
Random wound
240 VAC space heater
Coastal insulation protection
IP23 protection
Cat Digital Voltage Regulator

Control System

Electronic governing ADEM A4
Electronic diagnostics and fault logging
Momentary start/stop logic
High temperature braided engine harness with 70-pin customer connector and service tool connector

Lube System

Crankcase breather, top-mounted
Oil filter, spin-on, left-hand service
Dipstick, left-hand service
Oil pump — gear-driven
Oil cooler

Mounting System

Heavy-duty welded steel base designed for the oilfield
Base design optimized for loading, transport, and unloading

Protection System

The following parameters include alarm and shutdown:

General

Jacket water heater
24V starting motor
24V, 45-amp charging alternator
Find a Boyd CAT

Location

or

Rep

Near You