Land Mechanical Engines:
C32 ACERT Land Mechanical Drilling Engine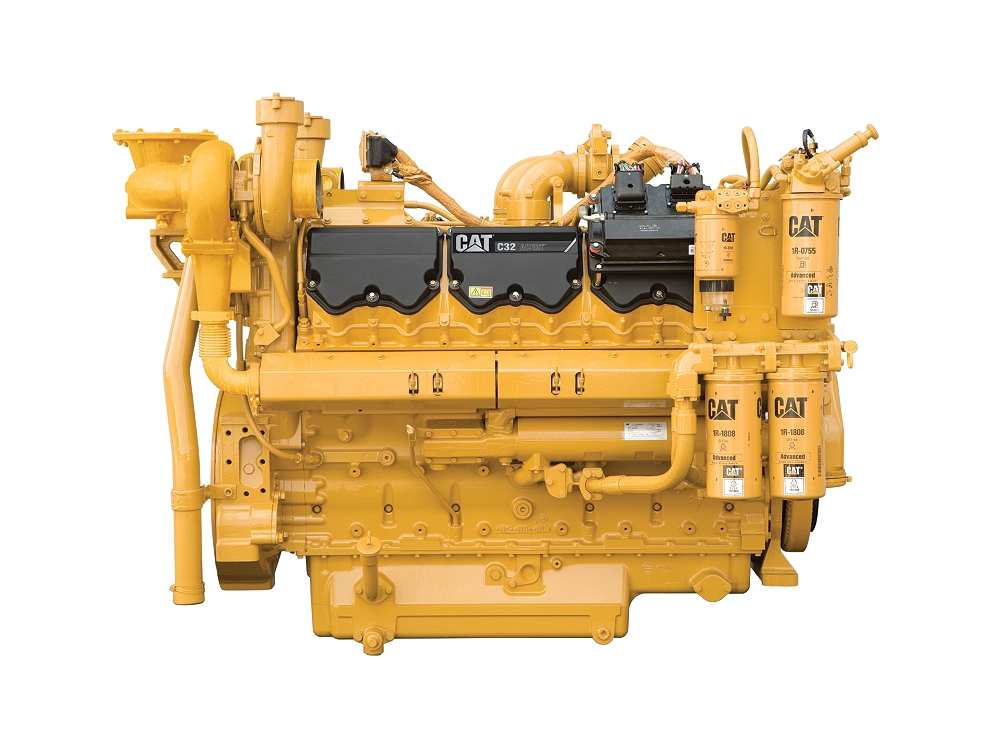 Minimum Rating

800.0 bhp

Maximum Rating

1500.0 bhp

Emissions

U.S. EPA Non-road Tier 2

Rated Speed

2100.0 RPM
Cat C32 ACERT engines are the ideal solution for your demanding operations in the oilfield. Decades of field operation and intense research and development allow Cat C32 ACERT engines to deliver excellent performance with low operating costs and emissions.This is an ideal engine for land mechanical drilling applications such as mud pump drives.Cat C32 ACERT™ Industrial Diesel Engine. Ratings: 597-1119 bkW (800-1500 bhp) @ 1800-2100 rpm meet U.S. EPA Tier 2 equivalent emission standards.
---
---
Product Specs
Engine Specifications

Minimum Rating

800.0bhp

Maximum Rating

1500.0bhp

Emissions

U.S. EPA Non-road Tier 2

Rated Speed

2100.0RPM

Bore

5.7in

Stroke

6.4in

Displacement

1953.0in3

Aspiration

Turbocharged-Aftercooled

Engine Weight, net dry

5040.0lb

Oil Change Interval

250

Rotation (from flywheel end)

Counterclockwise

Flywheel and Flywheel Housing

SAE No. 0 or SAE No. 1

Flywheel Teeth

136 (SAE 0), 113 (SAE 1)

Minimum Rating

800BHP

Maximum Rating

1500BHP

Emissions

U.S. EPA Non-road Tier 2

Rated Speed

2100r/min

Bore

5.7in

Stroke

6.4in

Displacement

1953in³

Aspiration

Turbocharged-Aftercooled

Engine Weight - Net Dry

5040lb

Oil Change Interval

250

Rotation from Flywheel End

Counterclockwise

Flywheel and Flywheel Housing

SAE No. 0 or SAE No. 1

Flywheel Teeth

136 (SAE 0), 113 (SAE 1)

Governor and Protection

ADEM A3

Dimensions

Length

75.5in

Width

85.0in

Height

52.0in

Length

75.5in

Width

85in

Height

52in

Capacity for Liquids

Minimum Cooling System - Engine Only

14.5gal (US)
Equipment
Air Inlet System

Quad turbocharger — 3 cylinder exhaust to each turbo
Connections configured for ATAAC (Air-to-Air-Aftercooled)or remote heat exchanger

Control System

ADEM A4 electronic control module
Electronic governing, PTO speed control
Customer programmable ratings
Cold mode start strategy
Automatic altitude compensation
Automatic fuel temperature compensation
Programmable low and high idle, and top engine speedlimit
Electronic diagnostics and fault logging
Engine monitoring system
SAE J1939 broadcast (diagnostic and engine status)

Cooling System

Gear-driven centrifugal jacket water pump — RH
Integrated thermostat and housing
Engine oil cooler
Optional installed transmission oil cooler

Exhaust System

Exhaust manifold — dry
Two vertical exhaust outlets (front and rear)

Fuel System

MEUI
Fuel priming pump
Fuel transfer pump
Primary and secondary fuel filter — RH configured forremote mounting (installed RH on shipping plate)

Flywheels And Flywheel Housing

SAE No. 0 or SAE No. 1 flywheel iron housing
SAE No. 0 or SAE No. 1 flywheel
Optional transmission adapter

Lube System

Crankcase breather
Oil filter — RH standard, optional LH or remote mountservice
Oil level gauge — RH standard, optional LH or dualservice
Oil filler — RH standard, optional LH or dual service
Shallow oil pan, rear sump

Mounting System

Trunnion front support
Vertical and horizontal pads on rear flywheel housing

Protection System

24V electronic
Engine overspeed with optional air shut-offs withindicators
Low engine oil pressure
Fuel filter restriction
Fuel temperature
High engine coolant temperature
Low engine coolant temperature

General

Vibration damper and optional guard
Lifting eyes
Optional customer wiring connector
Service tool connector
Paint — Cat yellow
Air Inlet System

Air cleaner
Air inlet adapters
Turbocharger outlet adapters
Air lines

Charging System

Battery chargers
Charging alternators
Alternator mounting
Circuit breakers and mountings

Cooling System

Dry charge coolant conditioners
Thermostat housing
Coolant level sensor
Radiator
Blower fans
Suction fans
Fan adapters
Fan drives

Emissions

Exhaust System

Fuel Systems

Electric fuel priming pump

Instrumentation

Customer management device
Interconnect harness
Gauges and instrument panels

Lube System

Oil pans
Oil service side
Oil level gauge
Oil filters
Lubricating oils

Mounting System

Structural steel base
Engine support — front
Engine support — rear

Power Take-offs

Auxiliary drive
Damper pulley
Hydraulics gear pumps

Protection System

Mechanical shutoffs
Solenoid shutoffs

Starting System

Electric starting motors – 12V, 24V
Battery sets – 24V
Battery cable
Battery rack
Starting aids

Transmission Arrangement

Transmissions water lines
Transmissions cooler
Find a Boyd CAT

Location

or

Rep

Near You