Industrial:
Cat® C4.4 Diesel Engine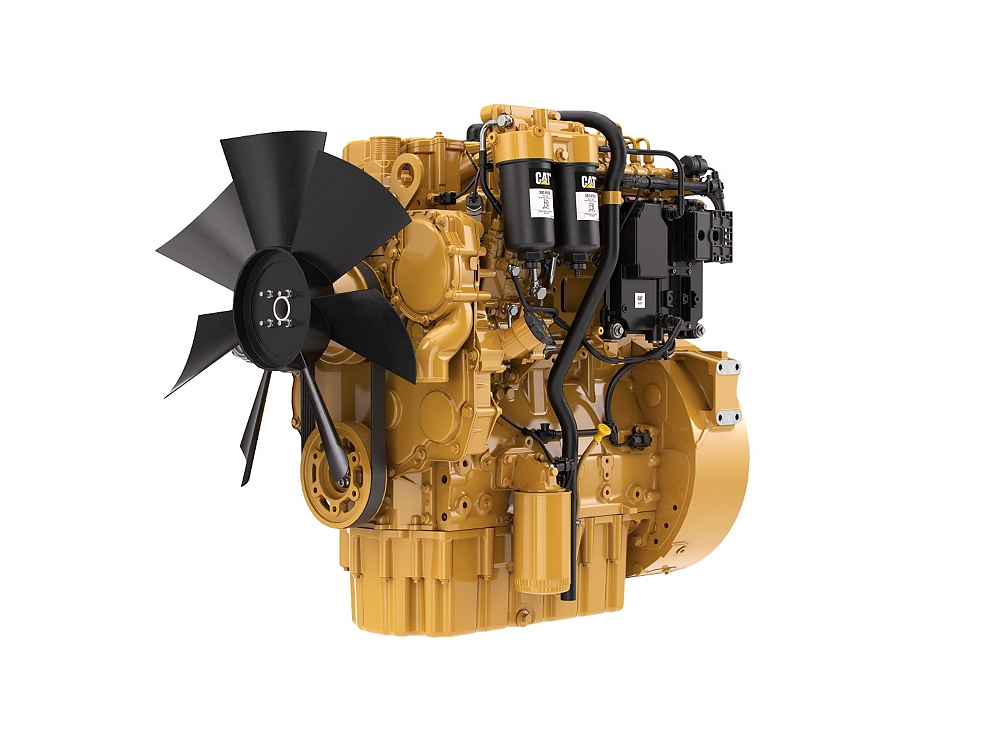 Minimum Power

82.5 bhp

Maximum Power

142.0 bhp

Emissions

China Nonroad III, U.S. EPA Tier 3 Equivalent, EU Stage IIIA Equivalent

Rated Speed

2200 rpm
The Cat® C4.4 Industrial Diesel Engine is offered in ratings ranging from 61.5-106 bkW (74.5-100 bhp) @ 2200 rpm. These ratings meet EPA Tier 3 equivalent, EU Stage IIIA equivalent emission standards. Industries and applications powered by C4.4 engines include: Agriculture, Aerial Lifts, Aircraft Ground Support, Bore/Drill Rigs, Chippers/Grinders, Compactors/Rollers, Compressors, Construction, Cranes, Crushers, Feller Bunchers, Forestry, Forklifts, General Industrial, Harvesters, Hydraulic Power Units, Irrigation Equipment, Loaders/Forwarders, Material Handling, Mining, Mobile Earthmoving Equipment, Mobile Sweepers, Paving Equipment, Pumps, Skidders, Specialty Ag Equipment, Sprayers, Trenchers, Turf and Landscaping and Underground Mining Equipment.
---
---
Product Specs
Power Rating

Minimum Power

82.5bhp

Maximum Power

142.0bhp

Rated Speed

2200 rpm

Maximum Power

142HP

Maximum Torque

411.2lb-ft @ 1400 rpm

Rated Speed

2200 rpm

Minimum Power

91.2HP

Minimum Power

82.5BHP

Maximum Power

142BHP

Rated Speed

2200 rpm

Emission Standards

Emissions

China Nonroad III, U.S. EPA Tier 3 Equivalent, EU Stage IIIA Equivalent

Emissions

China Nonroad Stage III, Brazil MAR-1, UN ECE R96 Stage IIIA

Emissions

China Nonroad III, U.S. EPA Tier 3 Equivalent, EU Stage IIIA Equivalent

General

Engine Configuration

Inline 4, 4-Stroke-Cycle Diesel

Bore

105 mm (4.13 in)

Stroke

127 mm (5.0 in)

Displacement

4.4 L (269 in³)

Aspiration

Turbocharged (T) or Turbocharged Aftercooled (TA)

Compression Ratio

16.2:1

Combustion System

Direct Injection

Rotation (from flywheel end)

Counterclockwise

Lube System (refill)

11 L (11.6 qt)

Engine Configuration

Inline 4, 4-Stroke-Cycle Diesel

Bore

4.1in

Stroke

5in

Displacement

269in³

Compression Ratio

16.9:1

Aspiration

Turbocharged (T) or Turbocharged Aftercooled (TA)

Combustion System

Direct Injection

Rotation from Flywheel End

Counterclockwise

Engine Configuration

Inline 4, 4-Stroke-Cycle Diesel

Bore

105 mm (4.13 in)

Stroke

127 mm (5.0 in)

Aspiration

Turbocharged (T) or Turbocharged Aftercooled (TA)

Displacement

4.4 L (269 in³)

Compression Ratio

16.2:1

Combustion System

Direct Injection

Rotation from Flywheel End

Counterclockwise

Lube System - Refill

11 L (11.6 qt)

Engine Dimensions (Approximate. Final dimensions dependent on selected options)

Length

631 mm (24.8 in)

Width

626 mm (24.65 in)

Height

823.5 mm (32.4 in)

Weight, Net Dry (Basic Operating Engine Without Optional Attachments)

360 kg (793.7 lb)

Engine Dimensions - Approximate

Weight - Net Dry - Basic Operating Engine Without Optional Attachments

794lb

Length

24.8in

Width

24.6in

Height

37.7in

Height

823.5 mm (32.4 in)

Length

631 mm (24.8 in)

Weight - Net Dry - Basic Operating Engine Without Optional Attachments

360 kg (793.7 lb)

Width

626 mm (24.65 in)
Equipment
Air Inlet System

Inlet manifold with choice of inlets.

Control System

Alternator
Starter motor
Glow plug starting aid

Flywheels And Flywheel Housing

SAE No. 3 flywheel housing
Flywheel and starter rings

Fuel System

Lube System

Lubricating oil filters and breathers
Oil filter positions
Lube oil sump

Power Take Off

SAE B Power Take Off (PTO)

General

Paint: Caterpillar yellow, with optional colors available at request
Timing case and gear-driven auxiliaries
Belt-driven auxiliaries
Engine mountings
Gauges
Displays
Power and torque curve tailoring
Find a Boyd CAT

Location

or

Rep

Near You