High Performance Propulsion and Maneuvering Solutions:
Cat C18 ACERT High Performance Propulsion Engine (Tier 3 Recreational)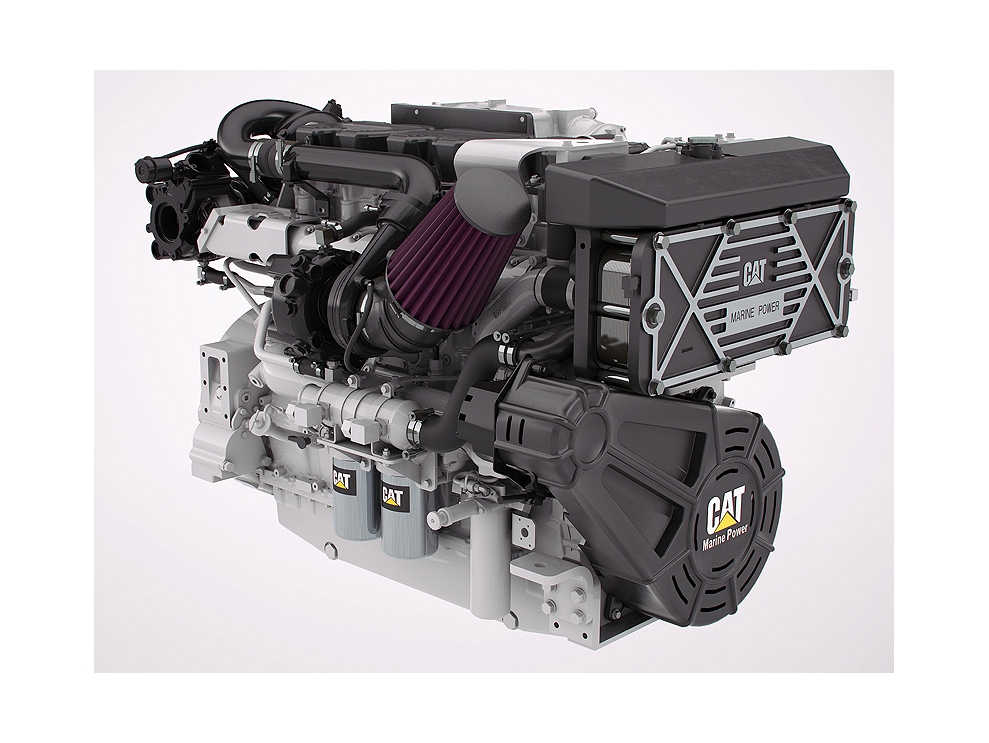 Power Range

1015-1150 mhp, 1001-1136 bhp, 747-847 bkW

Emissions

EPA Tier 3, IMO II, EU IW

Bore

5.7 in

Stroke

7.2 in
The C18 ACERT marine propulsion engine has ratings for recreational applications that meet U.S. EPA Tier 3, IMO II, and EU Stage IIIA Regulations. This marine engine incorporates the latest core engine system innovations to provide maximum benefits in power density, performance, emissions, and fuel efficiency. Not only is it equipped with engine monitoring and protection features, it is also compatible with Cat display and vessel control systems. With this engine comes the unmatched worldwide marine support network including Cat dealers and hundreds of authorized marine dealers. Their combined experience and expertise, products and services, backup and support allow your recreational pleasure craft to remain precisely that — a pleasure.
---
---
Product Specs
Ratings

Power Range

1015-1150 mhp, 1001-1136 bhp, 747-847 bkW

Power Range

1015-1150 mhp, 1001-1136 bhp, 747-847 bkW

Engine

Emissions

EPA Tier 3, IMO II, EU IW

Bore

5.7in

Stroke

7.2in

Displacement

1106.0in3

Emissions

EPA Tier 3, IMO II, EU IW

Bore

5.7in

Stroke

7.2in

Displacement

1106in³

Speed Range

2300 rpm

Configuration

In-line 6, 4-Stroke-Cycle Diesel

Aspiration

TA,TTA

Rotation from Flywheel End

Counterclockwise

Dimensions & Weights

Minimum Dry Weight

4000.0lb

Maximum Dry Weight

4299.0lb

Minimum Length

73.0in

Maximum Length

76.0in

Minimum Height

47.2in

Maximum Height

51.2in

Minimum Width

44.6in

Maximum Width

47.4in

Maximum Dry Weight

4299lb

Maximum Height

51.2in

Maximum Length

76in

Maximum Width

47.4in

Minimum Dry Weight

4000lb

Minimum Height

47.2in

Minimum Length

73in

Minimum Width

44.6in
Equipment
Air Inlet System

Aftercooler - sea water, corrosion resistant
Air cleaner/fumes disposal (closed system)
Turbocharger, jacket water cooled
Front-down and rear-down aftercooler condensate drains

Control System

Electronic diagnostics and fault logging
Cold mode start strategy
Engine and transmission monitoring (speed, temperature, pressure)
Electronic fuel/air ratio control
70-pin customer connector
Engine Protection Mode for High Ambient Conditions
Three types of throttle inputs (primary/ secondary PWM, 0-5V, 4-20mA +/-)

Cooling System

Sea water pump, rubber impeller, self-priming, gear driven
Sea water aftercooled
Jacket water pump, gear driven
JW Heat Exchanger - Titanium plate with integral fuel cooler expansion tank, and thermostat housing (fully open temp 92C)
Coolant recovery system

Exhaust System

Water-cooled exhaust manifold & turbocharger
114.3 mm (4.5 in) ID round flanged exhaust outlet

Flywheels & Flywheel Housings

Flywheel Housing, SAE No. 1
Flywheel, 18 inch, 113 teeth
SAE standard rotation

Fuel System

Fuel filter, RH service on Port, LH service on Starboard
Fuel transfer pump
Fuel priming pump
Hybrid fuel line design

Lube System

Crankcase breather
Oil cooler
Oil filter, spin-on, low profile, RH service on Port, LH service on
Oil pan, center sump
Dipstick, RH service on Port, LH service on Starboard
Oil pump, gear driven

Power Take-offs

Hydraulic pump drive, SAE A, 11-tooth spline, 46 ft-lbs max torque, counterclockwise as viewed from the front of the engine with 1.41 x engine speed
Crankshaft pulley, 292 mm (11.5 in) two groove, 15.88 mm (0.63 in) width

Protection System

A4 ECM Electronic Engine Monitoring System provides customer programmable engine de-rate strategies to protect against adverse operating conditions

General

Front damper guard
Lifting eyes
RH or LH service options
Upper rear-facing customer wiring connector and Service Tool connection
Charging System

Battery Chargers
Charging Alternators

Fuel System

Primary Fuel Filter / Water Separator
Primary Fuel Filter

Lube System

Power Take-offs

Starting System

Electric Starting Motor - Single 24 Volt
Battery Sets - 24 Volt - Dry

Control System

Instrumentation

OEM Wiring Harness
Engine to Engine Harness
Instrument Panels
Transmission Sensors
Find a Boyd CAT

Location

or

Rep

Near You