Marine Commercial Propulsion Engines:
Cat C32 ACERT Marine Propulsion Engine (EPA Tier 3)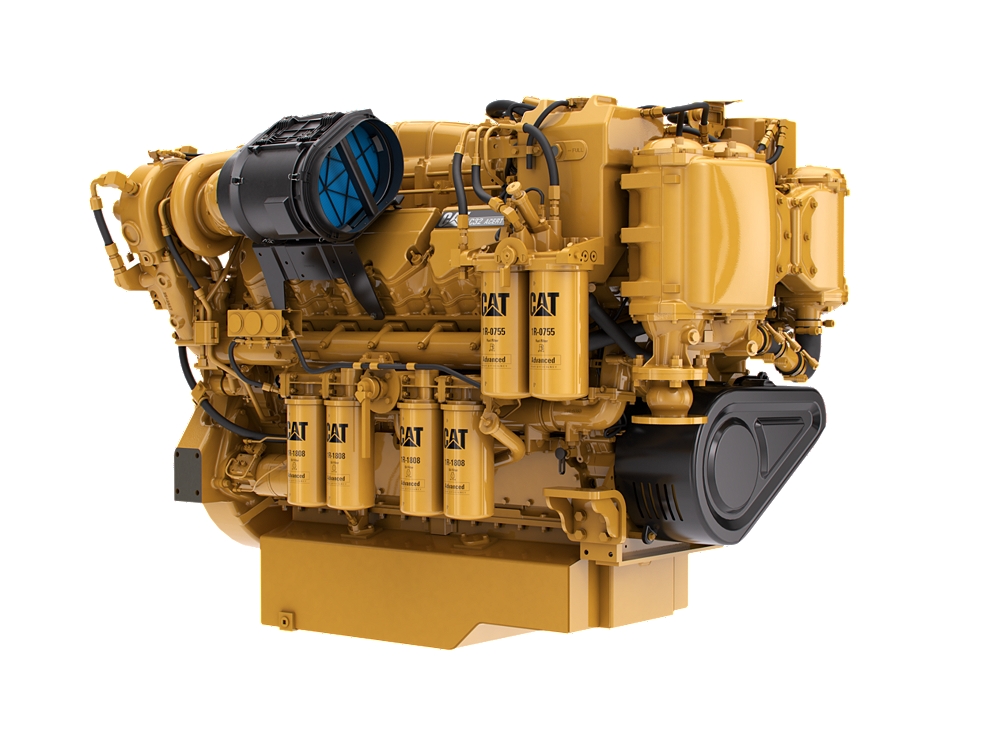 Power Range

750-1800 bhp (559-1342 bkW)

Speed Range

1600-2300 rpm

Emissions

EPA Tier 3, IMO II, EU IW

Aspiration

TTA
The C32 ACERT marine propulsion engine is available at ratings that meet both EPA Tier 3 and IMO II emissions regulations. It has a separate circuit aftercooling system (SCAC) for A through C ratings and a seawater aftercooling system (SWAC) for D and E ratings. The C32 ACERT has seven ratings with Wide Operating Speed Range (WOSR) and extended oil change intervals. Other benefits include proven engine operating history and performance iron with thousands of validation testing hours for quality and durability. The C32 ACERT marine engine is supported by the extensive Cat global dealer network and standard warranty.
---
---
Product Specs
Power Rating

Power Range

750-1800 bhp (559-1342 bkW)

Power Range

750-1800 bhp (559-1342 bkW)

Engine Specifications

Speed Range

1600-2300 rpm

Emissions

EPA Tier 3, IMO II, EU IW

Aspiration

TTA

Bore

5.71in

Stroke

6.38in

Displacement

1959.0in3

Rotation from Flywheel End

Counterclockwise

Configuration

Vee 12, 4-Stroke-Cycle Diesel

Speed Range

1600-2300 rpm

Emissions

EPA Tier 3, IMO II, EU IW

Aspiration

TTA

Bore

5.71in

Stroke

6.38in

Displacement

1959in³

Dimensions & Weights

Minimum Dry Weight

6950.0lb

Minimum Length

77.8in

Minimum Height

60.9in

Minimum Width

60.17in

Maximum Length

83.5in

Maximum Height

62.5in

Maximum Width

60.17in

Minimum Dry Weight

6950lb

Minimum Height

60.9in

Minimum Length

77.8in

Minimum Width

60.17in
Equipment
Air Inlet System

Separate Circuit After-Cooled (SCAC)
Seawater After-Cooling (SWAC) System
Air cleaner
Turbochargers, jacket water cooled
Turbochargers inlet, 152 mm (6 in) OD straight connection

Control System

Programmable Low Idle (550 - 750 rpm)
WOSR (Wide Operating Speed Range) available for - A, B, & C Ratings
Programmable High Idle Limit for WOSR Ratings
Electronic diagnostics and fault logging
Engine and transmission monitoring (speed, temperature, pressure)
Electronic fuel/air ratio control
Engine Protection Mode for extended ambient conditions
Torque Limiting functionality for WOSR ratings only
70-pin customer connector
Throttle Input signal options

Cooling System

Separate Circuit After-Cooling (SCAC) for Heat Exchanged (HEX) & Keel cooled engines
Jacket Water (JW) and SCAC Heat Exchangers Shell & Tube for HEX cooled engines
SCAC pump, gear driven
Jacket water pump, gear driven
Sea water pump, bronze impeller, gear driven, for HEX cooled engines only
Sea water Pump & JW Heat Exchanger Connection: 76.2 mm (3in) ID Standard
Keel Connections: 76.2 mm (3in) ID Standard 4 Bolt ANSI Flange Connection
SCAC and JW shunt tanks for maintaining proper pump inlet pressures
Seawater After-Cooling (SWAC) System

Exhaust System

4 Bolt 130 mm (5.12 in) diameter flanged outlet
Water-cooled exhaust manifold & turbocharger

Flywheels & Flywheel Housings

SAE standard rotation (CCW facing exciter end)
Flywheel Housing: SAE No. 0, Flywheel: 18 inch, 136 teeth

Fuel System

Duplex Fuel Filters, Spin-on, RH & LH service
Fuel connections size:Supply JIC 37 Deg -10 (7/8-14), Return JIC 37 Deg -8 (3/4-16)
Plate Type Fuel Cooler installed behind Aftercooler Shunt Tank
Fuel transfer pump, gear driven
Manual fuel priming pump
Hybrid fuel line design

Lube System

Simplex Oil Filters, RH or LH service
Deep sump oil pan
RH or LH service oil filler locations
RH or LH service dipstick
Oil pump, gear driven

Mounting System

Front support - adjustable

Power Take-offs

Front Poly-V groove pulley (Quantity 1) for auxiliary drives

General

Common electrical bonding point
Engine does not ship with zinc components
Air Inlet Systems

Air Inlet Cleaner
Air Inlet Adapter

Charging Systems

Battery Charger
Charging Alternators
Ammeter

Cooling System

Marine Gear/Transmission Oil Coolers
Connections

Exhaust System

Dual Elbow
Flexible Fitting
Dual Muffler
Muffler Spark Arresting
Flange

Fuel System

Instrumentation

OEM Wiring Harness
Engine to Engine Harness
Instrument Panels
Exhaust Temperature Sensors
Wiring Harness
Gauges
Transmission Sensors

Lube System

Transmission Oil Cooler
Manual Sump Pump
Duplex Oil Filters

Protection System

Starting System

Air Starting Motor
Air Start Accessories
Electric Starting Motors - Single 24 Volt
Starting Aids
Battery Sets - 24 Volt - Dry
Dual Starting Motors (Electric and Air)

Packing

Engine Protective Cover
Export Packing
Storage Preservation

Mounting System

Front Support
Adapter Kits
Isolator Mounts

Power Take-offs

Front Enclosed Clutches
Rear Hydraulic Pump Drive

General

Control System

Instrument Panels
CATERPILLAR ALARM AND PROTECTION
Fuel and Oil Shielding
Find a Boyd CAT

Location

or

Rep

Near You