Marine Commercial Propulsion Engines:
C175-16 Propulsion Engine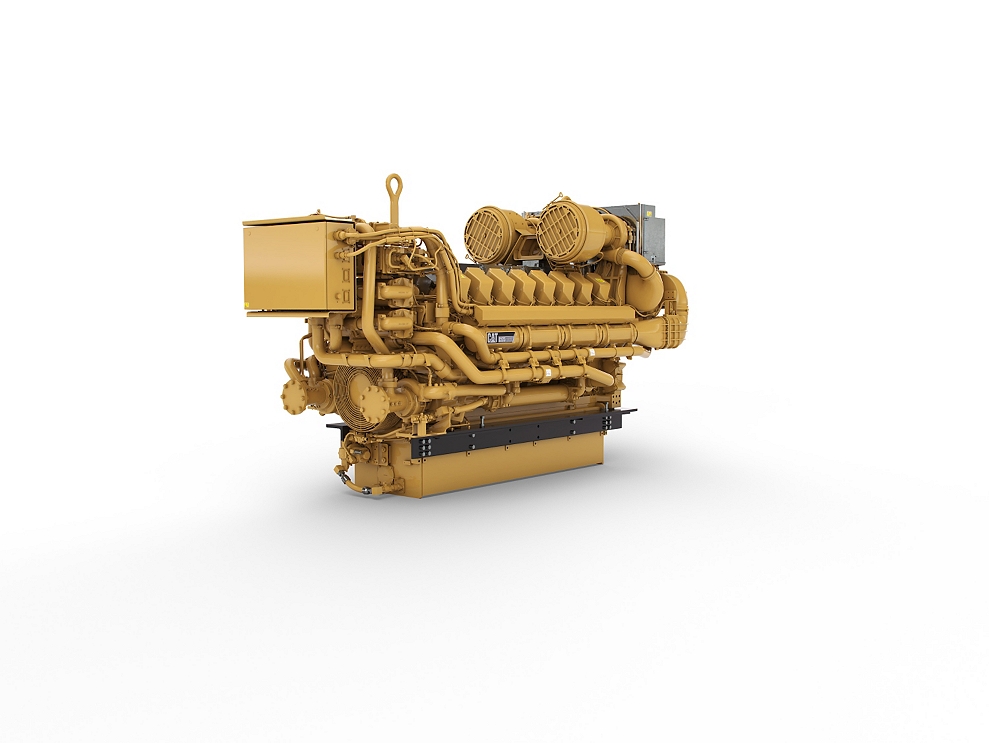 Power Range

2683-3420 bhp (2001-2550 bkW)

Speed Range

1600-1800 rpm

Emissions

IMO II

Aspiration

TA
The C175-16 is the first Cat marine engine with core ACERTTM Technology, designed and built from the ground up. This offers maximum performance along with EPA Marine Tier 3 and IMO Tier II emissions compliance with no aftertreatment. With unrestricted continuous and heavy-duty ratings, you get morepower with plenty of room for growth, so you maximize productivity while minimizing cost of ownership. With a bore of 175 mm (6.9 in) and a stroke of 220 mm (8.66 in), the C175-16 is highly efficient while providing increased propulsion output in a high speed engine platform. Additional features include: Turbocharged and aftercooled aspiration, MCS approved monitoring, alarm, and protection system. Cross-flow head design, simplified electrical system. The C175-16 is backed by a Caterpillar warranty and the best service network in the industry. The global Cat dealer network means customers can count on the service and support they need for their marine engines no matter where their vessel is located.
---
---
Product Specs
Power Rating

Power Range

2683-3420 bhp (2001-2550 bkW)

Power Range

2683-3420 bhp (2001-2550 bkW)

Engine Specifications

Speed Range

1600-1800 rpm

Emissions

IMO II

Aspiration

TA

Bore

6.88in

Stroke

8.66in

Displacement

5166.88in3

Speed Range

1600-1800 rpm

Emissions

IMO II

Aspiration

TA

Bore

6.88in

Stroke

8.66in

Displacement

5166.88in³

Configuration

Vee 16, 4-Stroke-Cycle Diesel

Rotation from Flywheel End

Counterclockwise

Dimensions & Weights

Dry Weight

28750.0lb

Width

72.6in

Dry Weight

28750lb

Width

72.6in

Length

177.8in

Height

97.6in
Equipment
Air Inlet System

Air cleaner; 2 single element canisters
Air cleaner mounting

Control System

Caterpillar Dual ADEM A4 Electronic Engine Control, front mtd.Requires 24V DC 20 amp continuous, 40 amp intermittent, clean electrical power

Cooling System

Engine Configuration for Remote Cooling

Exhaust System

Dry Exhaust Manifold and dual turbochargers with heat shields

Flywheels & Flywheel Housings

Flywheel housing, SAE No. 00
Flywheel, 530 M (SAE No. 21), 183 teeth

Fuel System

Fuel transfer pump, RH Fuel priming pump, RH Double walled high pressure fuel lines Electronically controlled unit injectors Leak detection Customer connections, RH Shipped loose duplex primary fuel filters with water separators Duplex secondary and tertiary fuel filters

Instrumentation

Features: Start/stop controls Emergency stop Terminal blocks for customer connections
Switches: Cranking override-RH and LH Crank selection Low idle Prelube override
Graphical Unit (Color Marine Power Display) for analog or digital of: Engine oil pressure, engine water temperature, fuel pressure, system DC voltage, air inlet restriction, LH & RH exhaust temperature (prior to turbocharger), fuel filter differential, oil filter differential, service hour meter, engine speed, instantaneous fuel consumption (calculated), total fuel consumed (calculated), engine control switch (4 position), alarn horn, prioritized alarms, backup ECM ready light, backup ECM in control light, overspeed shutdown notification light, emergency stop notification light, prelube override, shutdown override
Indication lights: Auxiliary one and two circuits Emergency stop lamp General alarm lamp Local speed control

Lube System

Gear type lube oil pump Integral lube oil cooler Oil drain valves, FRONT Oil sampling valve Duplex oil filter Filler and dipstick Fumes disposal 1000 hour sump oil pan

Protection System

A4 Electronic Monitoring System provides customer programmable engine derating strategies to protect against adverse operating conditions.
Emergency stop push button (located in Electronic Instrument Panel) Safety shutoff protection: Oil pressure and water temperature(redundant OP and WT sensors) Overspeed (redundant and independent of engine governing system speed sensed by backup ECM which is MCS approved) NOT INCLUDED: Thermocouples

Starting System

High and Low current power distribution box NOT INCLUDED: Starting motor

Marine Society Requirements

See MARINE SOCIETY REQUIREMENTS optional attachments

General

Vibration damper and guard Lifting eyes Paint, Caterpillar yellow engine with black rails. Preservation of cooling system, air intake and exhaust for one year indoor storage
Imo Certification (emissions)

For GL IMO certification for vessels with a German Flag, additional certificatio nthrough the German Authority SeeBG is required.

Charging System

Alternator Harness: 10M/32FT, 20M/64FT, 30M/98FT
Battery Charger 20 AMP

Cooling System

Exhaust System

Flexible Fitting
Flanges
Flange & Exhaust Expanders

Fuel System

Instrumentation

PL 1000E Communication Module
Marine Gear Sensors
Color Marine Power Display System
Turbocharger Speed Sensors

Lube System

Special Tests/reports

Special Test Charge - English Only
STD Engine Test Charge

Starting System

24 Volt Battery Set - Dry (QTY6)
Starter Motor Harness

Service Tools/ship Prot./ Factory Support

Shrink Wrap Protection
Export Packaging
Find a Boyd CAT

Location

or

Rep

Near You