Cat Wheel Loaders:
990K Millyard Arrangement Wheel Loader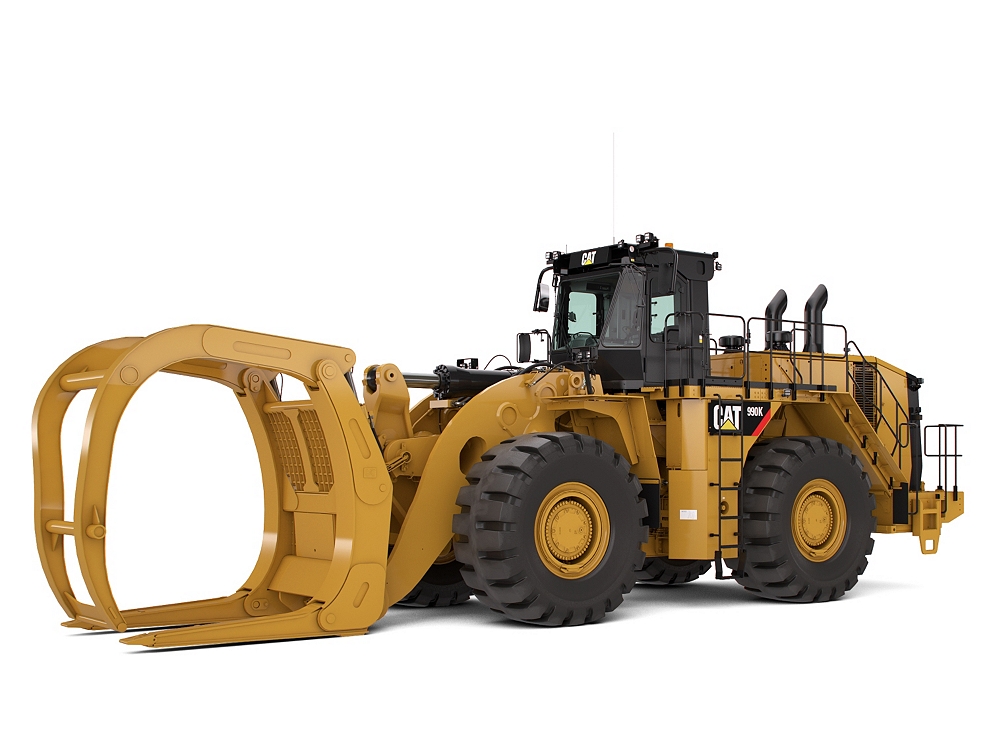 Net Power

699 hp

Operating Weight

202398 lb

Engine Model

Cat® C27 ACERT™

Net Power – SAE J1349

699 hp
Cat Large Wheel Loaders are designed with durability built in, ensuring maximum availability through multiple life cycles. With optimized performance and simplified serviceability, our machines allow you to move more material efficiently and safely. The 990K Millyard Arrangement is designed to meet the demands of millyard applications. The features of the 990K Millyard work together to provide a durable and reliable machine to meet the needs of the modern millyard.
---
---
Product Specs
Engine

Net Power

699hp

Engine Model

Cat® C27 ACERT™

Net Power – SAE J1349

699hp

Bore

5.4in

Stroke

6.0in

Displacement

1649.5in3

Torque Rise

18.0%

Rated Speed

1,800 rpm

Emissions

U.S. EPA Tier 4 Final or Tier 2 equivalent

Net Power

699HP

Engine Model

Cat® C27 ™

Bore

5.4in

Stroke

6in

Displacement

1649.5in³

Torque Rise

18%

Rated Speed

1,800/min

Emissions

U.S. EPA Tier 4 Final or Tier 2 equivalent

Net Power - SAE J1349

699HP

Gross - ISO 14396

752HP

Peak Torque - 1,200 rpm

2624lb/ft

Rated Speed - Gross - ISO 14396

752HP

Rated Speed - Gross - SAE J1995

766HP

Rated Speed - Net Power - SAE J1349 - High Ambient

648HP

Rated Speed - Net Power - SAE J1349 - Standard Ambient

699HP

Operating Specifications

Operating Weight

202398lb

Tipping Load – Articulated 35°

81896lb

Operating Weight

202398lb

Tipping Load - Articulated 35°

81896lb

Tipping Load - Straight

92990lb

Transmission

Transmission Type

Cat planetary power shift

Forward 1

4.5mph

Forward 2

8.3mph

Forward 3

14.2mph

Reverse 1

4.9mph

Reverse 2

9.1mph

Reverse 3

15.5mph

Direct Drive Forward 2

8.5mph

Direct Drive Reverse 1

5.4mph

Direct Drive Reverse 2

9.6mph

Note

Travel speeds based on Michelin 45/65R39 LD D2**L5 tires.

Transmission Type

Cat-Planetenlastschaltgetriebe

Forward - 1

4.5mile/h

Forward - 2

8.3mile/h

Forward - 3

14.2mile/h

Reverse - 1

4.9mile/h

Reverse - 2

9.1mile/h

Reverse - 3

15.5mile/h

Direct Drive - Forward 2

8.5mile/h

Direct Drive - Reverse 1

5.4mile/h

Direct Drive - Reverse 2

9.6mile/h

Note

Travel speeds based on Michelin 45/65R39 LD D2**L5 tires.

Direct Drive - Forward 1

Lock-up disabled

Direct Drive - Forward 3

15.2mile/h

Direct Drive - Reverse 3

16.4mile/h

Axles

Front

Fixed

Rear

Trunnion

Oscillation Angle

8.5°

Front

Fixed

Rear

Trunnion

Oscillation Angle

8.5°

Hydraulic Cycle Time

Rack Back

4.8Seconds

Raise

9.4Seconds

Dump

2.9Seconds

Lower Float Down

3.6Seconds

Hydraulic System – Steering

Steering System – Circuit

Pilot, load sensing

Steering System – Pump

Piston, variable displacement

Total Steering Angle

70°

Service Refill Capacities

Fuel Tank

294.3gal

Cooling System

54.9gal

Transmission

29.1gal

Differentials and Final Drives – Front

71.6gal

Differentials and Final Drives – Rear

68.9gal

Engine Crankcase

20.0gal

Hydraulic System Factory Fill

210gal (US)

Hydraulic Tank - Implement and Hydraulic Fan

68.9gal (US)

Hydraulic Tank - Steering and Braking

34.9gal (US)

Fuel Tank

294.3gal (US)

Cooling System

54.9gal (US)

Transmission

29.1gal (US)

Differential - Final Drives - Front

71.6gal (US)

Differential - Final Drives - Rear

68.9gal (US)

Engine Crankcase

20gal (US)

Sound Performance – Standard

Machine Sound Level (ISO 6395:2008)

115dB(A)

Hydraulic System – Lift/Tilt

Cylinders, Double Acting: Lift, Bore and Stroke

254 mm × 1264 mm (10.0 in × 49.8 in)

Cylinders, Double Acting: Tilt, Bore and Stroke

317.5 mm × 819 mm (12.5 in × 32.2 in)

Pilot System

Open loop and pressure reducing

Relief Valve Setting – Lift/Tilt

4786psi

Sound Performance – Suppression

Machine Sound Level (ISO 6395:2008)

113dB(A)

Brakes

Brakes

SAE J1473 OCT90, ISO 3450:1992

Brakes

SAE J1473 OKT90, ISO 3450:1992

Sound Performance - Standard

Operator Sound Level (ISO 6396:2008)

69dB(A)

Machine Sound Level (ISO 6395:2008)

115dB(A)

Hydraulic System - Lift/Tilt

Lift/Tilt System

Variable displacement piston

Maximum Flow at 1,800 rpm (1)

216gal/min

Maximum Flow at 1,800 rpm (2)

22.2gal/min

Relief Valve Setting - Main

507psi

Cylinders, Double Acting - Lift, Bore and Stroke

254 mm × 1264 mm (10.0 in × 49.8 in)

Cylinders, Double Acting - Tilt, Bore and Stroke

317.5 mm × 819 mm (12.5 in × 32.2 in)

Lift/Tilt System - Circuit

Positive flow control

Pilot System

Open loop and pressure reducing

Relief Valve Setting - Lift/Tilt

4786psi

Sound Performance - Suppression

Operator Sound Level (ISO 6396:2008)

69dB(A)

Machine Sound Level (ISO 6395:2008)

113dB(A)

Forks

Fork End Area

78ft²

Dimensions - Millyard Linkage - Approximate

Ground to Top of ROPS

17.2ft

Ground to Top of Exhaust Stacks

16.6ft

Ground to Top of Hood

12.7ft

Ground to Bumper Clearance

3.1ft

Rear Axle - Centerline to Bumper

12.5ft

Front Axle Centerline to Fork Tip

17.6ft

Wheel Base

15.1ft

Maximum Overall Length

45.4ft

Ground to Lower Hitch Clearance

2ft

Ground to Center of Front Axle

3.9ft

Fork Height with Level Arms

8.9ft

Fork Top Clamp Opening

12.3ft

Fork Height at Maximum Lift

18.3ft

Hinge Pin Height at Maximum Lift

19.4ft

Dump Angle at Maximum Lift

29.3 degrees

Hydraulic Cycle Times

Raise

9.4s

Dump

2.9s

Lower Float Down

3.6s

Rack Back

4.8s

Lower

3.7s

Hydraulic System - Steering

Steering System - Circuit

Pilot, load sensing

Steering System - Pump

Piston, variable displacement

Total Steering Angle

70°

Relief Valve Setting - Steering

4641psi

Maximum Flow at 1,400 rpm

94.5gal/min
Equipment
Note

Standard and optional equipment may vary. Consult your Cat dealer for details.

Operator Environment

Air conditioner and heater with automatic temperature control
Cab, sound-suppressed pressurized, protective structure (ROPS/FOPS), radio ready for (entertainment) includes antenna, speakers and converter (12V, 10-15 amp)
12V power port for mobile phone or laptop connection
Camera, rear vision
Cigar lighter and ashtray
Coat hook
Electro-hydraulic tilt and lift controls (seat mounted)
Flip-up armrest
Heater and defroster
Horn, electric
Implement hydraulic lockout
Instrumentation, gauges: – Engine coolant temperature – Fuel level – Ground speed – Gear – Hydraulic oil temperature – Speedometer/tachometer – Torque converter temperature
Instrumentation, warning indicators: – Action alert system, three category – Automatic transmission model enable status – Brake malfunction – Bucket float status – Delayed engine shutdown status – Engine idle shutdown status – Engine malfunction – Fuel economy mode enable status – Hydraulic lockout – Lockup clutch enable status – Low fuel level – Parking brake status – Rimpull control enable status – Seatbelt warning – Secondary steering (if equipped) – Throttle lock status – Transmission gear
Keypad, control with indicator lights: – Auto trans mode speed range – Auto/manual transmission mode – Fuel economy mode – Implement kickout – Lockup clutch – Reduced rimpull – Throttle lock
Light, dome (cab)
Lunchbox and beverage holders
Mirrors, rearview (externally mounted)
Seat, Cat comfort (cloth) air suspension
Seat belt, retractable, 76 mm (3 in) wide
STIC control system with steering lock
Tinted glass
Trainer seat with lap belt
Vital Information Management System (VIMS) 3G with graphical information display: external data port, customizable operator profiles, cycle timer, and integral Payload Control System (PCS): – Wet-arm wipers/washers (front, rear and corner) intermittent front wiper

Power Train

Brakes, full hydraulic, enclosed, oil-disc
Axle-shaft oil-disc service brake
Electro hydraulic parking brake
Case drain filters
Cat clean emission module (Tier 4 Final only)
Demand fan
Engine Cat C27
Fuel priming pump (electric)
Ground level engine shutoff, bumper
Mufflers (under hood) (Tier 2 only)
Precleaner, engine air intake
Radiator, Aluminum Modular (AMR)
Separated cooling system
Starting aid, (ether) manual override
Throttle Lock
Torque Converter, Impeller Clutch with lock-up clutch feature and rimpull control system
Transmission, 534 mm (21 in) planetary power shift (electronic) (3F/3R)

Electrical

Alarm, back-up
Alternator, 150 amp
Batteries, maintenance free (2 – 1,400 CCA)
Converter, 10/15 amp, 24V to 12V
Deutsch component connectors
Electrical system, 24V
Electronic transmission control
Lighting system, halogen (front and rear) lighting, access stairway, engine compartment
Starter, electric
Starter lockout in bumper
Starting receptacle for emergency start
Transmission lockout in bumper

Other

Automatic tilt/lift kickouts electronically adjustable from cab
Axle temperature sensor
Battery disconnect and jump start receptacle, bumper
Coupling, Caterpillar O-ring face seals
Economy mode with on demand throttle
Emergency platform egress
Engine, crankcase, 500 hour interval with CH4
Engine idle management features: – Auto idle kickdown – Delayed engine shutdown – Engine idle shutdown
Fenders, steel (front)
Guards, crankcase and power train
Grouped/labeled lube points
Hitch, drawbar with pin
Hoses, Cat XT™
Oil sampling valves
Positive flow control hydraulic system
Product Link
Sight Gauges: hydraulic tanks, steering/fan and implement/brake, and transmission
Stairway, left and right rear access
Steering, load sensing
Toe kicks
Vandalism protection caplocks
Venturi stack
Premixed 50% concentration of extended life coolant with freeze protection to –34° C (–29° F)
Note

Standard and optional equipment may vary. Consult your Cat dealer for details.

Power Train

–50° C (–58° F) antifreeze
Engine oil change system, high speed, Wiggins
Engine block heater 120V or 240V
High ambient cooling – software

Operator Environment

Cab precleaner
AM/FM/CD/MP3 radio
Satellite Sirius radio with Bluetooth
LED warning strobe
CB radio ready
Window sun shade

Miscellaneous Attachments

Front and rear roading fenders
Fast fill fuel system (Shaw-Aero)
Axle oscillation stop
Heavy duty cab mounts
Find a Boyd CAT

Location

or

Rep

Near You