Cat Wheel Loaders:
966M XE Wheel Loader | Front Loader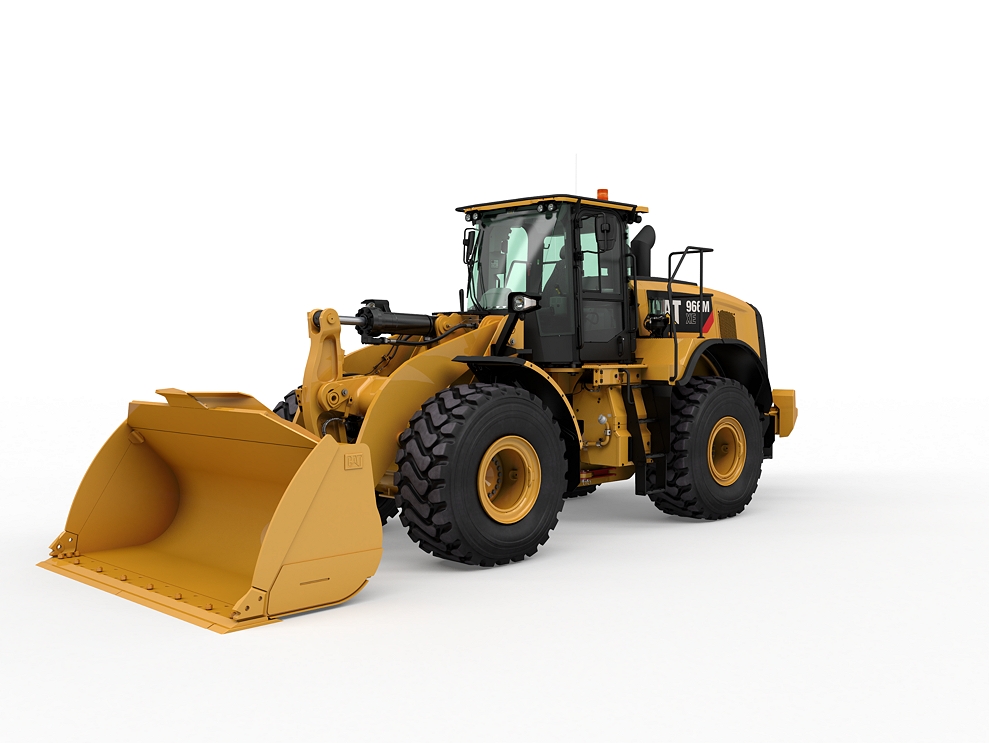 Maximum Net Torque (1,200 rpm)

1193 lbf-ft

Engine Model

Cat C9.3 ACERT

Cooling System

19 gal

Crankcase

6.5 gal
The new 966M XE Wheel Loader, with the 2017 product update, applies proven technologies systematically and strategically to meet your high expectations for reliability, productivity, fuel efficiency, and long service life. The XE technology improves fuel efficiency by up to 25% over the M Series standard configuration and up to 35% over the K Series standard configuration.** Meets U.S. EPA Tier 4 Final and EU Stage IV emission standards. **Actual results may vary based on factors such as, but not limited to, machine configuration, operator technique, machine application, climate, etc.
---
---
Product Specs
Engine

Maximum Net Torque (1,200 rpm)

1193lbf-ft

Engine Model

Cat C9.3 ACERT

Net Power - ISO 9249

298hp

Maximum Net Power @ 1,600 rpm – SAE J1349

298hp

Maximum Net Power @ 1,600 rpm – SAE J1349 (metric)

302hp

Maximum Net Power @ 1,600 rpm – ISO 9249

298hp

Maximum Net Power @ 1,600 rpm – ISO 9249 (metric)

302hp

Peak Gross Torque (1,200 rpm) – SAE J1995

1275lbf-ft

Net Power - ISO 9249

298HP

Engine Model

Cat C9.3

Maximum Net Power - 1,600 rpm - ISO 9249

298HP

Maximum Net Power - 1,600 rpm - ISO 9249 - Metric

302HP

Maximum Net Power - 1,600 rpm - SAE J1349

298HP

Maximum Net Power - 1,600 rpm - SAE J1349 - Metric

302HP

Peak Gross Torque - 1,200 rpm - SAE J1995

1275ft·lbf

Peak Gross Torque - 1,200 rpm - ISO 14396

1260ft·lbf

Displacement

568in³

Note

The air conditioning system on this machine contains the fluorinated greenhouse gas refrigerant R134a (Global Warming Potential = 1430). The system contains 1.6 kg of refrigerant which has a CO2 equivalent of 2.288 metric tonnes.

Emissions

Tier 4/Stage IV

Maximum Net Torque - 1,200 rpm

1193ft·lbf

Displacement

568in³

Service Refill Capacities

Cooling System

19gal

Crankcase

6.5gal

Transmission

16.6gal

Differentials and Final Drives – Front

15.1gal

Differentials and Final Drives – Rear

15.1gal

Hydraulic Tank

33gal

Fuel Tank

79.8gal

Cooling System

19gal (US)

Crankcase

6.5gal (US)

Transmission

16.6gal (US)

Hydraulic Tank

33gal (US)

Differential - Final Drives - Front

15.1gal (US)

Differential - Final Drives - Rear

15.1gal (US)

Fuel Tank

79.8gal (US)

DEF Tank

4.4gal (US)

DEF Tank

4.4gal

Sound

Note

*Distance of 15 m (49.2 ft), moving forward in second gear ratio.

Note

**For machines in European Union countries and in countries that adopt the "EU Directives."

With Cooling Fan Speed at Maximum Value: Operator Sound Pressure Level (ISO 6396:2008)

67dB(A)

Note (1)

*Distance of 15 m (49.2 ft), moving forward in second gear ratio.

Note (2)

**For machines in European Union countries and in countries that adopt the EU Directives.

With Cooling Fan Speed at Maximum Value - Operator Sound Pressure Level (ISO 6396:2008)

67dB(A)

Note (3)

***European Union Directive 2000/14/EC as amended by 2005/88/EC.

With Cooling Fan Speed at Maximum Value - Exterior Sound Power Level (ISO 6395:2008)

107dB(A)

With Cooling Fan Speed at Maximum Value - Exterior Sound Pressure Level (SAE J88:2013)

76 dB(A)*

With Cooling Fan Speed at 70% of Maximum Value - Operator Sound Pressure Level (ISO 6396:2008)**

67dB(A)

With Cooling Fan Speed at 70% of Maximum Value - Exterior Sound Power Level (ISO 6395:2008)**

105 LWA***

With Cooling Fan Speed at Maximum Value: Exterior Sound Power Level (ISO 6395:2008)

107dB(A)

With Cooling Fan Speed at Maximum Value: Exterior Sound Pressure Level (SAE J88:2013)

76 dB(A)*

Note

***European Union Directive "2000/14/EC" as amended by "2005/88/EC."

Hydraulic System

Implement Pump Type

Variable Displacement Piston

Implement System: Maximum Operating Pressure

4496psi

Hydraulic Cycle Time - Total

10.1s

Implement Pump Type

Variable Displacement Piston

Implement System - Maximum Operating Pressure

4496psi

Implement System - Maximum Pump Output at 1,600 rpm

102gal/min

Hydraulic Cycle Time – Total

10.1Seconds

Weights

Operating Weight

51176lb

Operating Weight

51176lb

Note

Weight based on a machine configuration with Michelin 26.5R25 XHA2 L3 radial tires, full fluids, operator, standard counterweight, cold start, roading fenders, Product Link™, manual diff lock/open axles (front/rear), power train guard, secondary steering,

Note

Weight based on a machine configuration with Michelin 26.5R25 XHA2 L3 radial tires, full fluids, operator, standard counterweight, cold start, roading fenders, Product Link™, manual diff lock/open axles (front/rear), power train guard, secondary steering,

Bucket Capacities

Bucket Capacities

3.20-7.40 m3 (4.19-9.68 yd3)

Bucket Capacities

3.20-7.40 m³ (4.19-9.68 yd³)

Operating Specifications

Static Tipping Load – Full 37° Turn – with Tire Deflection

32329lb

Static Tipping Load – Full 37° Turn – No Tire Deflection

34873lb

Breakout Force

38984lbf

Static Tipping Load - Full 37° Turn - No Tire Deflection

34873lb

Static Tipping Load - Full 37° Turn - With Tire Deflection

32329lb

Note (1)

For a machine configuration as defined under "Weight."

Note (2)

Full compliance to ISO 143971:2007 Sections 1 thru 6, which requires 2% verification between calculations and testing.

Note

For a machine configuration as defined under "Weight."

Note

Full compliance to ISO 143971:2007 Sections 1 thru 6, which requires 2% verification between calculations and testing.

Transmission – Virtual Gears

Forward 2

7.7mph

Forward 3

13.5mph

Forward 4

24.5mph

Dimensions - Standard Lift

Rack Back at Ground

42 degrees

Maximum Width over Tires

9.83ft

Tread Width

7.33ft

Note

All dimensions are approximate and based on L3 XHA2 tires.

Height - Top of Hood

9.25ft

Height - Top of Exhaust Pipe

11.58ft

Height - Top of ROPS

11.75ft

Ground Clearance

1.42ft

Centerline of Rear Axle to Edge of Counterweight

7.17ft

Centerline of Rear Axle to Hitch

5.83ft

Wheel Base

11.67ft

Overall Length - Without Bucket

23.92ft

Hinge Pin Height at Maximum Lift

13.92ft

Hinge Pin Height at Carry

2.08ft

Lift Arm Clearance at Maximum Lift

11.92ft

Rack Back - Maximum Lift

62 degrees

Rack Back - Carry Height

50 degrees

Dimensions - High Lift

Height - Top of Hood

9.25ft

Height - Top of Exhaust Pipe

11.58ft

Height - Top of ROPS

11.75ft

Ground Clearance

1.42ft

Centerline of Rear Axle to Edge of Counterweight

8.17ft

Centerline of Rear Axle to Hitch

5.83ft

Wheel Base

11.67ft

Overall Length - Without Bucket

26.58ft

Hinge Pin Height at Maximum Lift

15.75ft

Hinge Pin Height at Carry

2.58ft

Lift Arm Clearance at Maximum Lift

13.58ft

Rack Back - Maximum Lift

71 degrees

Rack Back - Carry Height

49 degrees

Rack Back at Ground

39 degrees

Maximum Width over Tires

9.83ft

Tread Width

7.33ft

Note

All dimensions are approximate and based on L3 XHA2 tires.

Buckets

Bucket Capacities

3.20-7.40 m3 (4.19-9.68 yd3)

Bucket Capacities

3.20-7.40 m³ (4.19-9.68 yd³)

Transmission - Virtual Gears

Forward - 1

4.1mile/h

Forward - 2

7.7mile/h

Forward - 3

13.5mile/h

Forward - 4

24.5mile/h

Reverse - 1

4.1mile/h

Reverse - 2

7.7mile/h

Reverse - 3

17.1mile/h

Note

Maximum travel speed in standard vehicle with empty bucket and standard L3 tires with 826 mm (32.5 in) roll radius.

Engine - Tier 4 Final/Stage IV

Emissions

Tier 4/Stage IV
Equipment
Note

Standard and optional equipment may vary. Consult your Cat dealer for details.

Power Train

Engine, Cat 9.3 meets Stage IV emission standards
Cat Clean Emissions Module (CEM) with Diesel Exhaust Fluid (DEF) tank and pump
Fuel priming pump (electric)
Fuel/water separator
Precleaner, engine air intake
Cat continuously variable transmission
Axles, manually actuated differential lock front axle, open differential rear axle
Axles, ecology drains
Brakes, full hydraulic enclosed wet-disc with modulated neutralizer and integrated retarding
Brake wear indicators
Parking brake, disc and caliper
Right pedal lock, maximum rimpull control and machine speed limit in the cab
Fan, radiator, on demand

Hydraulics

Hydraulic system, load sensing
Steering, load sensing
Ride control, 2V
Remote diagnostic pressure taps
Hoses, Cat XT™
Couplings, Cat O-ring face seal
Hydraulic oil cooler (swing out)
Oil sampling valves

Electrical And Lighting

Batteries (2), maintenance free 1,400 CCA
Ignition key; start/stop switch
Starter, electric, heavy duty
Starting and charging system (24V)
Lighting system: Four halogen work lights (cab mounted); Two halogen roading lights (with signals); Two halogen rear vision lights (hood mounted); Two rear LED position/stop/turn
Alarm, back up
Alternator, 145-amp brushed
Main disconnnect switch
Emergency engine shutdown switch
Receptable start (cables not included)
Secondary steering
Speed limiter, adjustable

Operator Environment

Cab, pressurized and sound suppressed (ROPS/FOPS)
Viscous mounts
Multi-function 18 cm color touchscreen display for rear vision camera, clock and machine parameters
EH controls, SAL (single axis lever) lift and tilt function
Steering, EH joystick, speed sensing with force feedback
Radio ready (entertainment) includes antenna, speakrs and converter (12V, 10-amp)
Air conditioner, heater, and defroster (auto temp and fan)
EH parking brake
Beverage holders (2) with storage compartment for cell phone/MP3 player
Bucket/work tool function lockout
Coat hook (2)
Cab air filter
Ergonomic cab access ladders and handrails
Horn, electric
Light, two dome (cab)
Mirrors, rearview external with integrated spot mirrors
Post mounted membrane 16 switch keypad
2 receptables, 12V
Seat, Cat Comfort (cloth) air suspension
Seat belt, 51 mm retractable, with indicator
Sun visor, front
Wet-arm wipers/washer front and rear, intermittent front wiper
Window, sliding (left and right sides)
Cab tie-off

Computerized Monitoring System

With following gauges: Speedometer/tachometer; Digital gear range indicator; Diesel Exhaust Fluid (DEF) level; Temperature: engine coolant, hydraulic oil, transmission oil; Fuel level
With following warning indicators: Regeneration; Temperature: axle oil, engine intake manifold; Pressure: engine oil, fuel pressure hi/low, primary steering oil, service brake oil; Battery voltage hi/low; Engine air filter restriction; Hydraulic oil filter restriction; Hydraulic oil low; Parking brake; DEF low level; Transmission filter bypass

Cat Connect Technologies

Link technologies: Product Link
Detect technologies: rear vision camera

Linkage

Linkage, Z-bar, cast crosstube/tilt lever
Kickout, lift and tilt, automatic

Fluids

Premixed extended life coolant with freeze protection to -34° C

Other Standard Equipment

Hood, non-metallic power tilting
Service centers (electrical and hydraulic)
Platform, window washing
Auto idle shutdown
Fenders, steel front with mud-flap/rear with extension
Ecology drains for engine, transmission, and hydraulics
Ether aid ready
Grill, airborne debris
Filters: fuel, engine air, engine oil, hydraulic oil, transmission
Fuel cooler
Grease zerks
Hitch, drawbar with pin
Precleaner rain cap
Sight gauges: engine coolant, hydraulic oil, and transmissin oil level
Toolbox
Vandlism protection caplocks
Note

Standard and optional equipment may vary. Consult your Cat dealer for details.

Power Train

Axles - Automatic front/rear differential locks; Axle oil cooler; Extreme temperature seals; Seal guards
Fan, VPF (variable pitch fan), automatic and manual control
Radiator, high debris with wider fin spacing

Hydraulics

3rd function with Ride Control
4th function with Ride Control

Electrical And Lighting

Four additional halogen cab mounted work lights or;
Two additional auxiliary front HI LED and two additional auxiliary rear LED cab mounted work lights, two LED work lights in the radiator grill, LED front turn signals, replacement of the standard four halogen cab mounted work lights with four LED work lights, LED roading lights
Speed limiter - 20 km/h
External seat belt indicator light
Reversing strobes

Operator Environment

Door, remote opening system
Cover, HVAC metallic
EH controls, SAL 3rd function - Additional roller switch for 4th function
EH controls, joystick lift and tilt - Additional integrated roller switches for 3rd and 4th functions
Filter, carbon fresh air
Mirrors, heated rearview external with integrated spot mirrors
Precleaner, HVAC
Precleaner, HVAC (RESPA)
Radio, AM/FM/CD/USB/MP3 Bluetooth™
Seat, heated, air suspension
Seat belt, 4 point harness, with indicator
Seat, deluxe with leather inserts and headrest, heated and ventilated, air-suspended, adjustable lumbar support
Roof, metallic
Sun visor, rear
Windows, rubber mounted
Windows, with front guard
Windows, with heavy duty front guard
Windows, with full guards front, rear and sides
Cat seat cover, removable

Cat Connect Technologies

Link technologies: VIMS™
Payload technologies: Cat Production Measurement 2.0 (CPM); Printer, Cat Production Measurement; Aggregate Autodig
Advanced Productivity subscription
Detect technologies: Cat Rear Object Detection
Machine Security System

Linkage

High lift
Forestry
Quick coupler ready

Fluids

Premixed extended life coolant with freeze protection to -50° C
Bio-degradable oil, Cat HYDO™

Starters, Batteries, And Alternators

Work Tools

Performance Series buckets
Fusion quick coupler
Forks, pallet
Forks, logging

Other Optional Equipment

Cat Autolube System
Fenders, roading
Guard, power train
Guard, rear radiator grill
Oil change, high speed engine
Precleaner, turbine
Precleaner, trash
Wheel clocks

Optional Application Specific Configurations

Aggregate Handler
Industrial and Waste Handler
Forestry
Corrosion Resistance
Find a Boyd CAT

Location

or

Rep

Near You