Cat Wheel Loaders:
907M Compact Wheel Loader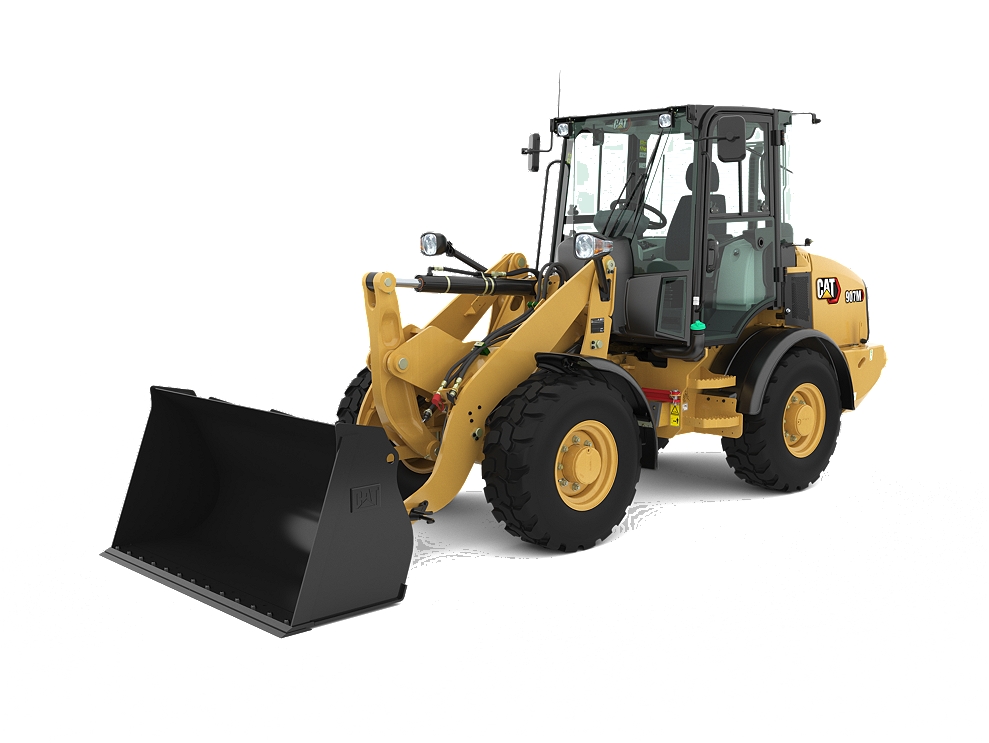 Maximum Gross Power: ISO 14396 (DIN)

74 hp

Operating Weight

12677 lb

Rated Bucket Capacity

1.31 yd3

Net Power

74 hp
The Cat® 907M Compact Wheel Loader delivers high performance with outstanding versatility. On-the-go operator tuned hydraulics and drive train adjust the machine's response to the task at hand. Low sound levels, large spacious cab and intuitive controls keep you working comfortably all day long.
---
---
Product Specs
Engine

Maximum Gross Power: ISO 14396 (DIN)

74hp

Net Power

74hp

Engine Model

Cat® C3.3B DIT*

Rated net power @ 2,400 rpm – SAE J1349

73hp

Rated net power @ 2,400 rpm – ISO 9249 (1977)/EEC 80/1269

74hp

Emissions

*The Cat C3.3B DIT engine meets U.S. EPA Tier 4 Final/EU Stage IIIB emission standards or Tier 4 Interim/Stage IIIA equivalent emission standards.

Net Power

74HP

Emissions

*The Cat C3.3B DIT engine meets EU Stage V/U.S. EPA Tier 4 Final emission standards.

Engine Model

Cat® C3.3B DIT*

Maximum Gross Power - ISO 14396 (DIN)

74HP

Rated Net Power - 2,400 rpm - ISO 9249 (1977)/EEC 80/1269

74HP

Rated Net Power - 2,400 rpm - SAE J1349

71.9HP

Rated Net Power - ISO 9249

72.9HP

Maximum Gross Power - ISO 14396 (metric)

74.2HP

Maximum Gross Power

73hp

Maximum Gross Power - ISO 14396

73.2HP

Maximum Gross Power - SAE J1995

74HP

Note (6)

Stage V engine available for Europe only.

Maximum Gross Power

73HP

Bore

3.7in

Displacement

201in³

Maximum Gross Torque - ISO 14396

192ft·lbf

Maximum Net Torque - ISO 9249 (1977)/EEC 80/1269

191ft·lbf

Note (1)

Net power ratings are tested at the reference conditions for the specified standard.

Note (2)

Net power shown is the power available at the flywheel when the engine is equipped with alternator, air cleaner, diesel exhaust filter, and fan at minimum speed.

Note (3)

No derating required up to 3000 m (10,000 ft) altitude. Auto derate protects hydraulic and transmission systems.

Note (4)

Flywheel per the SAE reference conditions with the fan at maximum speed.

Note (5)

The Cat C3.3B DIT Tier 4 Final/Stage V uses an active regeneration system which requires no operator interaction under normal conditions.

Stroke

4.7in

Maximum gross torque – ISO 14396

192lbf-ft

Maximum net torque – SAE J1349

189lbf-ft

Maximum net torque – ISO 9249 (1977)/EEC 80/1269

191lbf-ft

Displacement

201in3

Bore

3.7in

Stroke

4.7in

Note

Net power ratings are tested at the reference conditions for the specified standard.

Note

Net power shown is the power available at the flywheel when the engine is equipped with alternator, air cleaner, diesel exhaust filter, and fan at minimum speed.

Note

No derating required up to 3000 m (10,000 ft) altitude. Auto derate protects hydraulic and transmission systems.

Note

Flywheel per the SAE reference conditions with the fan at maximum speed.

Note

The Cat C3.3B Tier 4 Final/Stage IIIB uses an active regeneration system which requires no operator interaction under normal conditions.

Weights

Operating Weight

12677lb

Note

Specifications shown are for a machine configured with general purpose buckets, bolt-on cutting edges, 75 kg (165 lb) operator, Dunlop 405/70 SPT9 tires, full fuel, comfort EROPS cab, standard flow hydraulics and skid-steer coupler. � 907M is configured

Operating Weight

12677lb

Note

Specifications shown are for a machine configured with general purpose buckets, bolt-on cutting edges, 75 kg (165 lb) operator, Dunlop 405/70 SPT9 tires, full fuel, comfort EROPS cab, standard flow hydraulics and skid-steer coupler. – 907M is configured w

Note

Specifications shown are for a machine configured with general purpose buckets, bolt-on cutting edges, 75 kg (165 lb) operator, Dunlop 405/70 SPT9 tires, full fuel, comfort ROPS cab, standard flow hydraulics and skid-steer coupler. The 907M is configured

Operating Specifications

Rated Bucket Capacity

1.31yd3

Full Turn Tipping Load

7716lb

Tipping load – straight (ISO 14397-1)

9007lb

Tipping load – full turn (ISO 14397-1)

7339lb

Clearance: full lift and 45° dump

7.97ft

Reach: full lift and 45° dump

2.60ft

Steering articulation angle each direction

39°

Rated Bucket Capacity

1.31yd³

Clearance - Full Lift and 45° Dump

7.97ft

Full Turn Tipping Load

7716lb

Reach - Full Lift and 45° Dump

2.6ft

Steering Articulation Angle - Each Direction

39°

Tipping Load - Full Turn - ISO 14397-1

7339lb

Tipping Load - Straight - ISO 14397-1

9007lb

Loader Hydraulic System

Maximum flow – implement pump

19gal/min

Maximum flow – implement pump: Auxiliary function standard flow

19gal/min

Maximum flow – implement pump: Auxiliary function high flow

31gal/min

Relief pressure – tilt cylinder head

4496psi

3rd function maximum working pressure

3408psi

Tilt cylinder: double acting – Rod diameter

2.2in

Tilt cylinder: double acting – Stroke

16.4in

Hydraulic cycle times (1,800 rpm): Raise (ground level to maximum lift)

5.5seconds

Hydraulic cycle times (1,800 rpm): Dump (at maximum lift height)

1.5seconds

Hydraulic cycle times (1,800 rpm): Float down (maximum lift to ground level)

2.6seconds

Hydraulic cycle times (1,800 rpm): Total cycle time

9.6seconds

Hydraulic cycle times (1,000 rpm): Raise (ground level to maximum lift)

9.6seconds

Hydraulic cycle times (1,000 rpm): Dump (at maximum lift height)

3seconds

Hydraulic cycle times (1,000 rpm): Float down (maximum lift to ground level)

2.6seconds

3rd Function Maximum Working Pressure

3408psi

Maximum Flow - Implement Pump

19gal/min

Maximum Flow - Implement Pump - Auxiliary Function High Flow

31gal/min

Maximum Flow - Implement Pump - Auxiliary Function Standard Flow

19gal/min

Relief Pressure - Tilt Cylinder Head

4496psi

Maximum Working Pressure - Implement Pump

3408psi

Relief Pressure - Tilt Cylinder Rod

2756psi

Boost Flow Maximum Pressure

3191psi

Hydraulic Cycle Time - 1,000 rpm - Dump, at Maximum Lift Height

3s

Hydraulic Cycle Time - 1,000 rpm - Float Down, Maximum Lift to Ground Level

2.6s

Hydraulic Cycle Time - 1,000 rpm - Raise, Ground Level to Maximum Lift

9.6s

Hydraulic Cycle Time - 1,800 rpm - Dump, at Maximum Lift Height

1.5s

Hydraulic Cycle Time - 1,800 rpm - Float Down, Maximum Lift to Ground Level

2.6s

Hydraulic Cycle Time - 1,800 rpm - Raise, Ground Level to Maximum Lift

5.5s

Hydraulic Cycle Time - 1,800 rpm - Total Cycle Time

9.6s

Lift Cylinder, Double Acting - Bore Diameter

3in

Lift Cylinder, Double Acting - Rod Diameter

2in

Lift Cylinder, Double Acting - Stroke

27.4in

Tilt Cylinder, Double Acting - Bore Diameter

3.5in

Tilt Cylinder, Double Acting - Rod Diameter

2.2in

Tilt Cylinder, Double Acting - Stroke

16.4in

Boost flow maximum pressure

3191psi

Lift cylinder: double acting – Bore diameter

3in

Lift cylinder: double acting – Rod diameter

2in

Lift cylinder: double acting – Stroke

27.4in

Tilt cylinder: double acting – Bore diameter

3.5in

Service Refill Capacities

Cooling system

4.5gal

Fuel tank

20.6gal

Hydraulic system (including tank)

18.5gal

Engine crankcase

3gal

Cooling System

4.5gal (US)

Engine Crankcase

3gal (US)

Fuel Tank

20.6gal (US)

Hydraulic System - Including Tank

18.5gal (US)

Axles - Front

N/A

Axles - Rear

N/A

Hydraulic Tank

12.2gal (US)

Transmission - Gear Box

2.2gal (US)

Transmission (gear box)

2.2gal

Axles – Front

N/A

Axles – Rear

N/A

Hydraulic tank

12.2gal

Dimensions with Bucket (Approximate): Standard Lift – with ISO Coupler

Height: ground to cab**

8.42ft

Height: ground clearance**

11in

Length: wheel base

7.08ft

Length: overall*

17.92ft

Reach: bucket at 45°*

2.33ft

Dig depth**

3.7in

Clearance: bucket at 45°*

8.08ft

Clearance: level bucket**

9.92ft

Height: bucket pin**

10.58ft

Width: bucket

6.67ft

Width: tread center

4.58ft

Turning radius: over bucket

14.67ft

Turning radius: inside of tires

7.33ft

Machine width

6.00ft

Dump angle at full lift

45°

Departure angle

33°

Articulation angle

39°

Operating weight

12913lb

Note

*Vary with bucket.

Note

**Vary with tire.

Note

Dimensions listed are for a machine configured with general purpose buckets, bolt-on cutting edges, 75 kg (165 lb) operator, no air conditioner and Dunlop 405/70 SPT9 tires.

Dimensions with Bucket (Approximate): Standard Lift – with SSL Coupler

Height: ground to cab**

8.42ft

Height: ground clearance**

11in

Length: wheel base

7.08ft

Length: overall*

18.42ft

Reach: bucket at 45°*

2.67ft

Dig depth**

4.2in

Clearance: bucket at 45°*

7.67ft

Clearance: level bucket**

9.92ft

Height: bucket pin**

10.58ft

Width: bucket

6.67ft

Width: tread center

4.58ft

Turning radius: over bucket

14.67ft

Turning radius: inside of tires

7.33ft

Machine width

6.00ft

Dump angle at full lift

45°

Departure angle

33°

Articulation angle

39°

Operating weight

12913lb

Note

*Vary with bucket.

Note

**Vary with tire.

Note

Dimensions listed are for a machine configured with general purpose buckets, bolt-on cutting edges, 75 kg (165 lb) operator, no air conditioner and Dunlop 405/70 SPT9 tires.

Buckets

Note

All capacities are applicable for each model. Bucket selection must be made with an understanding of the material density and application to ensure machine stability is maintained within the tipping loads stated per model and configuration.

General Purpose

0.8 m³ (1 yd³), 0.9 m³ (1.2 yd³), 1.0 m³ (1.3 yd³), 1.1 m³ (1.4 yd³), 1.3 m³ (1.7 yd³)

Bucket Capacities - ISO Coupler

0.75-1.5 m3

Bucket Capacities - SSL Style Coupler

1.0-2.0 yd3

Bucket Capacities

0.75-1.5 m3 (1.0-2.0 yd3)

General Purpose

1.31yd³

Light Material

1.2 m³ (1.6 yd³), 1.5 m³ (2.0 yd³)

Bucket Capacities

0.75 m3-1.2 m3 (1.0 yd3-1.6 yd3)

General purpose

1.31yd3

Light material

1.57yd3

Drive Train

Forward – Range 1

6mph

Forward – Range 2

12mph

Forward – High range

22mph

Reverse – Range 1

6mph

Reverse – Range 2

12mph

Reverse – High range

22mph

Forward - High Range

22mile/h

Forward - Range 1

6mile/h

Forward - Range 2

12mile/h

Reverse - High Range

22mile/h

Reverse - Range 1

6mile/h

Reverse - Range 2

12mile/h

Tires

Option

335/80 R18 XZSL Michelin

Option

340/80 R18 AT-R Firestone

Option

340/80 R18 XMCL Michelin

Option

340/80 R18 TRI2 Nokian

Option

340/80 R18 Bibload Michelin

Option

405/70 R18 SPT9 Dunlop*

Option

12.5/80 R18 Flexport™

Note

*Standard tire.

Note

Other tire choices available, contact your Cat dealer for details.

Note

In certain applications, the loader's productive capabilities may exceed the tires' tonnes-km/h (ton-mph) capabilities.

Note

Caterpillar recommends that you consult a tire supplier to evaluate all conditions before selecting a tire model.

Note (1)

*Standard tire.

Note (2)

Other tire choices available, contact your Cat dealer for details.

Note (3)

In certain applications, the loader's productive capabilities may exceed the tires' tonnes-km/h (ton-mph) capabilities.

Note (4)

Caterpillar recommends that you consult a tire supplier to evaluate all conditions before selecting a tire model.

Option (1)

335/80 R18 XZSL Michelin

Option (2)

340/80 R18 AT-R Firestone

Option (3)

340/80 R18 XMCL Michelin

Option (4)

340/80 R18 TRI2 Nokian

Option (5)

340/80 R18 Bibload Michelin

Option (6)

405/70 R18 SPT9 Dunlop*

Option (7)

12.5/80 R18 Flexport™

Cab

ROPS

SAE J1040 MAY94, ISO 3471-1994.

FOPS

SAE J/ISO 3449 APR98, Level II, ISO 3449 1992 Level II.

Note

Cat cab and Rollover Protective Structures (ROPS) are standard in North America and Europe.

Note

When properly installed and maintained, the cab offered by Caterpillar, when tested with doors, and windows closed as per work cycle procedures specified in ISO 6395 2008, results in operator sound exposure Leq (Equivalent sound pressure level) of 66 dB(A

Note (3)

*The measurements were conducted with the cab doors and windows closed.

ROPS

ROPS: ISO 3471:2008

FOPS

FOPS: ISO 3449:2005 Level II

Note (1)

Cat Cab and Rollover Protective Structures (ROPS) are standard in North America and Europe.

Note (2)

The declared dynamic operator Sound Pressure level per ISO 6396:2008*, when the cab is properly installed and maintained, is 75 dB(A). The labeled sound power level for the CE marked configurations when measured according to the test procedure and conditi

Dimensions with Bucket (Approximate) - Standard Lift - With ISO Coupler

Articulation Angle

39°

Clearance - Bucket at 45° *

8.08ft

Clearance - Level Bucket**

9.92ft

Departure Angle

33°

Dig Depth**

3.7in

Dump Angle at Full Lift

45°

Height - Bucket Pin**

10.58ft

Height - Ground Clearance**

11in

Height - Ground to Cab**

8.42ft

Length - Overall*

17.92ft

Length - Wheel Base

7.08ft

Machine Width

6ft

Note (1)

*Vary with bucket.

Note (2)

**Vary with tire.

Note (3)

Dimensions listed are for a machine configured with general purpose buckets, bolt-on cutting edges, 75 kg (165 lb) operator, no air conditioner and Dunlop 405/70 SPT9 tires.

Operating Weight

12913lb

Reach - Bucket at 45°*

2.33ft

Turning Radius - Inside of Tires

7.33ft

Turning Radius - Over Bucket

14.67ft

Width - Bucket

6.67ft

Width - Tread Center

4.58ft

Dimensions with Bucket (Approximate) - Standard Lift - With SSL Coupler

Articulation Angle

39°

Clearance - Bucket at 45° *

7.67ft

Clearance - Level Bucket**

9.92ft

Departure Angle

33°

Dig Depth**

4.2in

Dump Angle at Full Lift

45°

Height - Bucket Pin**

10.58ft

Height - Ground Clearance**

11in

Height - Ground to Cab**

8.42ft

Length - Overall*

18.42ft

Length - Wheel Base

7.08ft

Machine Width

6ft

Note (1)

*Vary with bucket.

Note (2)

**Vary with tire.

Note (3)

Dimensions listed are for a machine configured with general purpose buckets, bolt-on cutting edges, 75 kg (165 lb) operator, no air conditioner and Dunlop 405/70 SPT9 tires.

Operating Weight

12913lb

Reach - Bucket at 45°*

2.67ft

Turning Radius - Inside of Tires

7.33ft

Turning Radius - Over Bucket

14.67ft

Width - Bucket

6.67ft

Width - Tread Center

4.58ft

Engine - Tier 4 Final/Stage IV

Maximum Net Torque - SAE J1349

189ft·lbf

Steering

Maximum Steering Torque - 0° (Straight Machine)

37155ft·lbf

Maximum Steering Torque - 39° (Full Turn)

27747ft·lbf

Maximum Working Pressure - Steering Pump

3191psi

Nominal Flow - Steering Pump

12gal/min

Number of Steering Wheel Turns - Full Left to Full Right or Full Right to Full Left

<6 turns

Steering AC Cycle Times - Full Left to Full Right - 2,620 rpm

3s

Steering Articulation Angle - Each Direction

39°

Steering Cylinder, Double Acting - Bore Diameter

3.1in

Steering Cylinder, Double Acting - Rod Diameter

1.4in

Steering Cylinder, Double Acting - Stroke

11.8in

Steering articulation angle each direction

39°

Steering cylinder: double acting – Bore diameter

3.1in

Steering cylinder: double acting – Rod diameter

1.4in

Steering cylinder: double acting – Stroke

11.8in

Nominal flow – steering pump

12gal/min

Maximum working pressure – steering pump

3191psi

Maximum steering torque – 0° (straight machine)

37155lbf-ft

Maximum steering torque – 39° (full turn)

27747lbf-ft

Steering ac cycle times (full left to full right) – 2,620 rpm

3seconds

Number of steering wheel turns – Full left to full right or full right to full left

<6 turns
Equipment
Transmission And Hydraulics

18° frame oscillation, 78° articulation
Demand based cooling fan
Hydrostatic drive
Loader arm float function
Parallel lift Z-bar loader
Proportional auxiliary hydraulic circuit
Transmission, 20 km/h (12.4 mph) with heavy duty axles
Transmission inching function

Engine

Cat C3.3B DIT EU Stage V/U.S. EPA Tier 4 Final engine.
Cat extended life coolant
Closed circuit breather
Easy quick release fuel filter/water separator
ECO mode
Engine oil drain valve (non-spill ECO drain)
Lockable engine compartments
Two stage air cleaner with visual indicator

Electrical

Alternator 90 amp
Battery disconnect switch
Cab mounted fuse panel
Engine cold starter aid
Heavy duty battery, 12V
Service point connector for electronic diagnosis (Cat Electronic Technician™)
Reversing alarm

General

E-coat paint primer
Pressure test points
Recovery hitch and pin
Scheduled Oil Sampling S·O·SSM ports

Operator Environment

Adjustable internal mirror
Adjustable wrist rest
Auxiliary power sockets
Coat hook
Cup holder
Digital service hour meter
Easy clean cab floor
Gauges: fuel hydraulic temperature, coolant temperature, speedometer
Multifunction joystick with direction control
On board digital display cluster
Operator station on isolation mounts
Retractable seat belt
ROPS and FOPS certified canopy/cab
Sound suppression
Sun visor
Suspended brake/accelerator pedals
Suspension seat
Two doors (enclosed cab)
Two external knock back mirrors
Warning indicators for major systems
Wiper/washer front and rear (enclosed cab)
Warnings: master, park brake, hydraulic oil pressure, engine oil pressure, coolant temp, electrical system, hydraulic filter bypass
Transmission And Hydraulics

100% differential lock on both axles, selectable on the move
Adjustable speed control (creeper control)
Adjustable high stat response settings
Electronic throttle lock
Ride control
Rimpull control
Speeder, 35 km/h (21.7 mph) with secondary steering

Engine

Engine block heater 120V
Precleaner for engine air filter

Electrical

Machine Security System (MSS)
Magnetic rotating beacon
Halogen working lights, two front and two rear
LED working lights, two front and two rear
Work tool wiring harness

General

Custom color
Rear light guards
Tire options including heavy duty tires

Fluids

Cat extended life coolant (–50° C/–58° F)

Loader

Adjustable implement modulation
High flow auxiliary hydraulics with pressure relieving quick disconnect manifold
Load check valves
Return To Dig tool positioner

Work Tools

For all work tool options, consult your local Cat dealer

Operator Environment

Air conditioning
Cabin light
Cat Radio/FM/DAB+/Bluetooth/Aux/Mic/Phone/USB
Comfort cab includes: cloth suspension seat, heated rear window, sliding left window and radio ready
Open canopy: fixed steering column, coat hook, sun visor (North America only)
Deluxe cab includes: Comfort cab options plus heated cloth air suspension seat with lumbar support and right sliding window
Heated rear window (enclosed cab)
Heater with window side and feet vents (enclosed cab)
Radio ready kit including speakers (enclosed cab)
Rear blind
Find a Boyd CAT

Location

or

Rep

Near You