Off-Highway Trucks:
772G Off-Highway Truck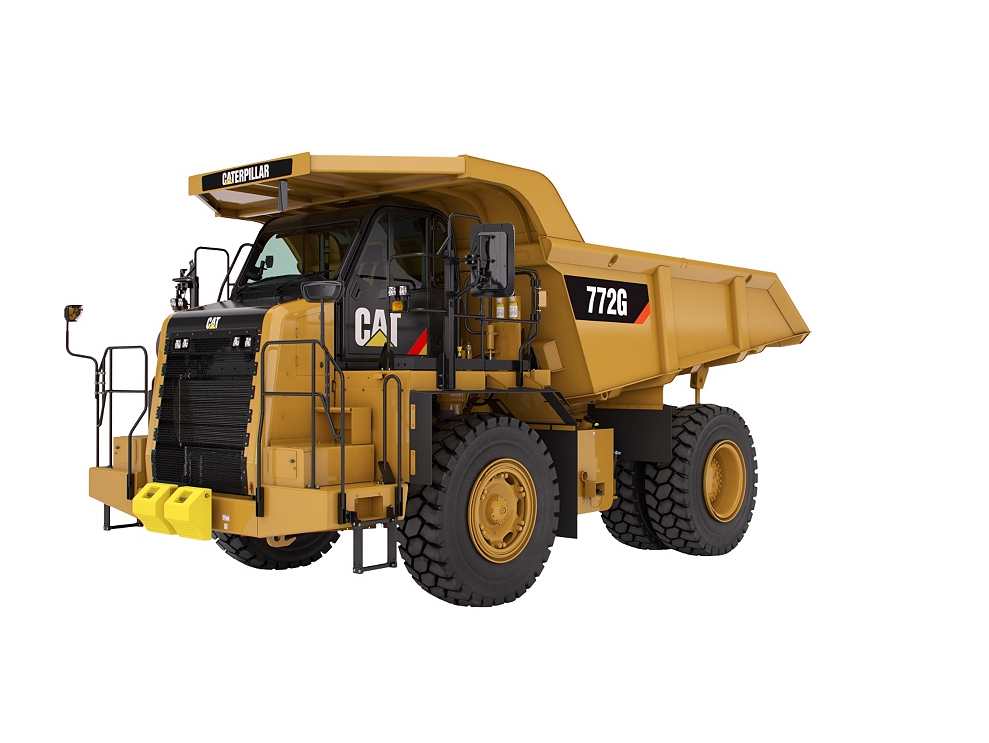 Engine Model

Cat® C18 ACERT™

Engine Power - ISO 14396

598.0 hp

Wheelbase

13.0 ft

Ground Clearance

1.6 ft
Your long-term success is our goal here at Cat, so we've developed our 772G to be more productive and economical for our customers for years to come. Equipped with new transmission controls, the 772G is built for heavy-duty, off-road applications and delivers quick haul cycles with automotive-quality shifting and comfort. The 772G is also built with a Cat C18 diesel engine and with our fuel saving strategies, you can adjust engine power to meet your specific needs. Ideal pass match options for the 772G are the Cat 986K or the 988K Wheel Loader and the 390F L Hydraulic Excavator. When you consider its fuel efficiency and performance, the 772G is the right Off-Highway Truck for all generations.
---
---
Product Specs
Engine

Engine Model

Cat® C18 ACERT™

Engine Power - ISO 14396

598.0hp

Rated Engine Speed

1700r/min

Gross Power - SAE J1995

605HP

Net Power - SAE J1349

550HP

Net Power - ISO 9249

550HP

Number of Cylinders

6

Bore

5.7in

Stroke

7.2in

Displacement

1105in³

Net Torque - SAE J1349

2221ft-lb

Engine Model

Cat® C18

Engine Power - ISO 14396

598HP

Dimensions

Wheelbase

13.0ft

Ground Clearance

1.6ft

Wheel Base

13ft

Ground Clearance

1.6ft

Height - Top of ROPS

12.8ft

Inside Body Depth - Maximum

5.7ft

Overall Body Length

26.8ft

Inside Body Length

19ft

Overall Length

28.9ft

Rear Axle - Tail

9.5ft

Dump Clearance

1.5ft

Loading Height - Empty

11.6ft

Overall Height - Body Raised

27.1ft

Operating Width

15.7ft

Centerline Front Tire Width

10.4ft

Engine Guard Clearance

2ft

Outside Body Width

12.9ft

Inside Body Width

11.9ft

Front Canopy Height

13.7ft

Rear Axle - Clearance

1.9ft

Centerline of Rear Dual Tire Width

8.7ft

Overall Tire Width

12.9ft

Operating Specifications

Nominal Payload Class (100%)

51.6ton (US)

Top Speed - Loaded

49.2mile/h

Body Capacity - SAE 2:1

40.8yd³

Maximum Payload Class (110%)

56.7ton (US)

Not to Exceed Payload (120%)

61.9ton (US)

Target Payload Capacity

51.6ton (US)

Weights - Approximate

Target Gross Machine Operating Weight

181000lb

Chassis Weight

59223lb

Body Weight

17306lb

Target Gross Machine Weight

181000lb

Capacity - Dual Slope - 100% Fill Factor

Struck

31.3yd³

Heaped 2:1 (SAE)

40.8yd³

Capacity - Flat Floor - 100% Fill Factor

Struck

31.3yd³

Heaped 2:1 (SAE)

40.9yd³

Weight Distributions - Approximate

Front Axle - Empty

51.4%

Front Axle - Loaded

34.2%

Rear Axle - Empty

48.6%

Rear Axle - Loaded

65.8%

Transmission

Forward - 1

8mile/h

Forward - 2

10.9mile/h

Forward - 3

14.8mile/h

Forward - 4

19.8mile/h

Forward - 5

26.9mile/h

Forward - 6

36.2mile/h

Forward - 7

49.2mile/h

Reverse

10.4mile/h

Final Drives

Differential Ratio

2.74:1

Planetary Ratio

4.80:1

Total Reduction Ratio

13.14:1

Brakes

Brake Surface - Front

216in²

Brake Surface - Rear

7794in²

Brake Standards

ISO 3450:1996

Service Refill Capacities

Cooling System

33gal (US)

Differential - Final Drives

47gal (US)

Steering Tank

14.5gal (US)

Steering System - Including Tank

23gal (US)

Brake Hoist System

60gal (US)

Brake/Hoist Hydraulic Tank

38gal (US)

Crankcase

17gal (US)

DEF Tank

6gal (US)

Fuel Tank

140gal (US)

Torque Converter - Transmission System

17gal (US)

Body Hoists

Pump Flow - High Idle

118gal/min

Relief Valve Setting - Raise

2750psi

Relief Valve Setting - Lower

500psi

Body Raise Time - High Idle

7.5s

Body Lower Time - Float

10s

Body Power Down - High Idle

10s

Suspension

Rear axle - Oscillation

8.9°

Empty Loaded Cylinder Stroke Front

9.2in

Empty Loaded Cylinder Stroke Rear

5.8in

Sound

Sound Standards (1)

Hearing protection may be needed when operating with open operator station & cab for extended periods or in noisy environment.

Sound Standards (2)

Exterior sound pressure power level for standard machine measured according to tests specified in ISO 6395:2008 is 115 dB(A).

Sound Standards (3)

Operator Equivalent Sound Pressure Level (Leq) is 74 dB(A) when ISO 6396:2008 is used to measure the value for an enclosed cab.

ROPS

FOPS Standards

FOPS (Falling Objects Protective Structure) meets ISO 3449:2005 Level II FOPS criteria.

ROPS Standards

ROPS (Rollover Protective Structure) for cab offered by Caterpillar meets ISO 3471:2008 ROPS criteria.

Steering

Turning Diameter - Front

57.7ft

Steering Standards

ISO 5010:2007

Steer Angle

31°

Turning Circle - Clearance Diameter

66.6ft

Tires

Standard Tire

21.00R33 (E4)
Equipment
Note

Standard and optional equipment may vary. Consult your Cat dealer for details.

Electrical

Alarm, backup
Alternator, 115 ampere
Auxiliary jump start receptacle
Batteries, maintenance-free, 12V (2), 190 amp-hour
Electrical system, 24V
Lighting system: - Backup light (halogen) - Directional signals/hazard warning (front and rear LED) - Headlights, (halogen) with dimmer - Operator access courtesy lights (Developing Market Only)

Product Link™ Communications

Guards

Driveline
Engine crankcase

Operator Environment

Air conditioning
Ashtray and cigarette lighter
Coat hook
Cup holders (4)
Diagnostic connection port, 24V
Entertainment Radio Ready: - 5 amp converter - Speakers - Antenna - Wiring harness
Gauges/indicators: - Air cleaner service indicator - electronic - Brake oil temperature gauge - Coolant temperature gauge - Hour meter - Tachometer - Engine overspeed indicator - Fuel level - Speedometer with odometer - Transmission gear indicator
Heater/defroster (11 070 kCal/43,930 BTU)
Hoist lever
Horn, electric
Light - dome
Light - courtesy
Messenger, display unit
Mirrors
Power port, 12V
ROPS cab, insulated/sound suppressed
Seat, Cat Comfort Series III: - full air suspension - four point harness
Steering wheel, padded, tilt and telescopic
Storage compartment
Sun visor, tinted glass
Throttle lock
Windshield wiper (intermittent) and washer

Power Train

Air-To-Air Aftercooler (ATAAC)
Air cleaner with precleaner (1)
Automatic cold mode idle control
Electric start
Turbocharger
Braking system, hydraulic actuated: - Automatic Retarder Control (ARC) (utilizes rear oil-cooled, multiple disc brakes) - Brake release motor (towing) - Caliper-disc (front) - Oil-cooled, multiple disc (rear) - Parking - Secondary - Service
Transmission: - 7 speed automatic powershift - Body up shift inhibitor - Controlled throttle shifting - Directional shift management - Downshift inhibitor - Neutral start switch - Neutral coast inhibitor - Reverse shift inhibitor - Reverse neutralizer during dumping - Programmable top gear selection

Suspension Systems

Suspension, front and rear

Other Standard Equipment

Body safety pin (secures body in up position)
Body down indicator
CD ROM parts book
Fan, hydraulic demand
Fuel tank (530 L/140 gal)
Guard, engine compartment
Guard, mud
Ground level battery disconnect
Ground level engine shutdown
Ground level grease fittings
Reservoirs (separate): - Brake/converter/hoist - Steering - Transmission/torque converter
Rims 15 × 33
Rock ejectors
Service platform, left and right side
Supplemental steering (automatic)
Tie down eyes
Tow hooks (front)/Tow pin (rear)
Vandalism protection locks

Antifreeze

Extended Life Coolant to -35° C (-30° F)
Find a Boyd CAT

Location

or

Rep

Near You