Material Handlers:
MH3026 Wheel Material Handler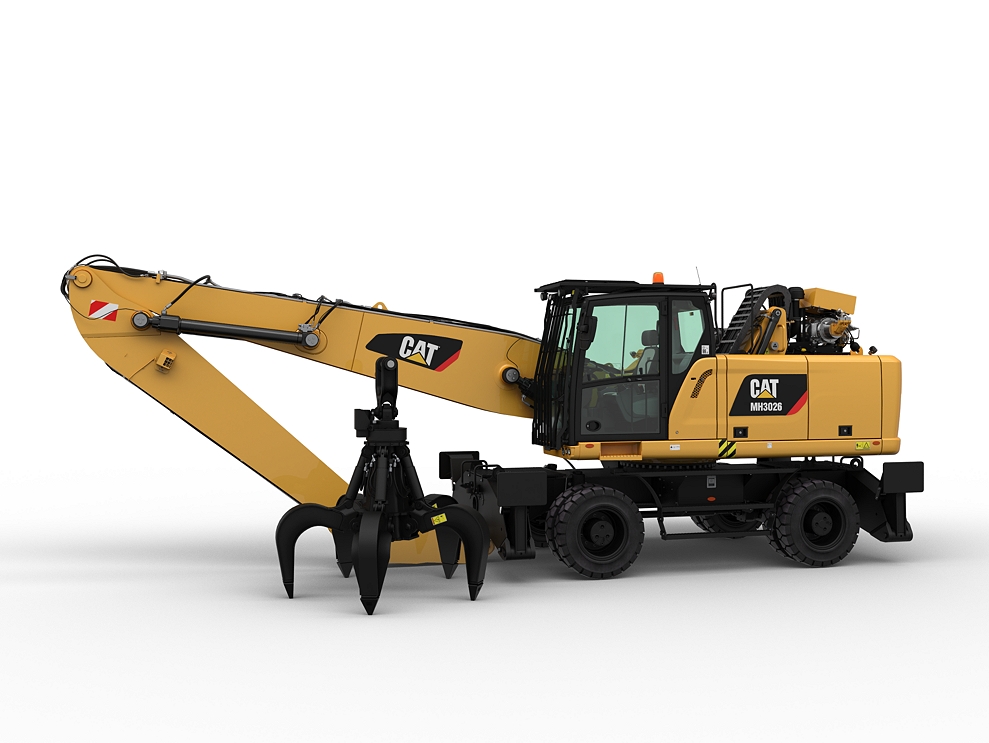 Engine Model

Cat C7.1

Emissions

Tier 4 Final/Stage IV

Maximum Gross - ISO 14396

129.4 kW (174 hp [176 hp/PS*])

Operating Weight

25 220-26 150 kg (55,601-57,651 lb)
We know that when it comes to material handling equipment, your success depends on productivity and low operating costs. The MH3026 is a purpose-built material handler, designed for industrial and recycling applications that call for safe, quality and reliable products. It is relentlessly efficient for sites and applications requiring larger lifting capacities and working envelope.
---
---
Product Specs
Engine

Engine Model

Cat C7.1

Emissions

Tier 4 Final/Stage IV

Maximum Gross - ISO 14396

129.4 kW (174 hp [176 hp/PS*])

Displacement

427.8in³

Bore

4.1in

Cylinders

6 in-line

Maximum Net Power - SAE J1349/ISO 9249

126 kW (169 hp [171 hp/PS*])

Maximum Torque - 1,400 rpm

612ft·lbf

Note

*Metric values.

Stroke

5.3in

Weights

Operating Weight

25 220-26 150 kg (55,601-57,651 lb)

With MH Boom (6800 mm/22'4") - MH 2.99 m/9'8" Undercarriage and 5900 mm (19'4") Drop Nose Stick

56813lb

With MH Boom (6800 mm/22'4") - MH 2.99 m/9'8" Undercarriage and Straight Stick

57651lb

Key Components - Drop Nose (4900 mm/16'1")

2106lb

Key Components - Drop Nose (5500 mm/18'1")

2370lb

Key Components - Drop Nose (5900 mm/19'4")

2459lb

Key Components - MH Blade

1643lb

Key Components - Straight (4800 mm/15'9")

3131lb

MH Push Blade

1643lb

Note

Operating weight is with solid tires, 5200 kg (11,465 lb) counterweight, MH undercarriage, fuel tank, operator and work tool, 1400 kg (3,086 lb). Weight varies depending on configuration.

With MH Boom (6800 mm/22'4") - MH 2.75 m/9'0" Undercarriage and Straight Stick

55601lb

Swing Mechanism

Swing Speed

9r/min

Maximum Swing Torque

43516ft·lbf

Service Refill Capabilities

Cooling System

12.3gal (US)

Diesel Exhaust Fluid Tank

9.1gal (US)

Fuel Tank

111gal (US)

Hydraulic System Capacity

93gal (US)

Hydraulic Tank Capacity

52.8gal (US)

Undercarriage

Axle Clearance - All MH Undercarriages

12.8in

Oscillation Axle Angle

±5 degrees

Transmission

Maximum Travel Speed

16mile/h

Creeper Speed - 2nd Gear

7.5mile/h

Maximum Gradeability (25 000 kg/55,120 lb)

60%

Maximum Travel Speed - 2nd Gear

16mile/h

Hydraulic System - Maximum Flow

Auxiliary Circuit - High Pressure

66gal/min

Auxiliary Circuit - Medium Pressure

13gal/min

Implement/Travel Circuit

95gal/min

Swing Mechanism

31.1gal/min

Hydraulic System - Maximum Pressure

Auxiliary Circuit - High Pressure

5076psi

Auxiliary Circuit - Medium Pressure

3046psi

Implement Circuit - Heavy Lift

5366psi

Implement Circuit - Normal

5076psi

Swing Mechanism

4496psi

Travel Circuit

5076psi

Maximum Dimensions - Approximate

Maximum Shipping Height*

11.08ft

Maximum Shipping Width

9.83ft

Note

*5900 mm (19'4") stick needs to be detached for transportation.

Working Ranges - Without Work Tool: MH Boom (6800 mm/22'4

Maximum Depth

6ft

Maximum Height

40.75ft

Maximum Reach

37.5ft

Maximum Depth

6.25ft

Maximum Height

41ft

Maximum Reach

37.83ft

Working Ranges - Without Work Tool: MH Boom (6800 mm/22'4)

Maximum Depth

9.58ft

Maximum Height

43.67ft

Maximum Reach

40.92ft

Working Ranges - without Work Tool: MH Boom (6800 mm/22'4)

Maximum Depth

8.25ft

Maximum Height

41.33ft

Maximum Reach

39.08ft
Equipment
Electrical

Alternator, 115A
Heavy Duty maintenance free batteries
Lighting: Boom and stick LED working light
Lighting: One LED light on the counterweight for the rear camera, and one on the right for the sideview camera
Lighting: Cab LED interior dome light
Lighting: Roading lights two front, halogen
Lighting: Roading lights two rear, LED
Lighting: Working LED lights, cab mounted (two front and one rear), compatible with Falling Objects Guards
Main shut-off switch
Signal/warning horn

Engine

Cat C7.1 engine meets Stage IV emission standards
Aftertreatment technologies including the Cat Clean Emission Module (Cat CEM) package
Air filter
3000 m altitude capability without de-rate
Automatic engine speed control (AESC), including One Touch Low Idle
Engine Idle Shutdown (EIS)
Automatic starting aid
Fuel filter
Fuel/water separator with water in fuel switch
48°C ambient cooling capability without de-rate
Power mode selector
Electric fuel priming pump
Capability of running with biodiesel fuel (B20)

Hydraulics

Adjustable hydraulic sensitivity
Cat XT-6 ES hoses
Control circuits (standard and optional, depending on boom/stick/linkage choice): Medium pressure - Two-way, medium pressure circuit, for rotating or tilting of attachments)
Heavy lift mode
Load-sensing hydraulic system
Oil cooler
Quick disconnect couplings
Separate swing pump
Electric Pump Control (EPC)
Boom Lowering Check Valve (BLCV), including overload warning device
Stick Lowering Check Valve (SLCV)

Operator Station

Additional color monitor for cameras, split-screen display for both cameras' view
Adjustable armrests
Air conditioner, heater and defroster with automatic climate control
Beverage cup/can holder
Bolt-on top/front guards capability
Bottle holder
Bottom mounted, intermittent (four speeds), parallel wiping system, covering upper and lower windshield glass
CD/MP3 radio (12V) including speakers and 12V converter
Coat hook
Cruise control system
Floor mat, washable, with storage compartment
Fully adjustable suspension seat
Hydraulic cab riser
Instrument panel and gauges, full graphic and color display: Information and warning messages in local language
Instrument panel and gauges, full graphic and color display: Gauges for fuel and DEF levels, engine coolant and hydraulic oil temperature
Instrument panel and gauges, full graphic and color display: Filters/fluids change interval, working hours
Instrument panel and gauges, full graphic and color display: Indicators for headlights, turning signal, low fuel, engine dial setting
Instrument panel and gauges, full graphic and color display: Clock with 10-day backup battery
Interior LED lighting with door switch
Joysticks, pilot operated with one proportional slider
Laminated front windshield
Left side console, tiltable, with lock out for all controls
Cigarette lighter (24V)
Literature holder in right console
Mobile phone holder
Parking brake
Pin code type engine start prevention, integrated into the monitor
Power supply, 12V-10A
Rear window (tempered glass)/emergency exit, with hammer
Retractable seat belt, integrated into the seat
Seat belt indicator and alarm
Skylgiht, laminated glass
Sliding door windows
Steering column, adjustable angle and height
Step, integrated into the skirt
Storage area suitable for a lunch box
Sunshade for windshield and skylight
Safety lever, integrated into the left console
Sealed cab, with positive filtered, variable speed ventilation

Undercarriage

Automatic brake and axle lock
Electronic swing and travel lock
Creeper speed
Four wheel drive
Heavy-duty axles, advanced travel motor, adjustable braking force and disc brake system
Oscillating front axle, lockable, with remote greasing point
Steps, wide, left and right
Tool boxes, left and right, in undercarriage
Two-speed hydrostatic transmission
One-piece drive shaft, with 1,000 hours greasing intervals

Other Equipment

Auto-lube system (implements and swing gear)
Automatic swing brake
Capability to add auxiliary hydraulic circuit
Cooling package, fine mesh screen and engine air precleaner
Cat Electronic Technician capability (ET)
Counterweight, 5200 kg
Door locks and cap locks with Cat one-key security system
Mirrors, wide angle, frame and cab
Product Link
Cameras: Rear mounted wide angle camera, integrated into the counterweight
Cameras: Right side wide angle camera, mounted on the cooling hood
SOS? Quick Sampling valves for engine oil, hydraulic oil and coolant
Engine emergency shutoff switch
Spacer rings for tires
Auxiliary Controls And Lines

Auxiliary boom and stick lines
Control circuits (standard and optional, depending on boom/stick/linkage choice): Tool control/multi function - One/two-way high pressure for hammer application or opening and closing of an attachment
Control circuits (standard and optional, depending on boom/stick/linkage choice): Tool control/multi function - Programmable flow and pressure for up to 10 work tools - selection via monitor
Control circuits (standard and optional, depending on boom/stick/linkage choice): Quick coupler circuits and lines for hydraulic quick coupler (both Cat pin grabber and dedicated/CW quick couplers, controlled by a dedicated switch)
SmartBoom

Hydraulics

Cat BIO HYDO Advanced HEES biodegradable hydraulic oil

Front Linkage

VA boom (5490 mm): Straight stick (2500, 2900 mm)
One-Piece boom (5650 mm): Straight stick (2500, 2900 mm)
Material Handling boom (6800 mm): Drop nose MH stick (4900, 5500 or 5900 mm)
Material Handling boom (6800 mm): Straight MH stick (4800 mm)

Electrical

Adjustable travel alarm
Rotating beacon
Generator, 15 kW

Operator Station

Top/front guards
Joystick steering
Advanced joysticks with two proportional sliders
High pressure auxiliary pedal
Seat, adjustable back, with vertical and horizontal air-suspension and head rest: Automatic weight adjustment, mechanical lumbar support, passive climate system, seat cusion length/angle adjustment and heated seat (Comfort)
Seat, adjustable back, with vertical and horizontal air-suspension and head rest: Automatic height and weight adjustment, active climate system, premium microfiber seat fabric, pneumatic lumbar support, seat cushion length and angle adjustment and adjustable dampening, heated and ventilated (Deluxe)
Visor for rain protection
Windshield: One-piece, impact resistant, laminated windshield and skylight (EN356 P5A, 10 mm)
Windshield: 70/30 split, openable - two-parts split, fixed, high impact resistant, laminated windshield and skylight (EN356 P8B, 26 mm)
Mirrors, electronically adjustable and heated, frame and cab

Tires

Dual pneumatic 11.00-20
Dual solid rubber, 10.00-20

Undercarriage

MH undercarriage (2.75 m or 2.99 m wide) with four welded outriggers
MH undercarriage (2.75 m or 2.99 m wide) with four welded outriggers and front mounted blade
Standard undercarriage, with outriggers (front and/or rear), dozer blade (front or rear)
Easy Cab Access Package, front
Easy Cab Access, Package, rear

Other Equipment

Bucket linkages
Cat Machine Security System
Hydraulic quick coupler
Maximum speed 20 km/h or 25 km/h*
Refueling pump with dedicated tray for the hose
Waste Handling Package, adds a reversing fan and vibrating grill to the cooling protection package
Advanced Cab Filtration System
Attachments
Find a Boyd CAT

Location

or

Rep

Near You