Material Handlers:
MH3022 Wheel Material Handler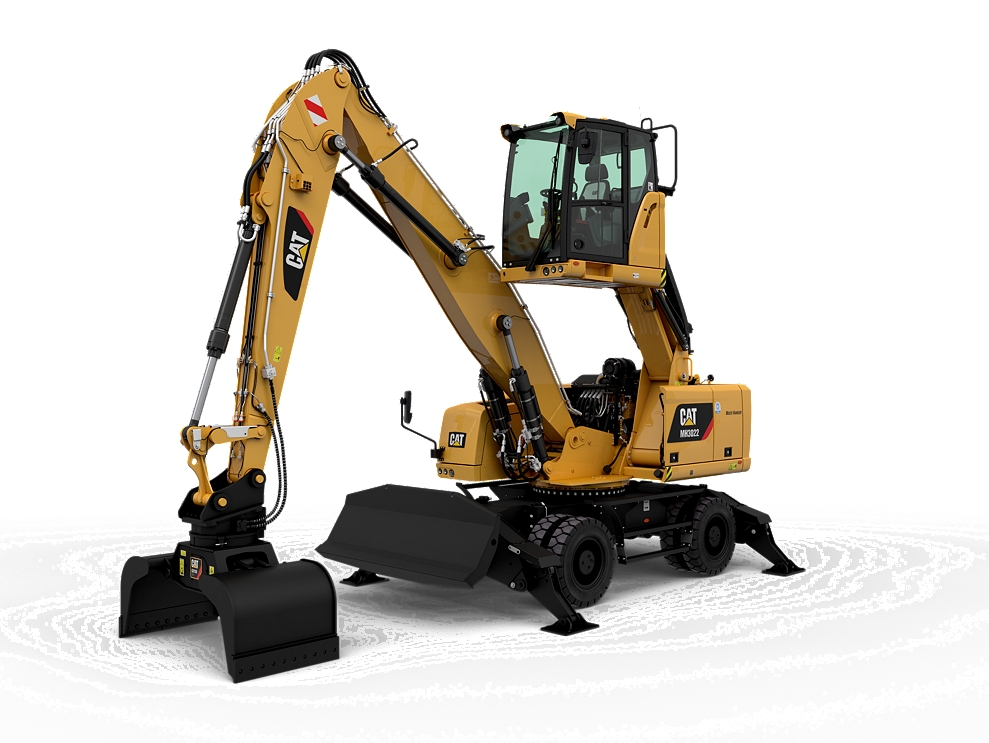 Note

Working Ranges with VA and One-Piece Booms can be found in the M320F brochure. 4500 mm/14'9" Drop Nose Stick also available with the 6400 mm/20'1" MH Boom.

Maximum Depth

7.17 ft

Maximum Height

39 ft

Maximum Reach

36.08 ft
We know that when it comes to material handling equipment, your success depends on productivity and low operating costs. The MH3022 is a purpose-built material handler, designed for industrial and recycling applications that call for safe, quality and reliable products. It is the agile solution for all space-restricted areas, while offering good reach. And a perfect fit for all indoor sorting and waste applications.
---
---
Product Specs
Working Ranges - Without Work Tool: MH Boom (6.40 m/20'1)

Note

Working Ranges with VA and One-Piece Booms can be found in the M320F brochure. 4500 mm/14'9" Drop Nose Stick also available with the 6400 mm/20'1" MH Boom.

Maximum Depth

7.17ft

Maximum Height

39ft

Maximum Reach

36.08ft

Note

Working Ranges with VA and One-Piece Booms can be found in the M320F brochure. 4500 mm/14'9" Drop Nose Stick also available with the 6400 mm/20'1" MH Boom.

Maximum Depth

4.83ft

Maximum Height

37.75ft

Maximum Reach

33.92ft

Working Ranges - Without Work Tool: Short MH Boom (5.35 m/17'6)

Maximum Depth

5.42ft

Maximum Height

34.25ft

Maximum Reach

30.58ft

Note

Working Ranges with VA and One-Piece Booms can be found in the M320F brochure. 4500 mm/14'9" Drop Nose Stick also available with the 6400 mm/20'1" MH Boom.

Working Ranges - without Work Tool: Short MH Boom (5.35 m/17'6)

Maximum Depth

6.42ft

Maximum Height

35ft

Maximum Reach

31.5ft

Note

Working Ranges with VA and One-Piece Booms can be found in the M320F brochure. 4500 mm/14'9" Drop Nose Stick also available with the 6400 mm/20'1" MH Boom.

Engine

Engine Model

Cat C7.1

Emissions

Tier 4 Final/Stage IV

Maximum Gross - ISO 14396

129.4 kW (174 hp [176 hp/PS*])

Displacement

427.8in³

Bore

4.1in

Cylinders

6 in-line

Maximum Net Power - SAE J1349/ISO 9249

126 kW (169 hp [171 hp/PS*])

Maximum Torque - 1,400 rpm

612ft·lbf

Note

*Metric values.

Stroke

5.3in

Weights

Operating Weight

21 815-22 930 kg (48,094-50,552 lb)

With MH Boom (6400 mm/20'1") - MH Undercarriage and 4900 mm/16'1" Drop Nose Stick

49714lb

With MH Boom (6400 mm/20'1") - MH Undercarriage and Straight Stick

50552lb

With Short MH Boom (5350 mm/17'6") - MH Undercarriage and Straight Stick

49979lb

Counterweights - Optional

9259lb

Counterweights - Standard

8157lb

Note

Operating weight is with solid tires, standard counterweight, MH 2.55 m/8'4" undercarriage, full fuel tank, operator and work tool (1400 kg/3,086 lb). Weight varies depending on configuration.

With One-Piece Boom - MH Undercarriage and Industrial Stick

48094lb

With Short MH Boom (5350 mm/17'6") - MH Undercarriage and 4500 mm/14'9" Drop Nose Stick

49031lb

With VA Boom - MH Undercarriage and 2800 mm/9'2" Digging Stick

50012lb

Swing Mechanism

Swing Speed

8.5r/min

Maximum Swing Torque

39828ft·lbf

Service Refill Capabilities

Cooling System

12.3gal (US)

Diesel Exhaust Fluid Tank

9.1gal (US)

Fuel Tank

87gal (US)

Hydraulic System Capacity

66.8gal (US)

Hydraulic Tank Capacity

40.4gal (US)

Undercarriage

Axle Clearance - MH 2.55 m/8'4" Undercarriage

12.8in

Oscillation Axle Angle

±5 degrees

Transmission

Maximum Travel Speed

16mile/h

Creeper Speed - 2nd Gear

6.2mile/h

Maximum Gradeability (23 500 kg/51,810 lb)

65%

Maximum Travel Speed - 2nd Gear

16mile/h

Hydraulic System - Maximum Flow

Auxiliary Circuit - High Pressure

66gal/min

Auxiliary Circuit - Medium Pressure

13gal/min

Implement/Travel Circuit

76gal/min

Swing Mechanism

28.5gal/min

Hydraulic System - Maximum Pressure

Auxiliary Circuit - High Pressure

5076psi

Auxiliary Circuit - Medium Pressure

3046psi

Implement Circuit - Normal/Heavy Lift

35 000/37 000 kPa (5,076/5,366 psi)

Swing Mechanism

4496psi

Travel Circuit

5076psi

Maximum Dimensions - Approximate

Maximum Shipping Height

11.92ft

Maximum Shipping Width

8.33ft
Find a Boyd CAT

Location

or

Rep

Near You