Hydraulic Mining Shovels:
6030 AC Hydraulic Mining Shovel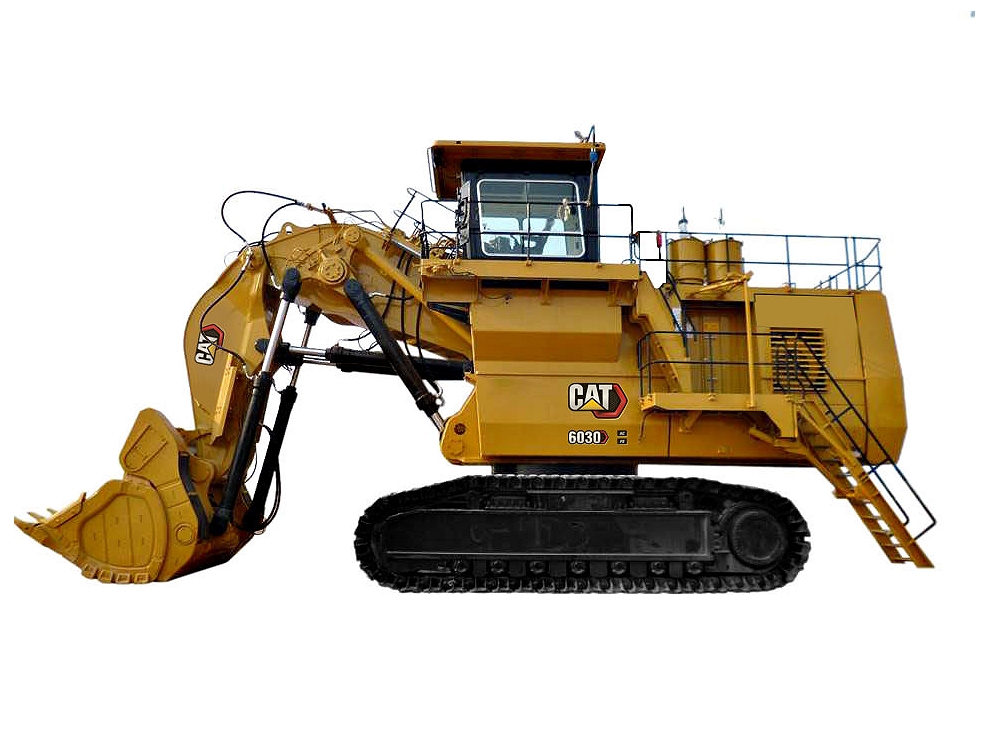 Output

1000 kW

Note

Specifications shown above apply to Face Shovel configuration.

Type

Squirrel cage induction motor

Voltage

6.6 kV ± 10% (other on request)
We understand the challenges you face, the importance of reliability, and the relationship between uptime and productivity. That's why we continually strive to produce the safest, most reliable and productive hydraulic shovels possible. Offering the widest payload range of any manufacturer in the industry, the ability to optimally pair with our popular line of mining trucks, and the support of our world-class Cat dealer network, we are uniquely positioned to partner with you to help achieve your productivity targets. We understand what matters to you. Our hydraulic shovels are built with you in mind. Because in mining, every day matters and every load counts.
---
---
Product Specs
Electric Motor - 6030 AC/6030 AC FS

Output

1000 kW

Type

Squirrel cage induction motor

Voltage

6.6 kV ± 10% (other on request)

Rated Current IN

110 A (at 6.6 kV)

Frequency

50 Hz (60 Hz on request)

Revolutions

1,500 min-1 (1,800 min-1 at 60 Hz)

Starting current

350% of IN (197% of IN optional)

General

Note

Specifications shown above apply to Face Shovel configuration.

Electrical System

System Voltage

24 V

Batteries (12V each) - In Series/Parallel Installation - Cat Version

2 X 210 Ah 12 V each; 210 Ah 24 V in total

Operating Weights

6030 - Standard Track Pads

3.25ft

6030 - Operating Weight

648810lb

6030 - Ground Pressure

31.7psi

Note

Operating weights include: base machine, front attachment, standard track pads, standard rock bucket, and lubricants.

6030 FS - Operating Weight

648810lb

6030 FS - Ground Pressure

31.7psi

6030 FS - Standard Track Pads

3.25ft

Service Refill Capacities

Hydraulic Tank

745gal (US)

Hydraulic System - Including Tank

872gal (US)

Cooling System

25gal (US)

Swing Drive

20gal (US)

Grease Tank

119gal (US)

Hydraulic System with Pump Managing System

Main Pumps

4 x variable swash plate pumps

Main Pumps - Maximum Oil Flow - AC Version

4 x 543 L/min (4 x 143 gal/min)

Maximum Pressure - Attachment

4495psi

Maximum Pressure - Travel

5220psi

Swing Pumps

2 x reversible swash plate double pumps

Swing Pumps - Maximum Oil Flow - AC Version

2 x 426 L/min (2 x 113 gal/min)

Maximum Pressure - Swing Pumps

5075psi

Hydraulic Oil Cooling

Oil Flow of Cooling Pumps - AC Version

2 x 459 L/min (2 x 121 gal/min)

Features (1)

2 Fans

Diameter - Fan

48in

Features (2)

Fan speed is thermostatically controlled

Features (3)

Cooling system is fully independent

Swing System

Swing Drive

2 compact planetary transmissions with axial piston motors

Parking Brakes

Wet multiple-disc brake, spring-loaded/hydraulically released

Maximum Swing Speed - AC Version

5r/min

Swing Ring

Triple-race roller bearing with sealed internal gearing

Features (1)

Swing circuit is closed-loop with torque control

Undercarriage

Travel Speed

2 Stages

Travel Speed - 1st Stage - Maximum

0.9mile/h

Travel Speed - 2nd Stage - Maximum

1.7mile/h

Maximum Tractive Force

367880lbf

Gradeability - Travel Drives - Approximate

50%

Track Pads - Each Side

44

Bottom Rollers - Each Side

7

Components (1)

Cast double-grouser track pads with bushings connected by hardened full floating pins

Support Rollers - Each Side

2 plus a skid plate in between

Components (2)

All running surfaces of sprockets, idlers, rollers and pad links, as well as teeth contact areas of sprocket and pad links, are hardened

Travel Drives - Each Side

1 planetary transmission with 2 two-stage axial piston motors

Components (3)

Fully hydraulic self-adjusting track tensioning system with membrane accumulator

Parking Brakes

Fully hydraulic self-adjusting track tensioning system with membrane accumulator

Components (4)

1 planetary transmission with 2 two-stage axial piston motors

Components (5)

Automatic hydraulic retarder valve to prevent over-speed on downhill travel

Operator's Cab

Operator's Eye Level - Approximately

21.33ft

Internal Dimensions of Cab - Length

7.22ft

Internal Dimensions of Cab - Width

5.25ft

Internal Dimensions of Cab - Height

7.05ft

Components (1)

Under roof mounted heating ventilating and air conditioning system

Components (2)

External sun shields at side and rear windows

Components (3)

Robust instrument panel including large colored BCS screen with transflective technology

Components (4)

Board Control System (BCS) electronic monitoring and data logging system for vital signs and service data of engines, hydraulic system and lubrication system

Components (5)

Powered 38° access ladder

Components (6)

Emergency egress safety harness

Components (7)

Switch in seat cushion to automatically neutralize the hydraulic controls when operator leaves the seat

Components (8)

Pneumatically cushioned and multi-adjustable comfort seat with lumbar support, seat heating, safety belt, head- and armrests

Components (9)

Roller blinds at all windows

Components (10)

Windshield with parallel intermittent wiper/washer

Components (11)

All-round safety glass, armored windshield and sliding side window

Components (12)

Operator Protective Guard (Top Guard) (ISO 10262:1998 Level II)

Components (13)

Joystick controls integrated in independently adjustable seat consoles

Components (14)

Fold-away auxiliary seat with safety belt

Attachments

All buckets (FS and BH) are equipped with a wear package consisting of: (1)

Special liner material covering main wear areas inside and outside of bucket and lip shrouds between teeth

All buckets (FS and BH) are equipped with a wear package consisting of: (2)

Wing shrouds on side walls and heel shrouds at bottom edges

Shovel attachment with unique TriPower kinematics ensuring the following main features: (1)

Automatic roll-back limiter to prevent material spillage and kinematic assistance to hydraulic forces

Shovel attachment with unique TriPower kinematics ensuring the following main features: (2)

Horizontal automatic constant-angle bucket guidance €" Vertical automatic constant-angle bucket guidance

Shovel attachment with unique TriPower kinematics ensuring the following main features: (3)

Constant boom momentum throughout the whole lift arc and crowd force assistance

Type (1)

Catwalks with rails at booms

Type (2)

Special wear packages for highly abrasive materials on request

Type (3)

Pressure-free lowering of boom and stick by means of a float valve

Type (4)

Welding procedures allow for internal counter-welding (double prep weld) wherever possible

Type (5)

Booms and sticks are stress-relieved after welding

Type (6)

Booms and sticks are torsion-resistant, welded box design of high-tensile steel with solid steel castings at pivot areas

Bucket

Bucket Capacity - Face Shovel (heaped 2:1)

21.6yd³

Digging Forces

Maximum Crowd Force

291700lbf

Maximum Breakout Force

214390lbf

Working Ranges

Maximum Digging Height

45.6ft

Maximum Digging Reach

44.9ft

Maximum Digging Depth

8.2ft

Automatic Lubrication System

Capacity - Grease Container

120gal (US)

Type (1)

Dual-circuit system with hydraulically driven heavy-duty pump and electronic time relay control to adjust the pause/lube times

Type (2)

Connected to the lubrication system are the swing roller bearing with internal gearing and all pivot points of attachment, bucket and cylinders

Type (3)

Lubricated pinion for greasing of internal gearing of swing ring

Type (4)

System failures displayed by Board Control System

Type (5)

Grease filters (200 µm) between service station and container as well as directly behind grease pump

Retractable Service Station

Installation

Retractable, easily accessible, ground-level service station installed underneath the engine module
Equipment
General

Export crating
Custom paint

Superstructure

Oil change interval extension for engine oil up to 1,000 hours
Hydraulic service crane on superstructure with auxiliary engine
Round container for a standard 200 L (53 gal) grease barrel (instead of 450 L (119 gal) grease container)
Cold-weather package

Cab

Cab heating
Dual (redundancy) HVAC system
Camera monitoring system
Windshield guard (FOGS)

Undercarriage

Track pad width 800 mm (2 ft 7 in) or 1200 mm (3 ft 11 in)
Cover plate under carbody (belly plate)
Find a Boyd CAT

Location

or

Rep

Near You