Hydraulic Mining Shovels:
6020B Hydraulic Shovel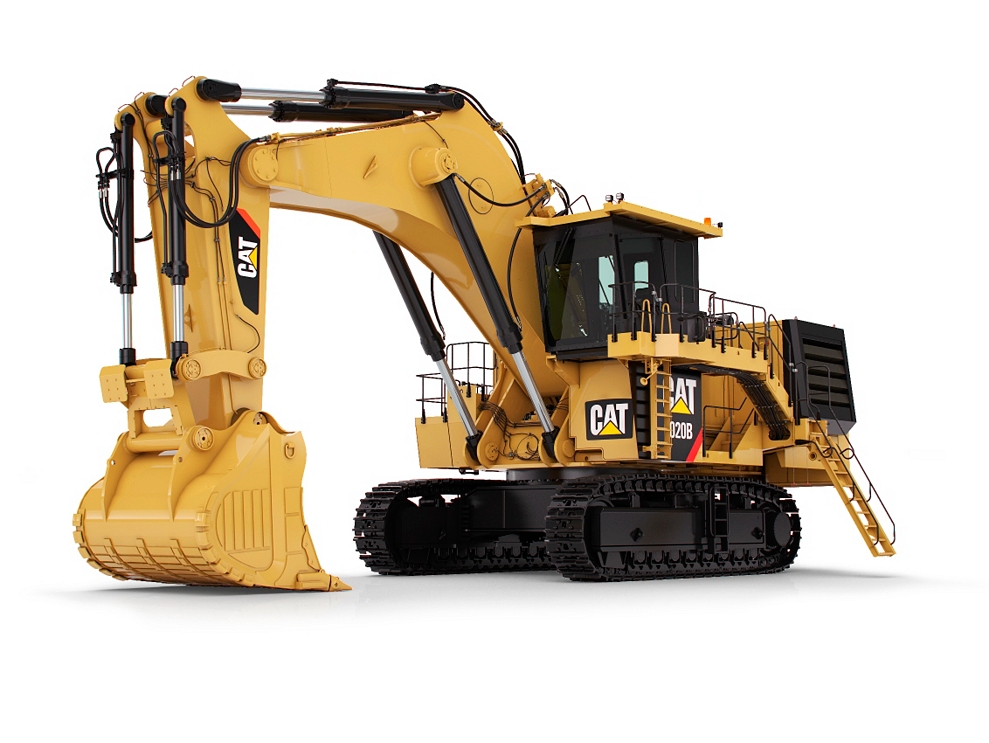 System Voltage

24V

Batteries (12V each)

6 × 210 Ah

Components

9 LED high-brightness working flood lights: – 7 for working area – 2 for rear end

Alternator

275A
You need a shovel that works. A simple, durable digger that gets the job done efficiently and safely. The Cat 6020B is engineered from the ground up with ease of use in mind. It's easy to assemble, easy to learn, easy to operate and easy to maintain. So you can concentrate on running a safe, productive operation. The new Cat 6020B. It's not complicated.
---
---
Product Specs
Electrical System

System Voltage

24V

Batteries (12V each)

6 × 210 Ah

Components

9 LED high-brightness working flood lights: – 7 for working area – 2 for rear end

Batteries (12V each) - In Series/Parallel Installation

630 Ah – 24V

Battery Isolation Relays

manual lockable disconnect switch and automatic disconnect relay

Components (1)

Emergency stop buttons inside cab, accessible from all seating locations, and engine module

Components (2)

Additional ground-level emergency stop

Components (5)

7 LED service lights

Components (6)

1 beacon lamp on cab roof

Components

1 beacon lamp on cab roof

Batteries (12V each)

6 × 210 Ah

Components (3)

9 LED high-brightness working flood lights: – 7 for working area
– 2 for rear end

System Voltage

24V

Components (4)

2 LED high-brightness access flood lights

Diesel Engine

Alternator

275A

Components

Large fuel tank allows for 24 hour machine operation

Emission Standards

U.S. EPA Tier 2 equivalent

Rated Gross Power SAE J1995

778 kW (1,043 hp, 1,800 min-1)

Rated Net Power SAE J1349

778 kW (1,043 hp, 1,800 min-1)

Attachment

Buckets equipped with:

– Special liner material covering main wear areas inside and outside – Lip shrouds – Wing shrouds – Heel shrouds

Type

Boom and stick torsion-resistant with welded box design

Type

High‑tensile steel with solid steel castings at pivot areas

Type

Boom and stick stress-relieved after welding

Type

Catwalks with rails at boom

Type

Float valve for boom down function

Buckets Equipped With

– Special liner material covering main wear areas inside and outside
– Lip shrouds
– Wing shrouds
– Heel shrouds

Type (1)

Boom and stick torsion-resistant with welded box design

Type (2)

High-tensile steel with solid steel castings at pivot areas

Type (3)

Boom and stick stress-relieved after welding

Type (4)

Catwalks with rails at boom

Type (5)

Float valve for boom down function

Hydraulic System with Electronic Pump Management

Maximum Pressure, Swing – Acceleration

4495psi

Maximum Pressure, Travel

4495.0psi

Maximum Total Oil Flow

621.0gal/min

Electronic Pump Management Contains (1)

Electronic load limit control

Electronic Pump Management Contains (2)

Dedicated circuit pump allocation

Electronic Pump Management Contains (3)

Automatic return of main pumps to zero flow

Electronic Pump Management Contains (4)

Automatic rpm reduction of engine speed during working breaks

Electronic Pump Management Contains (5)

Reduced oil flow of main pumps at high hydraulic oil temperature and at high engine temperature

Features (1)

Pressure cut-off function for all main pumps

Features (2)

Cooling of pump transmission gear oil

Filters (1)

Full-flow high-pressure filters (100 μm) for main pumps, installed directly behind each pump

Filters (2)

Full-flow filters (10 μm) for complete return circuit

Filters (3)

Full-flow filters (10 μm) for cooling return circuit

Filters (4)

Pressure filters (6 μm) for servo circuit

Filters (5)

Transmission oil filter (40 μm)

Main Pumps

6 × variable swash plate pumps

Maximum Pressure - Attachment

4495psi

Maximum Swing Oil Flow

216gal/min

Maximum Pressure - Swing - Deceleration

5080psi

Maximum Total Oil Flow

621gal/min

Hydraulic Tank Capacity

740gal (US)

Maximum Pressure - Swing - Acceleration

4495psi

Maximum Pressure - Travel

4495psi

Total Volume of Hydraulic Oil

925gal (US)

Automatic Lubrication System

Capacity of Grease Barrel

54.0gal

Type (2)

Grease supplied to swing roller bearing, all pivot points of attachment, and swing gearbox bearing

Type (3)

System condition and failures displayed by Board Control System

Type

System condition and failures displayed by Board Control System

Capacity - Grease Barrel

54gal (US)

Type (1)

Single-circuit progressive system with hydraulically driven heavy-duty pump and electronic time control

Undercarriage

Maximum Tractive Force

265860lbf

Bottom Rollers - Each Side

8

Components (1)

Forged double-grouser track pads

Components (5)

Automatic hydraulic retarder valve to prevent overspeed on downhill travel

Components (6)

Audible travel alarm

Components (2)

Chain links connected by hardened pins and bushings

Components (3)

All running surfaces of sprockets, idlers, rollers and track chain links hardened

Components (4)

Fully hydraulic self-adjusting track tensioning system with accumulator

Gradeability - Travel Drives

Approximately 54%

Parking Brakes

Wet multiple disc brake, spring loaded/hydraulically released

Support Rollers - Each Side

3

Track Pads - Each Side

45

Travel Drives - Each Side

1 planetary transmission with 2 two-stage axial piston motors

Travel Speed - 1st Stage - Maximum

0.68mile/h

Travel Speed - 2nd Stage - Maximum

1.49mile/h

Maximum Tractive Force

265860lbf

Operator's Cab

Internal Dimensions of Cab: Height

6.79ft

Internal Dimensions of Cab: Length

7.32ft

Internal Dimensions of Cab: Width

5.33ft

New BCS Features:

USB, Lan (TCP/IP) and CAN BUS interfaces for data export

Components

Roller blinds

Hydraulic Oil Cooling

Features

Cooling system fully independent of all main circuits, i.e. controlled cooling capacity available whenever engine is running

Oil Flow of Cooling Pumps

211.0gal/min

Diameter - Fan

4.92ft

Features (3)

Superior cooling efficiency to ensure optimum oil temperature

Features (2)

Variable electronically controlled flow of oil through cooler and fan speed

Features (1)

Cooling system fully independent of all main circuits, i.e. controlled cooling capacity available whenever engine is running

Oil Flow of Cooling Pumps

211gal/min

Swing System

Maximum Swing Speed

4.9rpm

Features

Open swing circuit with auto slow down when joysticks in neutral

Features (2)

All slew ring raceways and grease tub for internal gearing supplied by automatic, central lubrication system

Parking Brake

Wet multiple-disc brake, spring-loaded/hydraulically released

Swing Drive

2 compact planetary transmissions with axial piston motors

Swing Ring

Triple-race roller bearing with sealed internal gearing

Features (1)

Open swing circuit with auto slow down when joysticks in neutral

Maximum Swing Speed

4.9r/min

Operating Weight – Backhoe

Ground Pressure

31.9psi

Centralized Service Area

Equipped With (3)

Indicator light for hydraulic tank full

Features

Centralized service area accessible from ground level.

Equipped With (1)

Quick couplings for: – Diesel fuel
– Engine coolant
– Pump transmission gear oil
– Engine oil (oil pan)
– Hydraulic oil

Equipped With (2)

Cat jump-start socket

Backhoes

Capacity 1:1

15.7yd3

Capacity 2:1

13.8yd³

Capacity - Struck

12yd³

Inner Width

9.84ft

Maximum Material Density - Loose

1.8 t/m³ (3,030 lb/yd³)

Number of Teeth

6

Tooth System

Cat C85 system

Total Width

11.32ft

Type

Standard rock bucket

Weight - Including Standard Wear Package

27180lb

Capacity 1:1

15.7yd³

Diesel Engines

Aspiration

Turbocharged and air-to-air aftercooled

Bore

5.71in

Components (1)

Hydraulically driven radiator fan with variable electronically controlled fan speed

Components (2)

Micro processed engine management

Components (3)

Heavy-duty air filters

Components (4)

Two-stage fuel filter

Components (5)

Additional high-capacity water separator including electric priming pump

Components (6)

Large fuel tank allows for 24 hour machine operation

Displacement

1959in³

Fuel Tank Capacity

951gal (US)

Make/Model

Cat C32 ACERT

Maximum Altitude - Without Deration - Above Sea Level

6560ft

Number of Cylinders

12

Rated Net Power - ISO 3046/1

778 kW (1,043 hp, 1,800 min-1)

Stroke

6.38in

Alternator

275A

Emission Standards

U.S. EPA Tier 2 equivalent

Rated Gross Power - SAE J1995

778 kW (1,043 hp, 1,800 min-1)

Rated Net Power - SAE J1349

778 kW (1,043 hp, 1,800 min-1)

General

Standard Bucket Capacity

15.7yd³

Engine Output - SAE J1995

778 kW (1,043 hp)

Standard Bucket Capacity

Backhoe (heaped 1:1) 12.0 m³ (15.7 yd³)

Operating Weight

Backhoe –230 tonnes (254 tons)

Engine - U.S. EPA Tier 4 Final

Engine Model

Cat® C32 ACERT™

Gross Power - SAE J1995

1033HP

Operator's Cab

Components (1)

Large cab floor window with removable grating for easy cleaning

Components (10)

Machine access via retractable access stairway, stairway angle approximately 45°, hydraulically operated

Components (3)

Safety switch in operator's seat for automatic motion shutdown

Components (4)

Joystick integrated in adjustable seat armrest

Components (5)

Full sized trainer seat with safety belt and work table

Components (6)

Auxiliary fold-away seat with safety belt for 3rd person

Components (8)

Windshield with parallel intermittent wiper/washer

Components (7)

Operator Protective Guard (rock guard; approved according to ISO 10262:1998 [Top Guard]) compliant

Components (9)

Roller blinds

Components (2)

Pneumatically cushioned and multi-adjustable operator seat with lumbar support, safety belt, head- and armrests

New BCS Features (1)

Robust instrument panel including large (254 mm/10 in) color touch screen

New BCS Features (2)

On-screen troubleshooting assistance

New BCS Features (3)

Graphical data logging

New BCS Features (4)

Fault memory capabilities

New BCS Features (5)

USB, Lan (TCP/IP) and CAN BUS interfaces for data export

New Board Control System (BCS) Features:

Electronic monitoring, data logging and diagnostic system for vital signs & service data of engines, hydraulic & lube system

Operator's Eye Level (approximate)

18.04ft

Components (11)

Additional emergency ladder in close proximity to emergency escape window

Internal Dimensions of Cab - Height

6.79ft

Internal Dimensions of Cab - Length

7.32ft

Internal Dimensions of Cab - Width

5.33ft

Engine

Engine Model

Cat® C32 ACERT™

Gross Power – SAE J1995

1043hp

Net Power – SAE J1349

1043hp

Engine Model

Cat® C32 ACERT™

Gross Power - SAE J1995

1043HP

Net Power - SAE J1349

1043HP

Bucket

Standard Bucket Capacity - Backhoe (Heaped 1:1)

15.7yd³

Operating Specifications

Bucket Payload

24tons

Operating Weight

254ton (US)

Bucket Payload

24Sh Ton

Working Range

Maximum Digging Depth

26.57ft

Maximum Digging Reach

52.17ft

Maximum Digging Height

45.60ft

Digging Forces

Maximum Tearout Force

146125lb

Maximum Breakout Force

164050lb

Maximum Breakout Force

164050lb

Maximum Tearout Force

146125lb

Operating Weights - Backhoe

Ground Pressure

31.9psi

Operating Weight

507500lb

Standard Track Pads

2.62ft

Working Ranges

Maximum Digging Depth

26.57ft

Maximum Digging Height

45.6ft

Maximum Digging Reach

52.17ft
Equipment
Superstructure

Cold-weather package
Lube fast fill port

Cab

Redundant HVAC system
Camera system
Cat MineStar Health ready

Undercarriage

Rough terrain undercarriage protection kit including belly plate and rear plumbing guard
Dirt scraper on swivel connection
Track pad width 1000 mm (3 ft 3 in)

Attachment

Buckets

Additional buckets available, based on application, through your local Cat dealer
Find a Boyd CAT

Location

or

Rep

Near You