Cat Excavators:
M315F Wheeled Excavator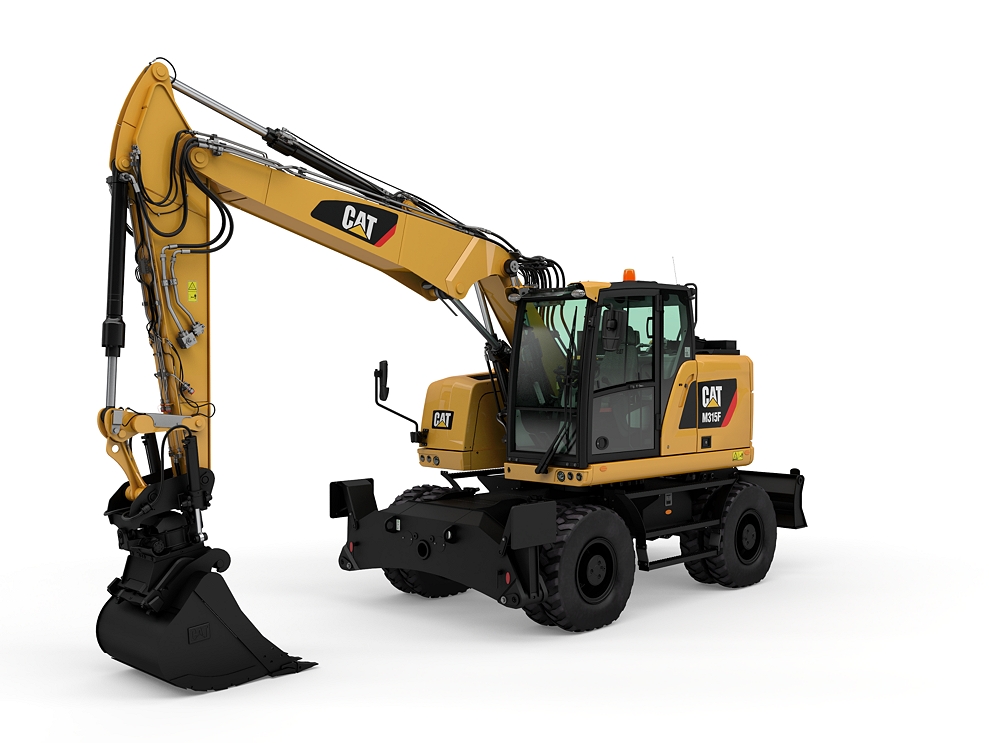 Engine Model

Cat C4.4 ACERT with Twin Turbo

Net Power

150 hp

Emissions

Meets Tier 4 Final/Stage IV emission standards.

Bore

4.1 in
Working hard has never been easier with Cat® F Series Wheeled Excavators. The M315F compact radius increases your fleet versatility by introducing you into new possible markets like those with tight-quarter tasks and turning radius constraints such as road construction or small job sites. These machines are designed to help you take on the wide variety of challenges you face every day, and at a lower cost.
---
---
Product Specs
Engine

Engine Model

Cat C4.4 ACERT with Twin Turbo

Net Power

150hp

Emissions

Meets Tier 4 Final/Stage IV emission standards.

Bore

4.1in

Stroke

5.0in

Displacement

268.5in3

Number of Cylinders – In Line

4

Maximum Torque at 1,400 rpm

523lbf-ft

Ratings

1800rpm

Engine Power: Maximum Gross (ISO 14396)

117 kW (157 hp [159 hp]*)

Engine Power: Maximum Net (ISO 9249/SAE J1349)

112 kW (150 hp [152 hp]*)

Note

*Metric values.

Engine Model

Cat C4.4 with Twin Turbo

Net Power

150HP

Bore

4.1in

Stroke

5in

Displacement

268.5in³

Maximum Torque - 1,400 rpm

523ft·lbf

Emissions

Meets Tier 4 Final/Stage IV emission standards.

Engine Power - Maximum Gross - ISO 14396

117 kW (157 hp [159 hp]*)

Engine Power - Maximum Net - ISO 9249/SAE J1349

112 kW (150 hp [152 hp]*)

Note

*Metric values.

Number of Cylinders - In Line

4

Ratings

1800r/min

Swing Mechanism

Swing Speed

8.1rpm

Maximum Swing Torque

27289ft·lbf

Swing Speed

8.1r/min

Transmission

Maximum Gradeability at 16 500 kg (36,380 lb)

78%

Maximum Forward/Reverse – 2nd Gear

19mph

Drawbar Pull

23380lbf

Maximum Forward/Reverse - 2nd Gear

19mile/h

Maximum Gradeability (16 500 kg/36,380 lb)

78%

Service Refill Capacities

Diesel Exhaust Fluid Tank

5gal

Fuel Tank (total capacity)

77.9gal

Diesel Exhaust Fluid Tank

5gal (US)

Fuel Tank - Total Capacity

77.9gal (US)

Weights

Operating Weights*

15 790 to 16 770 kg (34,811 to 36,972 lb)

VA Boom: Rear Radial Dozer Only

34811lb

VA Boom: Front Radial Dozer, Rear Outriggers

36972lb

Counterweight

8267lb

Note

*Includes medium stick, counterweight, full fuel tank, operator, dual pneumatic tires. Weight varies depending on configuration.

Counterweight

8267lb

Operating Weight*

15 790 to 16 770 kg (34,811 to 36,972 lb)

VA Boom - Front Radial Dozer, Rear Outriggers

36972lb

VA Boom - Rear Radial Dozer Only

34811lb

Note

*Includes medium stick, counterweight, full fuel tank, operator, dual pneumatic tires. Weight varies depending on configuration.

Undercarriage

Ground Clearance

14.6in

Ground Clearance

14.6in

Drive

Maximum Travel Speed

19mph

Maximum Travel Speed

19mile/h

Swing Radius and Key Dimensions (maximum footprint with outriggers down)

Tail Swing Radius

5.75ft

Maximum Width (with parallel blade)

8.33ft

Maximum Shipping Length (with long stick)

26.75ft

Hydraulic System

Maximum Pressure – Implement Circuit: Normal and Travel Circuits

5076psi

Swing Mechanism

4786psi

Maximum Flow – Auxiliary Circuit: High Pressure

58gal/min

Maximum Flow – Auxiliary Circuit: Medium Pressure

12.7gal/min

System

64.7gal (US)

Maximum Pressure - Implement Circuit - Heavy Lift

5439psi

Maximum Pressure - Auxiliary Circuit - High Pressure

5076psi

Maximum Pressure - Auxiliary Circuit - Medium Pressure

2683psi

Maximum Flow - Implement/Travel Circuit

58gal/min

Maximum Flow - Swing Mechanism

18.5gal/min

Maximum Flow - Auxiliary Circuit - High Pressure

58gal/min

Maximum Flow - Auxiliary Circuit - Medium Pressure

12.7gal/min

Maximum Pressure - Implement Circuit - Normal and Travel Circuit

5076psi

Swing Mechanism

4786psi

Working Ranges

VA Boom – 2300 mm (7'7") Stick Length: Digging Height

32.50ft

VA Boom – 2300 mm (7'7") Stick Length: Dump Height

23.08ft

VA Boom – 2300 mm (7'7") Stick Length: Digging Depth

17.92ft

VA Boom – 2300 mm (7'7") Stick Length: Reach at Ground Level

28.58ft

VA Boom – 2450 mm (8'0") Stick Length: Digging Height

32.08ft

VA Boom – 2450 mm (8'0") Stick Length: Dump Height

22.75ft

VA Boom – 2450 mm (8'0") Stick Length: Digging Depth

18.25ft

VA Boom – 2450 mm (8'0") Stick Length: Reach at Ground Level

28.67ft

Note

Range values are calculated with GD bucket 1100 mm (43"), 0.68 m3 (0.89 yd3) with tips J250 and quick coupler with a tip radius of 1437 mm (56.6").

VA Boom - 2300 mm (7'7") Stick Length: Digging Depth

17.92ft

VA Boom - 2300 mm (7'7") Stick Length: Digging Height

32.5ft

VA Boom - 2300 mm (7'7") Stick Length: Dump Height

23.08ft

VA Boom - 2300 mm (7'7") Stick Length: Reach at Ground Level

28.58ft

VA Boom - 2450 mm (8'0") Stick Length: Digging Depth

18.25ft

VA Boom - 2450 mm (8'0") Stick Length: Digging Height

32.08ft

VA Boom - 2450 mm (8'0") Stick Length: Dump Height

22.75ft

VA Boom - 2450 mm (8'0") Stick Length: Reach at Ground Level

28.67ft

Note

28.67ft

Swing Radius and Key Dimensions - Maximum Footprint with Outriggers Down

Maximum Shipping Length - With Long Stick

26.75ft

Maximum Width - With Parallel Blade

8.33ft

Tail Swing Radius

5.75ft
Find a Boyd CAT

Location

or

Rep

Near You