Compactors:
CB32B Utility Compactor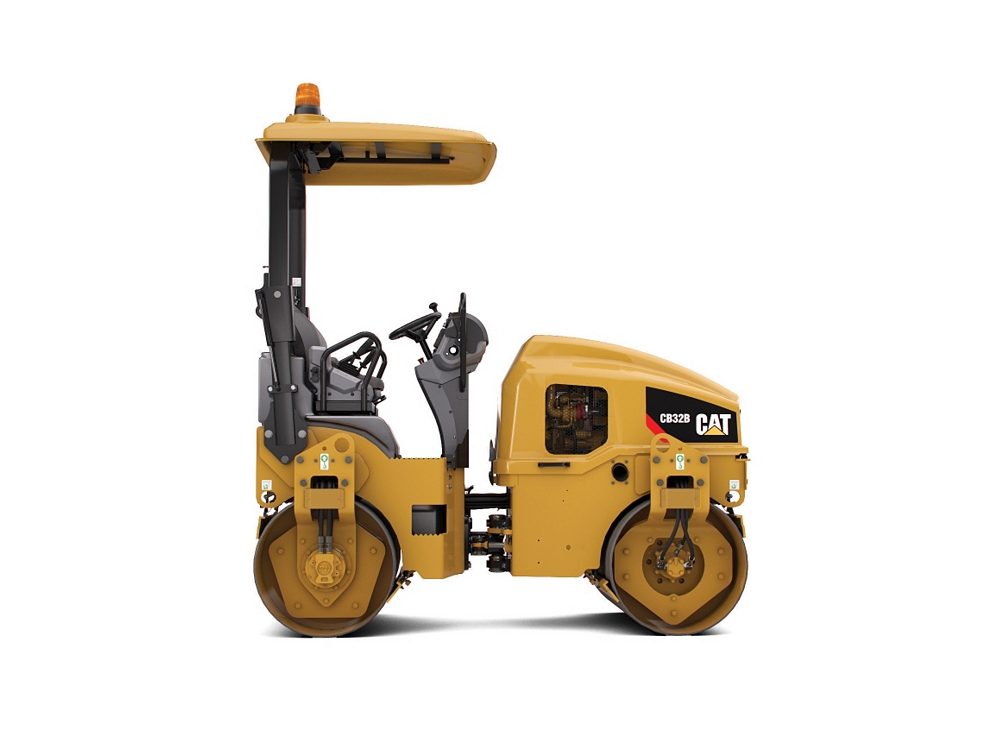 Operating Weight

6190.0 lb

Gross Power

36.2 hp

Fuel Tank Capacity

17.0 gal

Turning Radius Inside Drum Edge

7.8 ft
The CB32B is a 3 metric ton machine with 1300 mm (51″) drums. This versatile machine that can be used as the only vibratory roller on small sized jobs or on larger jobs as a support roller for high-production rollers. It provides greater production capabilities and its high amplitude and drum width give it the capacity to achieve a tons-per-day production rate that make it an excellent match for shoulders, small parking lots, lane additions or other similar sized jobs.
---
---
Product Specs
Weights

Operating Weight

6190.0lb

Maximum Weight at Front Drum

2950lb

Maximum Weight at Rear Drum

3239lb

Operating Weight

6190lb

Engine

Gross Power

36.2hp

Engine Model

C1.5

Gross Power

36.2HP

Engine Model

C1.5

Service Refill Capacities

Fuel Tank Capacity

17.0gal

Water Spray Tank Capacity

62gal (US)

Fuel Tank Capacity

17gal (US)

Operating Specifications

Turning Radius Inside Drum Edge

7.8ft

Static Linear Load

69.0lb/in

Travel Speed - Maximum

7.5mph

Standard Compaction Width

51in

Curb Clearance

20in

Travel Speed - Maximum

7.5mile/h

Turning Radius - Inside Drum Edge

7.8ft

Ground Clearance

11in

Static Linear Load

69lb/in

Dimensions

Overall Length

101.0in

Wheelbase

71.0in

Overall Width

56.0in

Drum Diameter

28.0in

Drum Width

51.0in

Maximum Machine Height

106.0in

Overall Length

101in

Wheel Base

71in

Overall Width

56in

Drum Diameter

28in

Drum Width

51in

Maximum Machine Height

106in

Vibratory System

Frequency

63/55/42 Hz (3,780/3,300/2520 vpm)

Nominal Amplitude - High

0.021in

Centrifugal Force per Drum - Maximum

7823lb

Centrifugal Force per Drum - Minimum

3485lb

Frequency

63/55/42 Hz (3,780/3,300/2520 vpm)

Nominal Amplitude - High

0.021in
Equipment
Anti-Freeze System
Ballast
Battery Disconnect Switch
Bio-hydraulic Oil
Foldable Canopy
Fixed Canopy
Dual Propel Levers
Non-Suspension Seat
Product Link
Fixed ROPS
Foldable ROPS
Seat w/Operator Presence Switch
Sliding Seat
Traction Control
Find a Boyd CAT

Location

or

Rep

Near You