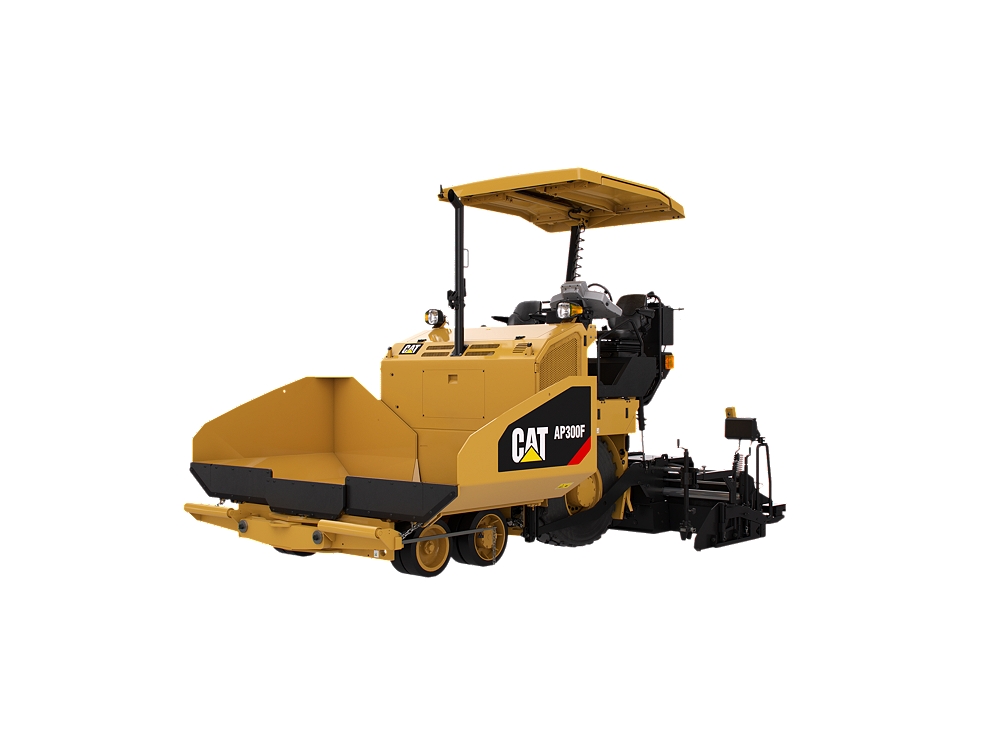 Gross Power

73.8 hp

Standard Paving Range

1.75 m to 3.42 m (5.6 ft to 11.1 ft)

Operating Weight with SE34 VT Screed

18078.0 lb

Operating Weight with SE34 V Screed

17637.0 lb
The AP300F is a small to mid-sized paver with a paving range from 1.75 m to 4.0 m (5.6 – 11.1 ft), making it a perfect fit for urban streets, cycle and walking paths, shoulders, as well as other small and medium job sites. A reduction option reduces the paving width to 700 mm (27 in) for trenches and other narrow applications. Technologically advanced features such as eco-mode, auto-fill, single-touch feeder activation, and automated travel mode make this paver and screed combination extremely productive and versatile for large and small contractors.
---
---
Product Specs
Engine

Gross Power

73.8hp

Engine Model

C3.3B

Gross Power

73.8HP

Engine Model

C3.3B

Operating Specifications

Standard Paving Range

1.75 m to 3.42 m (5.6 ft to 11.1 ft)

Maximum Paving Speed

200.0ft/min

Maximum Paving Width

13.1ft

Standard Paving Range

1.75 - 3.42 m (5.6' - 11.1')

Maximum Paving Speed

200ft/min

Maximum Paving Width

13.1ft

Maximum Travel Speed

10mile/h

Minimum Paving Width

27.5in

Maximum Travel Speed

10mph

Weights

Operating Weight with SE34 VT Screed

18078.0lb

Operating Weight with SE34 V Screed

17637.0lb

Tractor Weight

14550.0lb

Tractor Weight

14550lb

Operating Weight - With SE34 V

17637lb

Operating Weight - With SE34 VT

18078lb

Dimensions

Wheelbase

6.45ft

Transport Height

8.6ft

Operating Width

10.4ft

Operating Height with Canopy

11.2ft

Transport Length

16.4ft

Truck Entry Width

10.3ft

Truck Entry Height

21.5in

Truck Entry Width

10.3ft

Wheel Base

6.45ft

Operating Width

10.4ft

Transport Height

8.6ft

Transport Length

16.4ft

Operating Length

16.5ft

Transport Width

6.3ft

Operating Length

16.5ft

Transport Width

6.3ft

Operating Height - With Canopy

11.2ft

Service Refill Capacities

Fuel Tank

29.0gal

Fuel Tank

29gal (US)

Washdown Spray Tank

6.2gal (US)
Find a Boyd CAT

Location

or

Rep

Near You